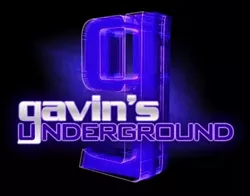 If you've been paying attention to the stand-up circuit, or at the very least this blog, then you know our comedy scene is seeing a boom few could have predicted. --- The major talent of a couple of years ago have either moved on to bigger things or training those coming up, and the list of those on the rise is staggering, as open-mic nights are filled weekly, and localized sets have started to become sell-out evenings. One of the influential people in the middle of the boom is Steve Soelberg, who has been performing locally for more than five years now. I chat with him today about his career and thoughts on the local scene. (
All photos courtesy of Soleberg.
)
Steve Soelberg
Gavin: Hey, Steve. First off, tell us a little bit about yourself.
Steve: Well, I'm a Seattleite transplanted to Utah via Hawaii. I went to school at BYU-Hawaii, where I graduated with a B.S. in biology, then came here with the enticement from my brother, who offered me free rent in Logan. I love the mountains, so Utah seemed like a good fit.
Gavin: What first got you interested in stand-up comedy, and who were some of your favorite comedians growing up?
Steve: I was doing a weekly poetry slam with friends, but instead of poems I wrote jokes. I enjoyed it enough to try it out at Wiseguys open-mic night. I invited people like crazy, and had 36 friends show up to see me on stage at my first open mic. I did great since most of the audience was there to support me, and I just couldn't stop after such a rush like that. As far as comedic influences, I would have to say my Dad, my brothers, and Phyllis Diller on Scooby-Doo. We watched some comedy growing up, but I was never a huge fan and devourer of what comedy had to offer till I became a comedian. Now I like, Ryan Hamilton, Kyle Kinane, Tig Notaro, Chad Daniels, John Mulaney, Maria Bamford and Chuck Wollery.
Gavin: What officially brought on the decision for you to attempt it as a career?
Steve: Well, I still have a day job, so I think when I'm doing it full time I'll call it a career. I do say I'm a comic, but I'm not yet one of the full-timers, so I'm still deciding on that one.
Gavin: How was it for you breaking into the local lineups and getting gigs?
Steve: It was pretty easy for me and I got lucky. After my first open mic, I started getting offers to work the weekend shows. I'm sure it had a lot to do with me having so much support in the audience. My recommendation is to just bring a bunch of friends to your show, and you will seem way funnier than you actually are, and then you'll start getting gigs. Promotions are funny that way, no actual talent is required.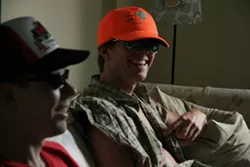 Gavin: When you first started out, what were some of the lessons you learned about performing?
Steve: About a year into me performing stand-up, a comic I greatly admire, Dave Metcalf, said to me, "How long did it take you to realize you need to tell actual jokes on stage?" I laughed 'cause I knew exactly what he was talking about; stand-up is different than being funny -- you need to write punchlines! Without those spots that give the audience their chance to speak through laughter, then you're just some jerk talking about his thoughts and himself. So, I would say writing punchlines was my biggest lesson learned.
Gavin: What's it like for you personally coming up with material and deciding what works and doesn't?
Steve: I am happy that now I can keep the stuff that makes me laugh and is true to me. Before, I kept whatever makes people laugh, which had me telling lots of poop and fart jokes. Thankfully, comedy friends have helped redirect me, and also the humiliation of seeing myself tell a fart joke on Comcast stopped that. Now, I go with what flows well in my set, is true to myself and wouldn't embarrass my Mom too much. I feel like City Weekly is followed by readers who can appreciate treating their Moms and Dads with love and respect -- and have no issues; right, readers?! Yay, parents!
Gavin: How is it for you interacting with other local comedians, both as friends and competitors?
Steve: Ha! As far as I know, we're all friends; I hope nobody considers me their competitor. If they do I will take them down ... and have a chat and see what we can do to make our relationship better. I got where I'm at because comics were nice to me, so I'd be an idiot to not help everyone I can. Plus, Salt Lake City comedy, in my opinion, is a place for new comics to hide until you get comfortable onstage and then move to New York or Los Angeles.
Gavin: You've been doing stand up locally for more than five years now. How has it been for you to see where you and the comedy scene were just a short time ago to where it's boomed in SLC and Ogden?
Steve: The Salt Lake City scene is fantastic. I travel with one of my jobs -- announcing at various starting and finish lines around the country for Ragnar Relays and The Zombie Run -- and do sets in other cities as much as I can. From what I've seen around the U.S., the comedy here is fantastic. It's grown a lot, especially if you've been to the open mics, you notice that a few years ago it was a small crowd of regular comics and a few people in the audience. Now, it's a lot of new comics hoping to get time and they bring in a large crowd. I have no idea why it has grown so much. I think it is somewhat of how stand-up in general is getting more attention. SLC has some quality comics who are original and very funny. I would love to see some of my friends on late-night TV in the next few years.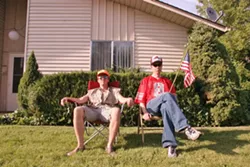 Gavin: Are there any plans down the road for you to tour, or are you sticking to home for now?
Steve: No huge tour plans; if anyone from Louisville is reading this, I'll be there April 18-21. Also, if Philly would like to have me, I'll be there the first weekend in April. But for local stuff, just find my on Facebook or Twitter and I'll keep you updated.
Gavin: Going local for a bit, what's your take on the stand-up scene, both good and bad?
Steve: I like Salt Lake because usually they want clean, clever comics. In my opinion, this is what breeds the more original material. However, I believe that funny is funny and can be found in all sorts of packaging, so the bad would be people dismissing comics without giving them a chance because they don't fit their specific paradigm of a comic. Comics are clean, dirty, male, female, smart, stupid, ugly, attractive, tall, short, gay, straight and every in-between or extreme you can list, so we've got to give everyone their chance.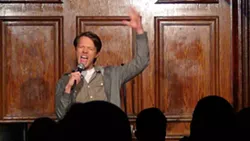 Gavin: Is there anything you think could be done to make it more prominent?
Steve: Probably a bumpersticker or something like that would help, I don't know. Stand-up comedy doesn't seem to garner as much attention as other entertainment. For example, when David Archuleta was on American Idol as runner-up, versus when Marcus was runner-up on Last Comic Standing, that was a pretty stark contrast. Still, Marcus sold out a lot of shows that year, so from my experience, one of us needs to become nationally famous to get people out in the scene. Until then, I think articles like this are great -- buy local.
Gavin: Aside from yourself, who are some favorites you like to check out around town?
Steve: Some of my favorite local comedians are Spencer King, Guy Seidel, Josh Fonokalafi, Jay Whittaker, Christian Piper, Spence Roper, Natasha Mower, Mike Grover, Andy Farnsworth, Mike Anderson, Kiley Cook, Cody Eden, Jamie Maxfield, Jacob Lee, ZZ top, Wallace Fetzer, Dylan O'Neil, Melissa Merlot, Aaron Woodall, Greg Kyte, Chad Jones, Jackson Banks, Travis Tate, Jason Harvey and Tippets.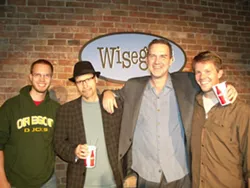 Gavin: What are your thoughts on the clubs that provide comedians a place to perform and the work they do to help bring in audiences?
Steve: Great job, thank you clubs! I owe Wiseguys are huge credit for giving me a chance to even start, so just thank you.
Gavin: What's your opinion of national stand-up comedians coming through town and what that does for the local scene?
Steve: We have a lot of really great comedians who come through Salt Lake; it's great. I love to watch them and see how the crowd reacts to their material, how hard the audience is laughing, and at what, and for how long, and how often. I appreciate how helpful comics are; they're happy to tell you what worked for them, and what did not work. Also, their stories can prepare you for the crap you have to wade through in terms of road gigs and learning how to book stuff. Other comics help you find what styles you like, and it gives you new friends.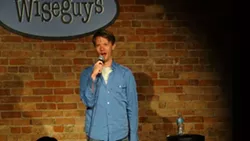 Gavin: What can we expect from you over the rest of the year?
Steve: This is my year to see if I could potentially make stand-up my full-time job. So, I'll be submitting to festivals and trying to get more bookings outside of Salt Lake; basically, trying to get some credits that say I'm good at this.
Gavin: Is there anything you'd like to promote or plug?
Steve: My butt ... I just turned 12. Well, after the article comes out I've got nothing super-exciting scheduled, so follow me on the twitterd or bookface and I'll update you there. Thanks so much, Gavin!



| | | | |
| --- | --- | --- | --- |
| Follow Gavin's Underground: | | | |