A letter came to my home address the other day including a check for $3,399. My intrigue at being informed I was a "declared winner" of a British lottery gave way to amusement at being the target of a classic letter scam.---
The letter, dated April 10, 2013, came from Stonegate Financial Services, supposedly based in Oxford, United Kingdom. Apparently, I am entitled to $150,000, part of a $3 million jackpot shared out among 19 other lucky winners. The participants were picked "through a random computer-ballot system" that drew on names in the United States, Canada and the U.K.
Click the letter and the check to view larger size: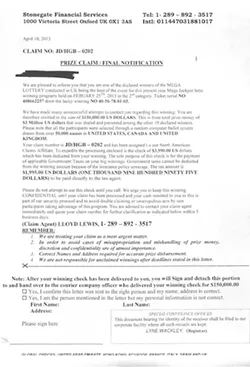 In order to get my greedy hands on the $150,000, according to the letter, I have to pay $1,995 to a "tax agent," money that I would take out of the $3,999 check when I take it to the bank.
"Please do not attempt to use this check until you call," the letter pleads. I did call Lloyd Lewis, the "claim agent" identified in the letter. The first calls went to a temporary unavailable line. When I tried again, Mr. Lewis answered personally—Stonegate Financial Services apparently has no secretary—but insisted on speaking to my wife, to whom the letter was addressed.
She laughed at me when I asked her to call Lewis, clearly not taking the possible enrichment of our coffers as seriously as I.
And, of course, the more I looked at my seeming good fortune, the more it looked questionable.

Names of different names and global offices are scattered over the letter, check and envelope—it came in a Home Depot-marked envelope but had a Canadian postmark.
The official-looking check, however, is from Aires P. Inc. in San Diego, a company that works in pulmonary-health-related issues. I gave them a call to see if they had lost any checks but have yet to receive a response.
Ever more confused, I reached out to Francine Giani, executive director of Utah's Department of Commerce and asked her to look at what I had received.
Forthright as ever, Giani laid bare my lack of good fortune.
"This is a classic fake lottery/sweepstakes scam," she says. How it works is that the claim agent—Mr. Lewis, in this case—would tell me that in order to get my winnings, I need to deposit the check he sent me, then send him back the almost $2,000 mentioned in the letter as a processing fee. I get to keep the remaining $2,000, bu,t of course, the check is a fake—or stolen—and I will end up owing the bank the two grand Lewis would have already pocketed.
To make matters worse, Giani says, "consumers will spend their 'winnings' before the bank delivers the bad news and, on average, people lose thousands of dollars in repayments to their bank."

While I did not fall for the scam, it was depressing to learn from Giani that I am viewed as prey by someone out there.
"Often when you get these types of letters, it is an indicator that your name is on a 'sucker' list, so be on the lookout for future scam offers via mail or phone," she says.