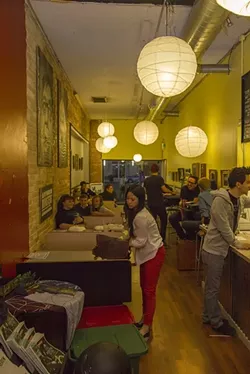 Where in Utah do you go to enjoy a tight-knit music community -- Google Fiber (soon enough) and the deliciousness that is The Awful Waffle? Yep, you guessed it: Provo. And, as it turns out, if you want to feel your body bopping to some of the best local sounds in a venue that's both grunge and cozy, you make the journey to Muse Music for a City Weekly Music Awards Showcase. ---


Local groups Book on Tapeworm, Golden Sun and Polytype squeezed onto the small stage at Muse Music Cafe Saturday evening to put on one of the last concerts of the City Weekly Music Awards. The bands delivered a powerful performance to an intimate and very engaged crowd. In some of the other CWMA music reviews, our editors have compared the at-times-interesting combination of performers as a type of journey, some consisting of shoving jellybeans in your mouth and others taking a van into zombie territory. Partaking in a similar voyage is the only way to truly grasp the combination of sounds that pleasantly, and sometimes ground shaking-ly, filled the brick-walled Muse Cafe.
Book on Tapeworm was first onstage, led by front man Scott Shepard with brand-new members backing him up on cello, vocals, and piano. The moment Shepard's vocals hit the mic, there was no option but to be in awe of the crystal-clear notes that came out of a lead singer, who seemed to be a combination of Damien Rice's vocal talent and Marcus Mumford's teddy-bear quality. Add the band's musical accompaniments--a blend of all things beautiful--and suddenly you found yourself transported into a flower field next to the greatest love of your entire life. This is where our journey begins: love. With songs like "Polergiest" and "Paper Things," BOTW's lyrics made you instantly regret not being in the throws of a passionate and crazy love affair while the music lifted you out of the dark concert hall and planted you underneath a romantic starry night.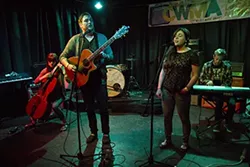 But then, everything went wrong. The pain was too much to bear and suddenly you found yourself resorting back to a high school version of you -- the kind of you that likes to steal beer, throw all the crazy parties and most of all rock out in the garage so loud that you neighbors come over to complain. That was how the transition felt once Salt Lake City band Golden Sun took to the stage. Consisting of lead singer Andrew Goldring and brother trio Jantzen, Chase and Weston Meier, Golden Sun is all things you'd want in an angsty, wild but still somehow G-rated indie-rock band.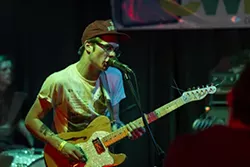 In your heartbroken state, all you want is to listen to music so loud that all your senses become numb while your head bangs against the air. You'd find this release in songs like "Bonneville," then there's a moment to catch your breath in "Garden." Nearly every song played in the showcase incorporated vein-popping vocal talent from a singer not afraid of high notes, and to that Golden Sun added impressive guitar solos, sharp drum support with unique and exciting composition, and, of course, a loud bass to vibrate the entire venue.
But there was only so much guitar wailing that you could endure before something finally snapped. Suddenly, you've found yourself in a whole new world of crazy, where you think picking kickboxing fights with metal lampposts on street corners seems like fun (which I've seen attempted). In your delirium, you've decided to create your own basement laboratory, complete with too many dials, every outlet cord you could purchase in a five-mile radius and creepy Mason-jar lights to complete the lair ambiance – which is exactly what the stage looked like after Polytype finished setting up.
There are no song titles I can give. I can't even tell you how many songs Polytype played. What I can say, however, is that if Imogen Heap and Daft Punk had a musical baby, they would name it Polytype. Each member of the band – Mason Porter, Jared Price, Jason Gibby and Scott Haslam -- had at least two jobs, from guitar to working the lights to computing one of the many synthetic sounds. The set, which is difficult to confine into sentences, was the result of mixing lyrics that perfectly displayed your longing heart with a drug-induced euphoria that resulted in the pandemonium of electric sounds. Confusing sounding? It was -- in the best way possible.
To stay up to date on City Weekly's Music Awards and to find out who will be announced as winner in the May 2 issue, visit CityWeekly.net/CWMA or use #CWMA on Twitter.