Here is a really great pasta recipe for an easy springtime supper. It couldn't be any simpler, and the results are simply delicious. ---
In Italy, this dish is called burro oro e salvia, which translates as golden butter and sage. I like to use cheese-stuffed pasta such as ravioli or tortellini with this simple sauce, but you can use any of your favorite pasta types. I also think fresh pasta is best, but dried works, too.
This is a perfect recipe for an evening when you don't have much time to cook. It's quick and easy, and you could serve it with a simple salad alongside.

Ingredients:
1 lb. pasta, homemade or store-bought, but preferably fresh
5-6 Tbs. good-quality unsalted butter
Handful of fresh sage leaves (don't even think of using dried sage)
Freshly grated Parmigiano-Reggiano
Method:
Cook the choice of pasta (ravioli shown) according to package directions.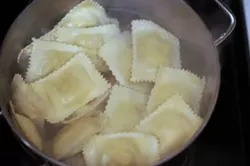 Drain and set aside.
In a large skillet (preferably non-stick), melt the butter over medium heat.
After a few minutes, when the foaming subsides and the butter is beginning to turn golden in color, add the sage leaves.
Cook the sage leaves for just a minute or so, until they begin to crisp a little.
Put the pasta into the skillet with the butter and sage leaves and toss to thoroughly coat. The butter and sage combination is really not so much of a "sauce," like a typical spaghetti marinara; it's really more like a light dressing.
Serve immediately with freshly grated Parmigiano-Reggiano.
I find that this combination of butter, sage and cheese works well accompanied by a crisp, unoaked Sauvignon Blanc.

Photos by Ted Scheffler