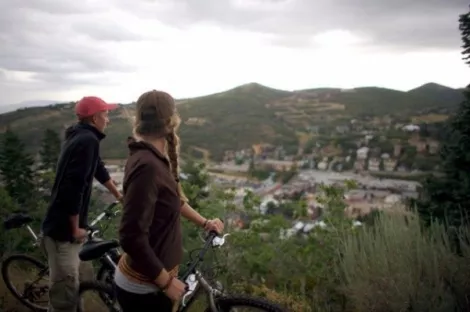 It's time to exercise your right to vote as a traveler or outdoor enthusiast.
Outside Magazine
has nominated 10 finalists for its "Best Towns" competition, and one of them is right here in our backyard: Park City. ---
Although the magazine primarily focused on what towns have the best outdoor activities, finalists were also chosen on the basis of categories like nightlife, food, and average commute times. What's Park City up against? Fellow finalists include Spokane, Bozeman, Boston, San Diego, and more. To vote, visit the magazine's Web site, where you can also enter to win a trip to one of the 10 finalist towns. Voting ends on June 13.
While there are some great towns on the list, we'll admit to being biased toward Park City. Whether you're going for Sundance, fun in the snow or in the mountains during the summer, PC's got you covered. Even if hiking's not for you and you wouldn't be caught near the ski slopes, there's still plenty to do in town, from nightlife to fine dining. No matter how you end up ranking your "Top Towns," this contest should serve as a reminder of how lucky we are to have Park City so close.
Vote Park City! (We're the Travel Tramps, and we approve this message.)
The Travel Tramps write about their treks near and far in City Weekly and host The Travel Brigade Show podcast. Follow them on Twitter @TravelBrigade.