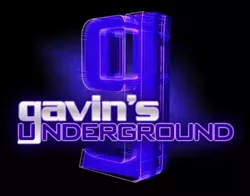 The Utah Pride Festival came and went this past weekend, bringing with it the awesome celebrations you can expect every year. --- Aside from watching the amount of protesters dwindle to near nothing and the attendance branch out higher than in previous years, the parade itself has become a must-attend event (if not must-participate). It was strange seeing a set of scouts in the parade being ordered about as if they were in the military, but that was washed away after being carted around in a bike cab for my run in the parade.
Today, I chat with two of the live acts from the festival portion of the weekend -- DJ Lishus, who was commanding the South Stage, and The Femme Medea performing for the crowds on the North Stage; along with pictures for you to check out that I took on Saturday at the festival and Sunday during the parade.
DJ Lishus
Gavin: Hey, Lishus. First thing, tell us a little about yourselves.
Lishus: I'm just a regular dude who enjoys good company and a good time.
Gavin: What got you interested in music, and who were some of your favorite musical influences growing up?
Lishus: I've always loved music, like everyone else. Growing up, I was all about Rage Against the Machine, Incubus, the Red Hot Chili Peppers, Sublime, 311 and every other rock/alt-rock band, basically.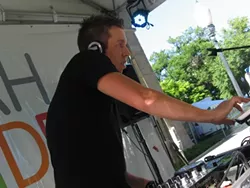 Gavin: What drew you toward the turntables and working to become a DJ?
Lishus: What drew me was regular old curiosity and my out-of-control impulse-buying habits! I went out on a whim and purchased some really nice turntables and a mixer all because ... why not? Next thing I know, I'm doing house parties, clubs and events of every shape and size. As far as working to become a DJ, it was all more or less accidental. When those who knew me found out I had a DJ set up, the bookings just started to roll in.
Gavin: What was it like for you getting your first setup and playing around with what you could do?
Lishus: It was an absolute blast! Pretty sure everyone had assumed I was an agoraphobic because after getting set up, I never left my house! Haha, I couldn't keep away from my set for even a second.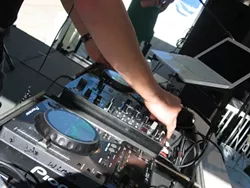 Gavin: What specifically drew you toward stuff like house, electro, tech and hip-hop for your set lists?
Lishus: Too much of anything can get old, just like hearing your favorite song too many times can sometimes make it dull. So as a DJ, you initially have favorites and all the classics in your set list; As time goes on, I think a lot of us start to pick and pull at our "favorites" list, replacing top-40 tracks with underground, and overly produced music with more fundamental and stripped-down tunes. When you get bored with one song, you look to find one that will replace it, and when you are DJing parties three nights a week, you end up getting into the habit of searching for new stuff every day. As far as house and all of its sub/brother genres, house gives you/the DJ endless tools to work with, either adding new drops and beats to your old favorites to spice them up or creating completely unique sets fit to your mood or personal style. With house music. you have a endless spectrum of sounds, melodies, drops, beats to mix and match and play with.
Gavin: When did you first start playing around at clubs, and what were the reactions you were getting?
Lishus: I played my first bar in early 2010. Got great responses due to the fact that I played all requests.
Gavin: Do you prefer doing all vinyl, or do you like mixing in laptop samples and beats?
Lishus: There is something so fun and cool about spinning actual records, the moving parts, the organic sound.. I absolutely love playing on my record turntables. Anymore, though, as far as shows and clubs go, I use USBs, CDs or a laptop.
Gavin: What are some of your favorite clubs and venues to play, and what is it about those places that draws your attention and vibe to play there?
Lishus: Every venue I've played has a unique vibe. I've had lots of favorites over the past couple of years, but right now, I love play at Bogey's Club! The place gets packed every weekend, and the crowd looks to jam out to everything from old school hip-hop to EDM. What more could you want? On top of that, they have the most amazing sound system and lighting system, hands down. I'm always drawn to places that offer the best/cleanest sound and lights worth dancing under.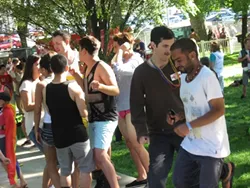 Gavin: What's it like for you to play the Utah Pride Festival, and what are your thoughts on the show?
Lishus: I've never played the pride festival before, and was absolutely ecstatic to get the invite to play this year! The show was killer, absolutely amazing energy! Definitely better than I had anticipated. Although, I think I have the Vodka Garden to thank, which was very "conveniently" placed RIGHT in front of my stage. Not to mention, the organizers had set up a sound system loud enough to play to a crowd of thousands. Vodka, a warm summer day, a festival promoting love and acceptance, and a monster sound-system -- it's an equation for an all-out party! They had booked me from 5-7 p.m.; at 7:05 when I cut the music, the crowd started shouting for an encore, which led to me playing until 7:50, only having to leave because I had another show to play that night. That party would've gone all night if I could've stayed, no question. I seriously hope I get invited back.
Gavin: Going local, what are your thoughts on the club scene, both good and bad?
Lishus: The club scene in Utah struggles. I think it might have to do with the fact that the night-life/clubbing demographic ranges from 21-35, generally speaking, and here, as opposed to other cities and states, the vast majority of those in that age range usually get married and start popping out kids. What's an already small city to do when its key night-life demographic goes the route of choosing to stay up with crying babies at home rather than go out on the town?
Gavin: Is there anything you believe could be done to make that scene more prominent?
Lishus: The club scene is slowly growing. I think the only way to make it grow faster is for more people to get involved in the party-planning and party-throwing process.
Gavin: Not including yourself, who are your favorite DJs and music acts in the scene right now?
Lishus: As far as DJs go, I look up to DJ Scotty Boy and DJ Lema from Vegas. Those guys are my inspiration. As far as the tracks I've been really rocking out to lately go, they are coming from guys like Eric Pryds, Manuel De La Mare, Kaskade, Fedde Le Grand, Deniz Koyu, Mark Knight, Calvin Harris and Rene Amesz. These guys are at the top of their game as producers, and their music has been keeping my feet tapping and ears ringing for the last couple of months now.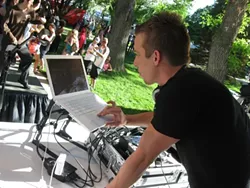 Gavin: What's your opinion on the current airplay on community radio and how it affects local musicians and DJs?
Lishus: I don't listen to the radio very often, if ever. I do keep up with what's popular on the radio, however, due to the fact that in this state, and in this state ONLY, do people go out to nightclubs expecting to hear what they've been listening to on the radio.
Gavin: What do you think of file sharing these days, both as a DJ and a music lover?
Lishus: File sharing and those who aren't willing to spend a whopping 99 cents on an amazing piece of music really aren't my business. I love being able to directly contribute to my favorite producers through purchasing their work. It's my way of saying thank you.
Gavin: What can we expect from all of you over the rest of this year?
Lishus: Lots of hard work! Besides three or four additions to my free downloadable Mix Series, House UnderGround, Salt Lake can look forward to some amazing/not to be missed parties to help really build Utah's club and dance-music scene. We have a small team together now, and lots of big things in the works! Good stuff coming.
Gavin: Is there anything you'd like to plug or promote?
Lishus: Always pushing my Facebook DJ page. It's how I stay connected to friends and fans, it's where I publish show and event times/dates, and most importantly, it's where ANYONE can go to listen/download the latest Free Mix from the House UnderGround Series! So if you ever get bored of the radio, plug in your iPhone and check out DJ Lishus latest free mix. Also have to promote and give a shout-out to one of Utah's best media crews, Aesthetic Squared. They do the most amazing photo/video work you could ask for.
The Femme Medea
Gavin: Hey, everyone. First thing, tell us a little about yourselves.
TFM: We are three friends from a small town who were brought together because of a mutual passion for making music. We all have different musical backgrounds but similar beliefs and concepts for what we want to do with our art. Sit back and take it all in. Love us or hate us, we are never going to stop making music and spreading our love for you.
Gavin: What got you interested in music, and who were some of your favorite acts and musical influences growing up?
TFM: Everything from our drummer CamJo's more based taste in heavier bands like Fear Before the March of Flames lead singer Scotty Ray's love for angsty female star Alanis Morissette, and cellist Tanner's insatiable thirst for Bjork and cello rock band Rasputina.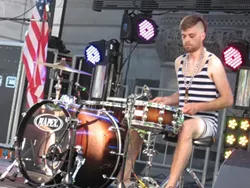 Gavin: How did the three of you come together to form The Femme Medea?
TFM: The magical circumstance of going to that dark place we all call high school ... together.
Gavin: What was it like hammering out a kind of folk/soul sound as a trio?
TFM: Natural.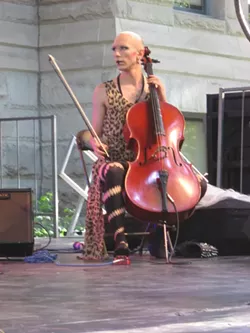 Gavin: I'm sure the question you get asked a lot is about the stage presence and costumes, so what inspired you to start dressing up for shows?
TFM: We wanted our art and expression to be as freeing as the content of our music.
Gavin: What's the process in deciding how to dress for every show, and how is it seeing the reactions from the crowd as you perform in everything from street clothes to complete drag?
TFM: Whatever feels right in the moment. We often don't pre-plan our looks, because we feel like every day each of us are going to be in a completely different mood, and every time we perform the vibe may slightly change. It's all about following the energy flow and doing what feels natural in that moment.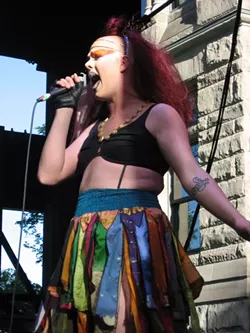 Gavin: Does it ever get to a point where you feel the look is overshadowing the music? And when it does, how do you combat that and bring it back to the music?
TFM: We feel like the visual complements the audio. We don't go so over the top that our costuming creates dysfunction.
Gavin: Do you have any plans to record an album down the road, or is it simply a performance band?
TFM: Yes, but we've been very busy with performances; perhaps a hiatus in the future to record an album.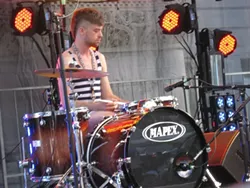 Gavin: What's it like for you to play the Utah Pride Festival, and what are your thoughts on the show?
TFM: We're honored. We are working hard to bring back to the Pride Festival the true passion and love for our community that is sometimes overshadowed by big corporations jumping on the rainbow wagon to make money off of us. Pride is about embracing your inner self, regardless of what that may mean in regard to sexuality and orientation -- queer, trans, gay, bisexual, lesbian and every beautiful variation of that mix. We are here to share our comfort and identity, and hope that people can feel that love and just enjoy the show.
Gavin: Going local, what are your thoughts on the music scene, both good and bad?
TFM: Any local music is good music. Variety is the spice of life, and we are not in this to be analyzing and judging other artists. The community needs to be inundated with every genre and mix, and it certainly is.
Gavin: Is there anything you believe could be done to make it more prominent?
TFM: If more focus was put on enjoying and nurturing our local musicians and performers and less money was spent seeing lip-syncing musical jokes like Britney Spears, perhaps the local music scene would become more spotlighted and valued.
Gavin: Not including yourselves, who are your favorite acts in the scene right now?
TFM: Oh, Be Clever, MinX, and we really enjoy and appreciate Cliifs and Visitors, which our drummer is also part of.
Gavin: What's your opinion on the current airplay on community radio and how it affects local musicians?
TFM: We don't really listen to the radio.
Gavin: What do you think of file sharing these days, both as musicians and a music lovers?
TFM: Because of the Internet and social media, music is changing. If someone wants to listen to your music, it should be extremely flattering. Of course, some people rely heavily on this to make a living, but most musicians make the bulk of their money from playing shows.. There are good and bad things about "music piracy." We live in a world where it's really just become part of being a musician. People will download your music for free, and perhaps if they love it, they'll buy a ticket to your show. Be grateful that someone bothered to listen.
Gavin: What can we expect from all of you over the rest of this year?
TFM: What a lofty question. We take this day by day, and always want to continue evolving, making good music and being more involved. Expect to see and hear us in all of the places that you're actually trying to hide from us in -- bathroom stalls, coffee shops, your girlfriend's car and your dad's iPod.
Gavin: Is there anything you'd like to plug or promote?
TFM: We are playing a show at the Woodshed on Friday, June 7, with Oh, Be Clever, MinX and performance artist collective The Bad Kids. Performances start at 9 p.m.



| | | | |
| --- | --- | --- | --- |
| Follow Gavin's Underground: | | | |