I guess I planted a few too many seeds this spring, because our garden is overrun with arugula! Good thing that I love arugula --- (also called "rocket"). I really like the nutty, slightly peppery taste of fresh arugula, especially after overindulging in heavy foods during a lengthy 4th of July weekend holiday.
Well, here is a really simple recipe for a delicious arugula salad. It takes just minutes to make and can serve as a main course or side salad. Don't worry too much about exact measurements. As with most salads, you can increase or decrease the amounts of your favorite ingredients as you wish, and also experiment with other ingredients not listed.

Ingredients:
A big bunch of arugula, 4-6 cups, rinsed and dried
A couple of glugs of extra-virgin olive oil -- approx. 1-2 Tbs.
One glug of wine vinegar (I like to use Champagne vinegar) -- approx. 1/2 Tbs.
Salt and freshly ground black pepper, to taste
1 cup grape or cherry tomatoes, sliced in half
3 Tbs. pine nuts (I like to toast them briefly in a dry skillet before using; it intensifies the flavor of the nuts.)
1/4 cup grated Parmigiano-Reggiano cheese
1 avocado -- peeled, pitted and sliced
Method:
Place the arugula in a large bowl. Drizzle the olive oil and vinegar over the arugula and toss. You just want to very lightly coat the delicate leaves, not soak them.
Add salt and pepper, to taste.
Add all the remaining ingredients except the avocado and toss well.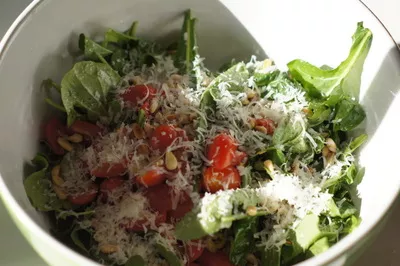 Serve the salad on plates, garnished with the sliced avocado. If you add the avocado to the salad while tossing it, it gets mushy.

Photos by Ted Scheffler