Hello to all you closet-digging, dust-collecting-curios, possession-purging, rarity-discovering, getting-ready-for-a-yard-sale enthusiasts! --- Every couple of years, I dig into the ol' underground closet, or I guess for me it's a regular closet with a bunch of local stuff in it, and end up having a yard sale at someone's house, like I'm looking to do soon. I'm sure that less than a dozen people would care to see what I've been collecting for the past few years, but I had no better opening this week than that. In lieu of a 337 update, here's a picture from the
Twilight Concert Series
with CCS and The Flaming Lips, which you can check out a full gallery of my weird iPhone shots here.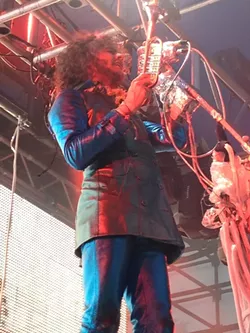 A lot of the events for the next couple of weeks are the recurring ones -- People's Market, Farmers Market, TCS, etc., so here are some one-off events and some recurring ones about to start. First up is Geek Show Movie Night, which I already wrote up in this week's issue of City Weekly, so go check that out and join them on Sunday starting at 2 p.m. with three live shows and two movies at Brewvies.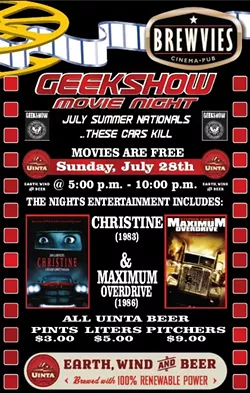 Next up on Monday, Refinement Records will be holding a free workshop for any and all musicians and bands about getting your shit in gear on the business end of things. The first, on Monday night, is free for first-time participants; then there are additional classes that do cost. Check out this event link for the details.
This Friday, the Rooftop Concert Series returns to the parking terrace in downtown Provo for an all-local indie-pop show, featuring Mindy Gledhill, Mideau and Scott Shepard. Offhand, I've been listening to the new Mideau record that's on the way, and that band alone is worth checking out. I'll discuss that one at a later date. In the meantime, head over and check out the free show.
Starting next Monday, Aug. 5, the Brown Bag Concert Series finally kicks off! This is the showcase where bands will perform every weekday for the next month at select locations during lunch -- a chance for you to break out of the office and enjoy your mid-day meal with some live music. You can get all the info on lineups, locations and times (12:15 p.m.) at the Art Council's website.
And then, finally, one event I can't speak much to beyond alerting you about it: Craft Lake City's 5th Annual DIY Festival will take place at the Gallivan Plaza Aug. 9-10. For full details and info, check out their website.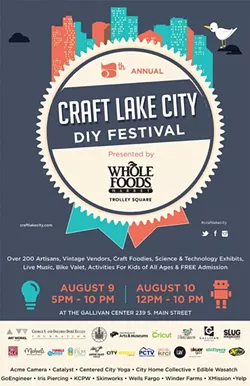 As for the blog: Over the next few weeks, I'll speak with a couple of different artists, have live concert coverage, chat it up with a local stand-up comedian, check in with a new film network and explore a podcast in the midst of changes. At least, that's the plan;who the hell knows how things will turn out? As always, we'll see what happens.
| | | | |
| --- | --- | --- | --- |
| Follow Gavin's Underground: | | | |