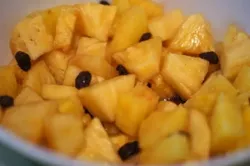 Many years ago, when I was living in New York City, I learned this very easy, but very tasty, dessert recipe from Jacques Pepin. --- It's a simple salpicon of pineapple: diced pineapple macerated in a boozy marinade of Cognac and Creme de Cassis. Don't serve it to the kids!
If you don't have Creme de Cassis around, I've had success in the past substituting other fruity liqueurs such as Cointreau and Triple Sec for the Cassis.
The recipe is very simple; the only real labor involved is cutting up the pineapple. Don't even think of using canned pineapple. I've provided step-by-step instructions here for dicing a fresh pineapple. It's easy once you've done it. You don't need special tools, like a pineapple corer -- just a sharp knife and a cutting board.
Ingredients:
1 fresh, ripe pineapple (about 3 lbs.)
1/4 cup light brown sugar
1/4 cup Creme de Cassis (black-currant-flavored liqueur)

2 Tbs. Cognac
2 Tbs. dark raisins or black currants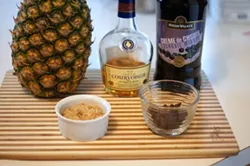 Method:
First, dice the pineapple. The procedure is as follows:
Begin by removing the top of the pineapple and about a 1/2 inch from the bottom.
Stand the pineapple on end and cut it in half, lengthwise.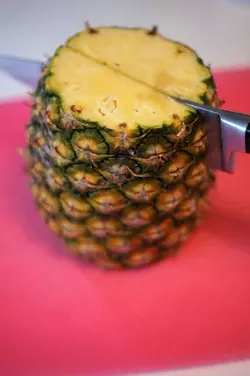 Cut the two halves of the pineapple in half lengthwise again. You'll now have four pineapple sections.
Either by standing each pineapple quarter on end and cutting vertically, or laying it down and cutting horizontally, remove the tough part of the core with a sharp knife. Repeat with each pineapple quarter.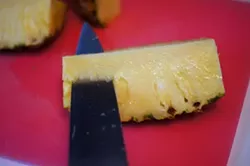 After you've removed the core from the four quarters, cut those in half lengthwise. You'll now have eight pineapple pieces with core removed.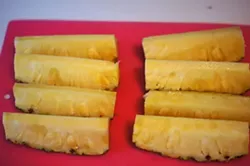 One at a time, lay each of the eight pineapple pieces down and cut horizontally about one-third inch above the skin using the knife. When finished, you'll have eight pieces of pineapple meat, cored and skin removed. Discard the skins.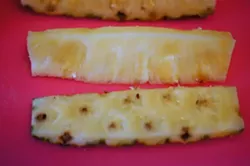 Chop each of the eight pieces of pineapple into eight bite-size pieces.
Place the pineapple pieces into a large bowl.
In a small bowl, whisk together the brown sugar, Creme de Cassis and Cognac. Mix well to make sure the brown sugar dissolves into the marinade.
Pour the marinade over the pineapple and toss to mix thoroughly. Refrigerate until ready to serve.
When ready to serve, garnish the pineapple with the raisins or black currants.
Serve very cold in small bowls or glasses with some of the boozy juices. You could also serve the salpicon of pineapple over ice cream.
And remember: This dessert is not suitable for minors!

Photos by Ted Scheffler