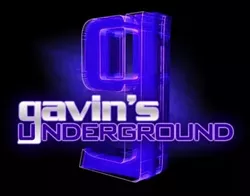 In recent years, letterpressing has moved far beyond being just an art form gaining ground in Utah, it's turned into a colorful industry that's bringing back attention to detail and design. --- Small companies across the Wasatch Front are helping customers put a little something extra into items like business cards, wedding invitations, concert posters and an array of printed works that stand out from other works printed on a program.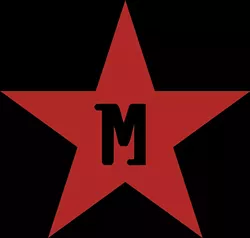 The main letterpress company leading the charge is The Mandate Press. Holding shop at 1077 S. Main Street, the shop's dedicated staff work their unique and finely maintained equipment to produce the best products your money can buy, down to the the most minute details. Today, I chat with the shop's owner and founder, Ben Webster, about starting Mandate and the work that goes into their products, as well as some thoughts on our art scene. (All pictures courtesy of The Mandate Press, main profile pictures by Justin Hackworth.)
Ben Webster
Gavin: Hey, Ben. First off, tell us a little bit about yourself.
Ben: I grew up in Idaho, working with my brother on our dad's farm. Moved to Salt Lake City 15 years ago to go to school and never left. I'm now a letterpress printer by trade, with a degree in graphic design from the University of Utah. I once fixed a car with a tube of Chapstick and a pocket tool.
Gavin: What first got you interested in art, and what were some of your early inspirations?
Ben: I really don't remember ever not being interested in art. Skate and snowboard graphics were an ever-present and constantly changing source of inspiration as a kid. I've always been curious about how things work. I'm just as inspired by the process of things as the end result.
Gavin: What was college like for you, and how did you first come across the art of letterpressing?
Ben: I had no idea what I wanted to study in college and ended up in art/design only because it was the only thing I was consistently interested in. I never considered myself an artist per se before that. Majoring in graphic design was an obvious choice for me, but even then I learned that there was much more to design than trendy snowboard graphics. We spent a lot of time studying letter forms and typography, and I took an introductory letterpress class in the Book Arts Program at the Marriott Library. At the time, I was more interested in the history of type than letterpress, but immediately became enamored with the presses and the process.
Gavin: What influenced you to start your own letterpress business?
Ben: I knew pretty early in life that I needed to be self-employed. Not only was I influenced by my self-employed father, but I also realized at some point that I was just a terrible employee -- not literally; I did a good job wherever I worked and was responsible, but I just wasn't ever happy punching a clock. My printing hobby provided the window of opportunity.
Gavin: What was it like for you getting all the equipment together and putting together a shop that could turn out various types of print?
Ben: It was and still is crazy. It's a process. I've learned many many things. I didn't have a bunch of money, and good presses aren't exactly easy to come by. I started with only two functioning presses and they were on the gimpy side. Over the years, I've slowly bought, sold, traded, upgraded, built and very much curated a collection of presses that allows us to do a lot of pretty cool stuff. We've got some heavy hitters.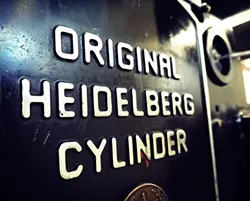 Gavin: You opened the shop up in 2005. What was that first year like for you, and what difficulties did you have to deal with?
Ben: That first year was tough, to say the least. I've always said that it's scarier to look back than it is to look forward. We lived off of nothing and found a way to do it. I hustled. The hardest thing to deal with was fear. Uncertainty. But every time I felt like giving up, something would work out -- a new job would pop up, a new opportunity; it was good. Definitely learned that there's just no way around paying your dues.
Gavin: What kind of equipment do you have in-house, and how is it for you and the staff learning new equipment when you bring material in?
Ben: Our current lineup consists of 10 presses, eight functioning, two being rebuilt; two paper cutters, and a small assortment of bindery equipment; four hand-fed/operated presses: two Vandercook #4 proof presses, 10x15 Challenge Gordon and 10x15 Chandler and Price; six automatic presses: three 10x15 Heidelberg Windmills, two Heidelberg Cylinders 21x28 and 15x20.5; and a Frontex Automatic cylinder. I'm primarily responsible for learning each piece and then in turn teaching my employees to use them as they're ready. It's funny, though, and almost like learning a language. They say once you learn one foreign language that it's even easier to learn a second or third. Likewise, once you learn how to run a couple of types of presses, you realize that they're all variations of the same function and you can run almost anything.
Gavin: Speaking of the staff, what was it like for you finding a dedicated team of people to work with who knew their stuff?
Ben: To be completely honest, it's tricky. I've found that it's REALLY easy to find people who think they're interested in working here because they're interested in the ROMANCE of the process, or curious at least, but when most people realize that the REALITY of that process means standing by a press for eight hours a day and paying strict attention to quality control, they suddenly become noticeably less interested. That being said, we have the most amazing crew ever right now. Tyler, Brady, Talia and Kelsey, each of them brings so much to the table and makes the place what it is. I'm stoked that I get to work with them every day.
Gavin: What the process like for you in creating a new design, from concept to final product?
Ben: This one has become quite complicated for me. It's not uncommon for designers to find themselves having to convince a printer to do something outside the norm. So, it's an odd thing to be both designer and printer. I can't design anymore without an internal argument breaking out over the best way to execute a concept and how to best handle its various production challenges. Any way I slice it, my design is heavily influenced by process. I find myself designing for the output, regardless of what that is. It's almost a chicken/egg scenario, where I'm not sure what's informing what concept of process. I'm a bit spoiled in the fact that I have complete control over the entire game. I sketch, design, output to plates and print on any number of presses that each have certain strengths, etc. That doesn't suck. On personal work, I also find myself continuing to design on press, experimenting with inks and papers, and seeing what will happen instead of getting too caught up in a plan.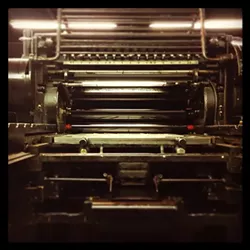 Gavin: Is there a lot of experimentation and creative control on your end, or do you tend to follow what the client wants, to the letter?
Ben: Most of our work is client work, and with almost all client work we tend to follow it to the letter as much as possible. However, we do have a handful of really great clients who just hand things off and trust us to do our thing. Interestingly, those projects are usually the most fulfilling for both us AND the client.
Gavin: Mandate Press has become one of the biggest letterpress companies in Utah and a notable name around the U.S. What's your take on the success you've had over the past few years?
Ben: This is true, and it never ceases to amaze me. Just this week, some people stopped by from New Jersey who were passing through town and The Mandate Press was on their list of places to see. That just amazes and humbles me. I love it. It just shows that if you do something you love, and do it well, then things start to happen.
Gavin: You've also become a big underground-print supporter, having influence within the craft community and alternative pressers. How is it for you having that kind of stature here?
Ben: I'm flattered by this question and truly don't know that I have that much clout, but regardless, I love being involved in and a part of the art/print/press community here in SLC and it's definitely something that is very important to me. It's damned near company policy that we say yes any time we're asked to contribute to a project that will blow some minds, even if there's no money in it. That's what we all do this for, isn't it? To make cool shit?
Gavin: Are there any plans for you guys to expand beyond what you're doing now?
Ben: Always. There are constantly big ideas rolling, and if anything, it's tough to find the balance between chasing those big ideas and simultaneously maintaining the everyday workflow.
Gavin: Moving on to local stuff, what's your take on the art scene, both good and bad?
Ben: Oh, man, I honestly think it's great. It can get frustrating, for sure; I mean, on one end we have a super-ultra-crazy conservative crowd, and on the other end we have a super-ultra-crazy angry reactionary liberal crowd, and both are equally annoying ... BUT, somewhere in between, while the crazies are busy arguing, some really amazing people start doing some really amazing things. It's very different from so many places.
Gavin: Is there anything you believe could be done to make it more prominent?
Ben: Keep doing. I think it's happening. Persistence is key above any specific action.
Gavin: Along the same lines, what do you think of the craft scene and how it's risen over the years?
Ben: The craft scene is seriously amazing. I personally believe that we're experiencing a real renaissance of arts and crafts not unlike what's happened in the past. It's often easy for people to write it off as a hipster trend or silly meme, but I think it's bigger than that and is leading someplace. People care about quality and like the feeling they get from having and using a skill.
Gavin: What are your thoughts on the Alternative Press Festival and the work it's doing to promote the underground print and zine movements?
Ben: I love the Alt Press Fest. We missed participating in it this year, but I made sure to be there and see what was going on. It's such a unique pocket of cool work being done. Zines can be hard. There are some very silly, yet real, perceptions that literally blind some people from ever seeing them for what they are/can be, especially in this town. Again, persistence will continue to pay off.
Gavin: Are there any print artists or designers you believe people should be checking out?
Ben: For sure. Brady Burrows and his work as Lars Love Letters; he makes his own paper and combines great illustrations with a fantastic wit. Kevin Cantrell is a very talented local designer who continues to push the envelope of any number of print methods. Isaac Hastings repeatedly blows my mind, and there's always something worth seeing at Copper Palate Press.
Gavin: What can we expect from you and The Mandate Press over the rest of the year?
Ben: This year will be over before we know it, but we've got more than a few things up our sleeve. Let's just say you ain't seen nothing yet from The Mandate Press.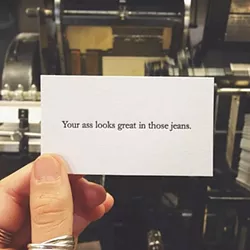 Gavin: Aside from the obvious, is there anything you'd like to promote or plug?
Ben: A HUGE thank you to you, Gavin -- thanks for asking me to do this. And more than anything, I'd just like to say a big fat thank you to the great people in my world. Over the years, as the shop has grown it's gained a loyal following, but it's also attracted its fair share of critics. My real friends and loved ones have repeatedly been there for me and supported me even when others wouldn't. I wouldn't still be doing this without their help and support. Love you guys.
| | | | |
| --- | --- | --- | --- |
| Follow Gavin's Underground: | | | |