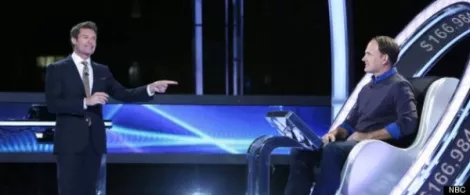 What's new on the box(es) tonight:
The Million Second Quiz (NBC) 2-Hour Season Finale: That's right—two hours. When absolutely no one is watching a show, double down! This bodes well for NBC's new fall season …---
Anger Management (FX) We're no longer in the "This is still on?" phase of Anger Management; now, it's all about "Is Selma Blair gone yet?" The fired actress' remaining episodes ran out a couple of weeks ago, so Charlie Sheen is killing time until her replacement (who, unlike Blair, will probably just keep her mouth shut and cash the check) arrives with "heartbroken" plots like this: "Charlie recruits Sean (Brian Austin Green) to help him throw the epic party of the century. Meanwhile, Lacey inadvertently gets Ed hooked on drugs." Suck on that, Two & a Half Men!
Also new tonight:
Wipeout (ABC)
The X Factor (Fox)
Project Runway (Lifetime)
Impact Wrestling (Spike)
Owner's Manual, The Pitch (AMC)
Childrens Hospital, NTSF:SD:SUV, The Heart She Holler (Adult Swim)