If you were driving down State Street the past week, you may have noticed a couple of changes happening to a particular building next door to Ironclad Tattoo. --- During the course of the past few days, legendary Portland artist Klutch has been detailing the building, both inside and out, into a one-shot exhibition and installation, to be open during this month's Gallery Stroll. Located at 1572 S. State Street, the building will be open Oct. 18-19 from 6-10 p.m., showing off his unique style, as well as a new direction he's taking his artwork in.
Today, I chat with Klutch about his awesome career, the progression he's made over the years, his installation happening this weekend and a few other topics -- along with some pictures of what he's working on this week. (All photos courtesy of Klutch.)
Klutch
Gavin: Hey, Klutch. First thing, tell us a little bit about yourself.
Klutch: I'm 52 years old, currently live in Portland, Ore., skated and snowboarded for three decades until my knees would no longer cooperate, so I started doing art full time because I need an all-consuming passion to keep me alive.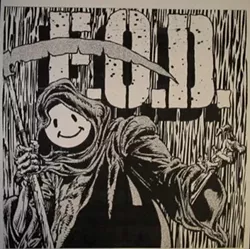 Gavin: What first got you interested in art, and what were some early influences on you?
Klutch: My dad taught me how to draw a horse when I was 5 and I was hooked. Around '82, I started doing fliers for hardcore shows and self publishing horror comics. In 1985 while on an East Coast tour with the hardcore band N.O.T.A., I saw a show called Urban Abstraction in New York that changed everything I thought possible with graffiti. I was never too into the letter and text fetishization of graffiti, but have always been attracted by its use of color and "flow."
Gavin: What drew you toward illustration and specifically working with stencil art?
Klutch: No answer. I suck at illustrating, and stencils were a couple of years of my total work and were, essentially, a means of cheap duplication.
Gavin: Did you take any formal training or education for art or were you mainly self-taught?
Klutch: I've never had one art class. I'm lucky that I somehow instinctively just know color and composition. Years of work taught me to get out of my own way and let my instincts take charge.
Gavin: What were some of your earlier B/W works like, and how was it submitting your work to publications at the start?
Klutch: I've never submitted work to magazines. It just sort of happened.
Gavin: You got published in some awesome places at the start, like Thrasher and RIP.%uFFFDWhat was it like seeing your creations in national publications?
Klutch: Thrasher was cool, except they promised to pay me and then blew me off. With RIP, I was living in a punk house, and when I came home one day, someone had a copy of the issue. Everyone was laughing at me because Axl Rose was the centerfold poster, wearing my shirt. That said, seeing your work in print has never ceased to be exciting for me.
Gavin: How was it for you breaking into the national art scene at the time, and what challenges did you face getting your art out there for people to see?
Klutch: This is another area where I was lucky and it just sort of happened. At first, I was super-intimidated because everyone was so much better and I was afraid of being seen as a kook. Pretty quickly, I learned to get over that fear and just be myself and do my thing.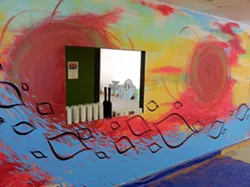 Gavin: Looking at your body of work, it seems as if you stopped about the late '80s and didn't start doing national stuff again until the late '90s. What caused the break in between, and what made you get back to national stuff?
Klutch: In '88, I became disillusioned with hardcore, did a 180 and went into the corporate world. I spent the next 13 years being super-successful financially, but miserable. Eventually I left, not to be an artist but so I didn't waste my life chasing money that I didn't even want. When I left, I started painting again simply because I really enjoyed it. I didn't expect to do well, but rather I was choosing to do what I love until I crashed and burned. Miraculously, 12 years later and I'm still here doing what I love on a daily basis. The rest of my life is still scary and confusing, so I just ignore it and spend almost all day everyday painting.
Gavin: During that time, how did your style change into brighter colors and themes, and what aspects did you incorporate to make it stand out again?
Klutch: The black&white work was not a conscious aesthetic decision, just a medium that was easy to create and reproduce. When I starting doing work just for myself, the colors emerged naturally, probably from letting my instincts take over.
Gavin: You've had a successful run with your art around the country for the past decade, received a lot of press and even did work for some magazines. What did you think of the newfound exposure?



Klutch: Weird in some ways, because I didn't seek it. Almost all the projects I choose to do are based upon if I think I will enjoy the work. I suppose the exposure is good for me, career-wise, but I am very guarded about letting accolades influence me or my work. I don't see public acceptance and fame as being healthy for your ego.
Gavin: For you personally, what's the process that goes into making a new piece?
Klutch: Roll that shit, light that shit, smoke that shit, then paint some shit.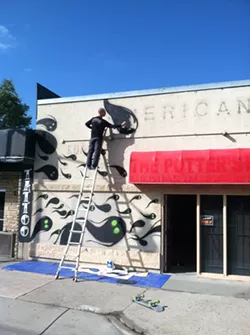 Gavin: Do you tend to stick with your original concept or does it changes as you create it?
Klutch: Everything I make is created spontaneously, even when I've done something similar before. Time has taught me not to try and control the work but to let go and just let it happen.
Gavin: Over time, you've developed your style from the B/W illustrations to the brightly colored works, and now you're headed more into a darker tone. What influenced the change in style and technique?
Klutch: Simply the need for personal growth. The darker stuff has always been there, but I wasn't in a place emotionally where I could explore it. The reality of my motivation will probably surprise most people: The bright stuff is created when I am feeling down as I am trying to lift myself up. When I am doing better is when I create the darker work. Too many people avoid the darkness out of fear; both the dark and light sides are equally important to explore.
Gavin: How has it been for you transitioning your work between styles and bringing out that heavier vibe?
Klutch: Like I stated, both sides are important and necessary for growth, both as an artist and a human being.
Gavin: What got you interested in doing major installation pieces and using the entire building as a set piece rather than just the common exhibition floor?
Klutch: For me, murals have always been about transforming the feel of a space. Installation work just seemed like a natural progression of that.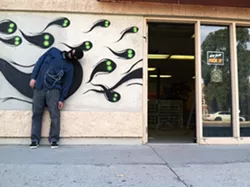 Gavin: How did the idea come about to come to Salt Lake City for a show, and how did you come across the building on State Street?
Klutch: A long time buddy of mine, Chris Chapman, aka Chappy, is from here and he made the whole thing happen. He approached his friend Charles Thorpe from Anchor State Management about using his space and having me come out to do this show. So far, it has been the funniest show I've ever done and the best group of people to work with. I'm stoked on the space and loved the idea of converting an old pawn shop into an exhibit space. Everyone involved has the same level of commitment and desire to put on the best show possible. The whole thing feels like the old days of hardcore, with friends pitching together to create our own shows -- one guy has the space, another does framing, another sourced materials. Even though this is a solo show, it is very much a collaborative effort.
Gavin: What materials did you gather to use for this particular display, and what was the vision you had in mind?
Klutch: The materials have been old booze bottles, Mason jars, candles, wire and flower petals. Originally, I had bigger plans based on some iPhone pics, but I knew that when I arrived, things would probably be different than I perceived, which was the case. So, I adapted, and the end result is a smaller installation but a much better show, as a whole.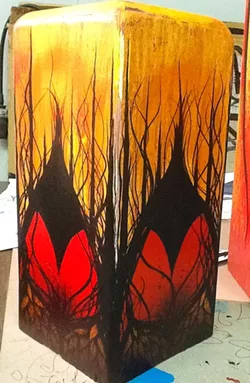 Gavin: You've been working on this all the way leading up to the show. What are you most proud of, and what can people expect to see?
Klutch: My studio is inside of an awesome print shop, Seizure Palace. After I did a solo show at Upper Playground in April, I spent the summer taking advantage of all the paper available at the print shop. Over the summer, I did a new piece on paper everyday, and I've brought 10 of my favorites from that period.
Gavin: What can we expect from you over the rest of the year?
Klutch: I don't have any plans and typically don't try to. My life has proven to me without a doubt that if I just go with the twists and turns, I am happier with the outcome. Trying to control the direction I take almost always results in disappointment.
Gavin: Is there anything you'd like to promote or plug?
Klutch: Obviously, this show. Everything leading up to it and my time here working could not have gone better. The space has dramatically transformed -- I've done two murals this week and hope to finish another by showtime, and it is becoming one of, if not the best, shows I've ever done. With the show only being here for two days, there is some urgency in seeing it, since as of this Sunday, it will never exist here again. Personally, I love that ephemeral nature of its temporary existence. It reminds of 1990s graffiti, in that if you make the effort and seek it out, you will be highly rewarded. But if you sleep on it and don't make the effort, it will be over before you know it even occurred.
| | | | |
| --- | --- | --- | --- |
| Follow Gavin's Underground: | | | |