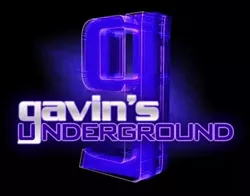 In the land of podcasting, sports is slowly making its way to being a viable entertainment source. --- Right now, the medium is still clearly dominated by hundreds of people who would have once owned their own talk show, while the sports-radio networks still run full steam over the terrestrial airwaves. But the trend of hearing an alternative voice for sports that isn't made up of retired athletes and radio talent going on 30 years of airtime with no sign of relinquishing control is steadily growing.
In Utah, our sports-podcast market is just starting to grow with shows such as The Taxi Squad Show. Simply put: three people chatting every week about local sports from the viewpoint of the fans, taking very different looks at everything from basketball and soccer all the way to MMA fighting and the BCS. Today, I chat with the show's three hosts about the show itself and their thoughts on local franchises. (All pictures courtesy of TCS.)
Danielle Edwards, Chanse Frenette and Dustin Newman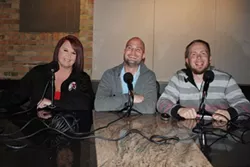 Gavin: Hey, guys. First thing, tell us a little bit about yourselves.
Chanse: Born and raised here in Salt Lake. I'm a serial underachiever and a college dropout. I work beside some of the best architects in the state, and I have a wife and a son, who will turn 2 in February.
Danielle: I live and work in Ogden but I'm originally from the Bubble (Utah County). I'm the lone Ute fan in a Cougar family. I'm a fluent wearer of stilettos and sometimes pseudo-goth. I love John Hughes movies and anything pin-up. I've never seen Pulp Fiction. And no matter who gives me crap, Matchbox 20 is the best band of all time!
Dustin: A graphic designer by degree, Pepsi salesman by trade, sports reporter by dream. My entire life has, essentially, revolved around sports. I've been married for a shade under two years. I have a slight addiction to social media, football, and Monty Python movies.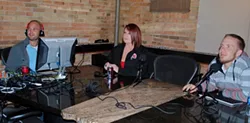 Gavin: What got each of you interested in sports growing up, and what's been your favorite team over the years?
Dustin: This is sort of the "go to" answer for most males who like sports but, my father. Growing up, I was always involved in some sport, no matter the season. Whether I was playing baseball, basketball or football, there was something going on year-round. No matter the sport, my dad was my coach, and the blame for my deep-rooted love for sports rests squarely on his shoulders.
Chanse: My dad wasn't into team sports at all. He was all about motorcycles and dirt bikes. So, it was actually my mother who got me into team sports when I was about 5 years old. She was a huge Utah Jazz and John Stockton fan. I played almost every sport as kid growing up until I turned 16. That's when everyone else got bigger and I remained the same skinny, gangly kid that I am today. I watch most every Jazz game and I never miss a Utah Utes basketball or football game.
Danielle: My dad was a huge football nut. Utes and Steelers. If I wanted to hang out with dad, I had to learn football.
Gavin: What turned you toward analyzing the game and getting into the insider side of sports?
Danielle: Total fluke for me. I've always loved football; Chanse just offered me the opportunity to talk about it with a mic in front of me.
Dustin: Growing up I was the kid who would pretend he was giving play by play when he was watching the game, but I always wanted to play them rather than comment on them. I wasn't blessed with the proper immeasurables to make any sort of career out of the games so, when I wasn't able to play any more, I turned to the next best thing. The radio in my car is always tuned to a sports station, and hearing people talk about sports made me say "I want to do that, too."
Chanse: Really, I just love the essence of talk radio/audio and I just combined that with my love of sports. I have always sat around and talked sports with buddies and family members. As I grew older, I saw it as a way to grow bonds with people and it just got into my blood. So, I could talk sports for hours and I just turned it into a hobby now.
Gavin: Did any of you ever do any professionally writing or broadcasting prior to the show?
Chanse: I used to write a blog called The Daily Utah Progressive, but that was years ago and I was really young and stupid. But I've always consumed massive amounts of media throughout my life. I simply decided to become a producer rather than just a consumer of it.
Dustin: I've made some failed attempts at hosting my own Internet-radio shows and web forums before and briefly looked into studying journalism in college, but joining the Taxi Squad is my first real shot at being able to share my opinion and have it reach an actual audience that isn't located within my family tree.
Danielle: I had a blog for random thoughts in my head, but nothing "professional" until Taxi Squad.
Gavin: How did all of you meet and become friends?
Danielle: All over Twitter. Chanse is one of my original followers. Dustin was crazy enough to follow later.
Chanse: Yes, Twitter. When I was putting the show together, I just went through my Twitter timeline and picked the people I thought would make for a great dynamic. I could have asked a buddy, but there are millions of podcasts out there with a bunch of buddies sitting around a mic. No one wants to listen to that. Listeners want dynamic relationships between their shows' hosts.
Dustin: I've interacted with both Chanse and Dani on Twitter before but I had never met them until a month or two ago. I'd heard that someone had left the show, and I offered to take their place; luckily for me, they actually accepted the offer.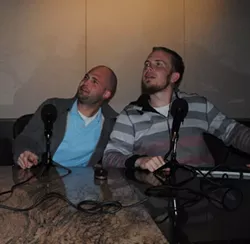 Gavin: When did the idea come about to start up a podcast, and why specifically sports talk above other types of shows?
Chanse: The idea came to me a little over a year ago. Fed up with the local sports talk radio shows, I decided there was a prime opening for a sports podcast in this market. I knew full well that there were many other sports fans out there who felt the same way. So, all we've done since is just play off of that frustration and give the listeners an alternative.
Dustin: Personally, I've wanted to join a podcast because I think that the SLC market lacks a lot of good sports radio and I want to be able to provide it for them.
Gavin: What made you decide on The Taxi Squad Show? And, please, explain the name.
Chanse: The taxi squad is an old-school term for the practice squad, the guy's who aren't actually good enough to be on the team. They have to pay their own way to and from the games just to be on the team. I liked it because it was a little-known sports term, one that people were actually going to have to look it up to understand it. Once they look it up, they usually remember it.
Dustin: Yes, taxi squad is a sports term for players on a team who are buried on the depth chart or part of the practice team. A line in the intro to our podcast explains it pretty well: "Fourth-string QB riding in the taxi. I'm on the team, but I've got to take a back seat."
Gavin: What was it like getting all the equipment together to record and making your own studio-like space?
Dustin: I stepped in after Chanse had already acquired all the equipment, studio and configured how everything is set up. It is a lot more professional than I'd envisioned when I went in to meet with him and Dani.
Danielle: Work in progress! Where we are now is so choice.
Chanse: Man, getting the equipment is the single hardest part of podcasting. We started out with two USB mics and a laptop and then had to immediately upgrade. The show grew faster than any of us expected, so it was challenging keeping up with it. We don't have a dedicated studio, though. I am lucky enough to work for some really great people who let us use their conference room on the weekends.
Gavin: How were the first few recordings, and what was it like finding your groove with each other?
Danielle: This was hard for me; I wasn't all that confident in myself or my voice. Chanse had an uphill battle with me for a while. It was like pulling teeth to get me to talk.
Chanse: They were awful. There are a few I'd definitely like to go back and just erase. Either the sound was terrible or our approach was terrible. As soon as we'd get into a groove, we'd lose a cast member, or one would flake on us and throw us all off again. But the chemistry we have developed over the last few months has been really dynamic.
Dustin: The first show that I was part of was a little herky-jerky, but we find a better rhythm every episode. The last time we recorded was, in my opinion, the best show I'd been a part of. I really think we're starting to find a nice groove between each other.
Gavin: What was the response like from listeners early on, and how was it getting local feedback?
Chanse: The early response was great. We built up a lot of buzz about the show before we launched through Twitter and social media. We even taped several practice shows a month before we made a show available publicly. We would share those recordings with our friends and colleagues and get their feedback. Then, we just tried to get better each week. Rarely, you can get some shit talkers on Twitter or something. But that's what Twitter is for, though, so it's cool.
Dustin: All the responses I have seen from our listeners have been positive, with the one exception that I occasionally sound too quiet. I think my addition to the show is being received well, and last month was the best month the show has had in terms of downloads and listens.
Danielle: I heard from friends and family who thought it was a little crazy that I was actually on a podcast, voicing my opinion. The feedback was all positive.
Gavin: What made you decide to bring on guests, and how has that worked out for you so far?
Danielle: I think it's worked out great! We were lucky enough to have some big names in local sports -- Greg Wrubell was our first guest. And I had my dream interview with Bill Riley, Voice of the Utes!
Dustin: Guests drive interest. Some people looking for something to listen to might not want to give a local podcast a try if it's just three random people from the Salt Lake Valley talking about sports on a Sunday, but if we're able to give them someone like Greg Wrubell, Bill Riley, Ian Clark or any of the other guests who have been on the show before, they give us a very good chance to pique someone's interest. Getting people to agree to it has been hit-and-miss; some people are all for it, some aren't interested and sometimes there is some red tape that proves nearly impossible to cut through, but it is always worth the effort.
Chanse: Any person can talk into a USB mic and throw it up on the Internet. We needed to create buzz and we knew we needed guests to do that. It's worked out great because now when we go to ask other people to be guests on the show, they can go and see that we aren't just three people sitting in a basement talking sports. They can see that we've talked to some really great people. My favorites were Todd Fritz, Allison Baver and Bill Riley.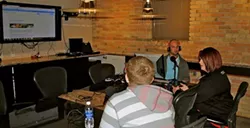 Gavin: Looking down the road, are you planning to expand the show and nail bigger local sports guests, or are you mainly focused on just keeping the show going for the moment?
Dustin: I would love to make this show as big as we possibly can. At this point, we're putting out one episode a week, with an occasional week where we're able to crank out a second. I just want to see us establish a great listener base and grow as much as we can. It's a tall task but I'd like to see us become a real player in the SLC market.
Chanse: We are currently expanding through our website. What we want to be is a full-fledged sports network that can be independent and objective about sports. In order to do that, we need to nail down the local market and then look to expand past our horizons. As far as guests go, we've had some really great ones lately. But we have run into some obstacles. Some sports franchises don't really understand what a podcast is and they treat you like dirt when you request any kind of access.
Danielle: We've lucked out with local Utes and Jazz talent so far. The sky is the limit!
Gavin: Looking at local sports, Utah is a fun but often difficult place to be a fan of anything. What do you think of the local sports market, both college and professional?
Chanse: Salt Lake is a great sports market with tons of potential. People here crave professional sports, and I am convinced Salt Lake could support another professional team here, easily. There have been nights with Jazz, RSL and BYU/Utah games all at the same time and all were well-attended or even sellouts. With Utah joining the PAC 12 and BYU being able to schedule decent opponents, Utah is not a bad place to be at all.
Danielle: I think it's great -- Utes, Cougars, Aggies, Jazz, RSL; just wish we could bring in some NFL!
Dustin: It's a very good and extremely underrated market and, at times, I don't think fans always see how lucky we are. Despite not winning any titles, we have one of the most consistent and steady NBA teams in the league, run by a front office that knows what they are doing. We have college football teams that have made names for themselves on a national level with national titles and BCS bowls. When it comes to the "big three," the losing seasons are very few and extremely far between and that makes sports in this state a lot of fun.
Gavin: Real Salt Lake has grown from a throwaway expansion team to a MLS Cup championship team with a rabidly loyal fan base. How is it seeing the team grow in SLC and become a major deal?
Dustin: I've never been a soccer fan, but there is no denying how big of a deal RSL has become in the state. Maybe it's because they're the first major league team to bring a championship to the state, or maybe the country as a whole is learning to enjoy the game, but it certainly has grown. Rio Tinto has, arguably, the best crowd in the entire league, and you can't look at Twitter during a game without being inundated with RSL tweets. It's been a lot of fun to see, even if I don't enjoy the game myself.
Danielle: I was actually anti-soccer in the beginning. To see this team grow in, what, nine years? is nothing short of amazing. To have the avenue of huge athletes here in SLC is killer.
Chanse: It's amazing, really. When they decided to bring RSL here, I thought it was silly. Now, I'm a fan for life. RSL owes a lot of their success to the fact that we're able to tap into the local, thriving counterculture here in SLC. Their fan base shows a side of SLC to the rest of the country that I don't think they were aware of before. And that makes me proud.
Gavin: The Grizzlies once were an awesome hockey team; now, they feel almost forgotten except to real hockey fans. What does a team like that need to do to get back on track and in the public eye again?
Danielle: Hockey is a great sport and makes sense in Utah. I think they need a better PR team.
Chanse: Even before the Grizzlies, Salt Lake had some good hockey. The Golden Eagles were a big deal when I was a kid growing up. Anyways, I don't know what has happened with the Grizzlies management but things have been bad for years. Combine that with the fact that Salt Lake is now a basketball town and their two schedules kind of overlap, it spells doom. They need to realign with an NHL team and start getting some decent talent in here and then maybe the fans return. I don't know, though I kind of like having the 10 rows in front and back of me to myself when I go to the games.
Dustin: I think they already took the first step in ridding themselves of former head coach Kevin Colley. Building a good team in the minor leagues is a struggle because as soon as a player is worth his salt, he moves on to bigger and better things. The owner of the club also has a lot of interests on his plate and the Grizzlies aren't the main focus. Getting rid of Colley was a good first step, but I'm not sure Utah will ever become a perennial power in the ECHL.
Gavin: The Bees had an impressive year, first conference title in nine years. What do we have to look forward to when the spring comes around?
Chanse: Well, we'll get another year of Steve Klauke, first and foremost. But as long as the Angels, the Bees' MLB affiliate, keep over-paying for under-producing talent, the Salt Lake Bees should still have some decent success. However, the MLB season just ended with the World Series and we'll have to wait and see what the Angels do here in the off season before we go predicting anything yet.
Dustin: The Bees had a very good team last year with some good pitching. The late-season addition of former MLB rookie of the year Dontrelle Willis added some extra excitement. It can be hard to fall in love with players in the minors because, just like with the Grizzlies, players move on and up a lot down there. But Utah is spoiled to have Steve Klauke on the broadcast team. He is a great reminder of my childhood, driving home from my Little League baseball games and listening to him on the radio. He is not only one of the best radio men in the business but he also is the centerpiece of a lot of childhood memories of mine.
Danielle: Not much of a baseball fan as of late.
Gavin: What's your take on the current state of college football in the state and the attention we've been receiving over the past couple of years?
Danielle: I think we still have the "Utah Stigma." The Utes are Pac12 with a win over Stanford and BYU beat Texas. The Aggies had an extremely impressive start to the season, including a win over Air Force, yet we're still not taken seriously. I see that changing in the next five years. We are the home to a huge group of successful, professional athletes. It's only a matter of time.
Dustin: The state is a lot better than some people might think. Some Ute fans had some lofty expectations of their ability to go into the Pac12 and compete immediately, but they are building the depth necessary to compete and could be a year or two away from being a top caliber Pac12 team. BYU's schedule in independence was rough for the first few years, but they seem to have that ironed out and have worked out some games with some big-name schools. Due to the way conferences line up their schedules, I do think it will be very difficult to schedule great home games late in the season but they can get them early. Utah State seems to be on the rise, but I wonder about their ability to maintain it once Keeton leaves campus.
Chanse: Utah still lacks the depth needed to compete in the Pac12 and they need an offensive coordinator who's going to stay there for longer than a year. BYU football finally had a decent schedule lined up but their only two loses come to bad teams. Utah beats Stanford but loses to Arizona. It's a funky year. Utah State has done pretty well recently despite losing Chuckie Keeton. But when he went down, so did their hopes at any real success. Still, having three relevant college football teams in the state is a great thing and it's been a long time since that was the case.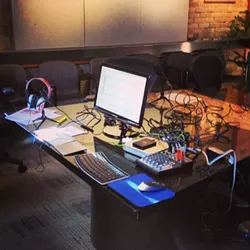 Gavin: As of this interview, basketball season just started. The Jazz are currently shutout and haven't really improved since last year. How hard is it to be a Jazz fan these days?
Dustin: It shouldn't be too hard because the writing was on the wall for at least a year. Fans knew who this team was going to be and knew they weren't likely to win many games. They are too young and too raw to compete right now but, if they can keep this roster together and add a few pieces they could contend again. It will be frustrating a few months down the line when losing becomes a common occurrence but, for right now, I think fans are just happy to watch the young guys play, losing or not.
Chanse: It's going to be a long year in Jazz land. We do have some bright spots to look forward to, though. If you're looking at player development rather than wins and losses, it can still be fun. So as long as I see the development in the young core, I'll be happy. But it's never been easy to be a Jazz fan, Gavin.
Danielle: Interesting question. I recently attended my first Jazz game in 20 years. Not much has changed. I'm not much for the "Fire Ty" bandwagon, but I can tell that coaching is pretty much status quo. I'd like to see this young coach with his young guns forge their own legacy of Jazz basketball. Alec Burks was impressive; might make me actually enjoy watching basketball again. Ha.
Gavin: What can we expect from all of you and the show over the rest of the year and going into next?
Chanse: Well, I am back in school now and, hopefully, in the coming year, I can have my degree wrapped up and I can decide on what I want to do with my life. But with the show, I picture us continuing to develop and get better. I think we've finally found the perfect chemistry and the listeners seem to agree and, hopefully, one day we'll get John Stockton on the show. After that, I will just drop my mic and walk away from this podcasting stuff.
Danielle: More fun and crazy antics and snarky commentary about weird sports stories!
Dustin: Well, everything we currently provide, weekly coverage of all things sports in the state. We have a good staff of writers on the blog to go along with us on the podcast and we cover just about everything. Personally, I strive to give a better show with each passing week, and I hope that we are much, much bigger the next time we talk.
Gavin: Aside from the obvious, is there anything you'd like to promote or plug?
Dustin: Personally, my weekly reports on the blog at TaxiSquadShow.com. I write a post-game report following each Ute football game, and once that season comes to a close, I'll continue it with Ute basketball. Other than that, go buy some Pepsi; it is delicious.
Chanse: Help control the pet population. Have your pets spayed or neutered.
Danielle: Support your local law enforcement!



| | | | |
| --- | --- | --- | --- |
| Follow Gavin's Underground: | | | |