While the console wars will start to rage on in the next few months, very little has changed for those making the games to begin with, beyond having new systems to play with and upgrade their performance to. --- The true fact is that even after Xbox One and PS4 hit the market and strive for dominance during the holidays, game developers will still be working their asses off to create unique games that will drive people to have fun, no matter what they're playing it on.
With a bevy of local game developers in Utah, one of the newest to jump into the game is Triple Slash Studios out of Salt Lake City. Founded just over a year ago by a group of students in various fields at the University of Utah, the company has already made an independent splash with the game Magnetic By Nature, due to be released very shortly for the modest sum of $15. Today, I chat with several of the company's staff about founding their own studio, their debut game, thoughts on gaming in Utah and a few other topics. (All pictures courtesy of TSS.)
Paige Ashlynn, Brendan Wanlass, Evan Munro, Jonathan Humphries and Kyle Chittenden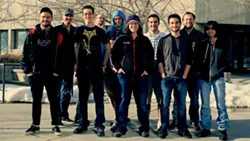 Gavin: Hey, guys. First thing, tell us a little bit about yourselves.
Paige: Well, we're all over the place, really; different ages, sex, race, major, background, outlook, even what type of games we like. Some of us have kids, some of us are still living with our parents. Kyle is our producer and 3-D animator; Andrew has been our tools and infrastructure guy; Becky has handled narrative and has researched and defined the overall aesthetic; Dave has done a huge amount of engine coding lately, and did the music for our XBLIG release; Diana handles a lot of the 2-D animation and produced many of the levels in the XBLIG version; Brendan was our lead engineer until Andrew took that job, now Brendan is the play mechanic and level design master; Cory has done interface, object, and character-design work and made lots of levels; Paige did a lot of script coding but since then has taken over business and marketing; Evan has led the environmental and concept art; and Jon has created many of the interactive elements, as well as the initial game concept. Of course, we've all contributed in dozens of other ways not mentioned here.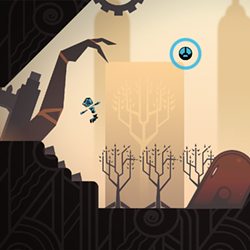 Gavin: What got each of you interested in gaming, and what were your favorite titles growing up?
Jon: My siblings. When I was younger, my older brother played and I watched. It wasn't until we got a SNES that I began playing myself: Mario, Donkey Kong Country, Mega Man X, various Disney games. Mostly platformers; I finally broke away from that when Harvest Moon came to the Nintendo 64, but platform games still have a special place in my heart.
Evan: My interests changed over time, but I had a long RPG phase.
Paige: I had a brief but intense obsession with Pac Man in the '80s, though I was too young to play it at that time. I didn't really start playing games until the early '90s. Some of my favorites included Maniac Mansion, King's Quest 5, Civilization 2, Dragon Quest 4, all the 8-bit Mega Man games.
Kyle: I was into Super Mario 3, Battletoads, and especially GoldenEye.
Gavin: Were any of you specifically loyal to any one system or game company, or did you just play anything you could get your hands on?
Brendan: Big Nintendo guy here. I had a Nintendo, Super Nintendo, and an N64. My most favorite was the 64, followed by Super NES. In high school, I moved into PC gaming.
Paige: I think a lot of us were fans of the Nintendo 64; I never actually owned one myself. I'm a little older than most of the crew, so I started on the Atari 2600, moved to NES and SNES, then switched to the Turbo Duo and PlayStation. I did a lot of PC gaming in my teen years, but these days I'm more interested in consoles.
Evan: I was a big, big Sony fan; PlayStation 1 and 2.
Gavin: What pushed you to start pursuing video gaming as a career?
Brendan: From a very young age, I always wanted to be a software engineer. My grandpa was a computer-science pioneer. He made many contributions to the field, including inventing CMOS memory. He was always around when I was growing up. My uncle, too, and other role models, made engineering seem cool. That paved the way. Once I discovered that games development was a viable career option, that was the type of software I wanted to do.
Evan: It was much more recent for me, and it was art that drew me in; contributing meaningfully to such a young medium is exciting. Events like IGF or IndieCade are particularly motivating because I have always wanted to create works that are critically well-received, and in some sense objectively good. I have believed for a long time that games are just as legitimate as installation art, performance art or sculptures in a gallery. But they have a lot of growing to do. There is a lot in the medium that just hasn't been tapped yet.
Jon: Interactivity is huge. Unlike a movie or a painting, your work creating a game is not entirely finished until someone plays it. The audience doesn't just experience it, they also contribute to it. They have a type of possession over it; they aren't just looking at your art, they are using it. I think that's really cool. But beyond that, I have so many ideas; if I weren't doing game design, I'd have to do screenplays, novels, comics -- something! And I may do all of those eventually. I'm currently working on a TV screenplay in my spare time.
Gavin: Most of you went to the University of Utah in different fields. What made you choose the U, and what was your time like there?
Evan: For me, it made the most sense, in terms of the art program and the community. The U had the right mix of traditional and contemporary media with a strong focus on technique. Also, I had heard good things about it from friends.
Paige: I'm a transfer student, hailing originally from New Mexico. I was attracted in part because of the strong geek and fan culture in the Salt Lake area. But, also, the U was literally the best computer-science program I could afford.
Jon: I went to Brigham Young University because of its strong animation program and started down that track. Then, as I got to know the program, I became nervous because it's so specialized. Students who come out of there are super-skillful, but to succeed you have to know exactly what you want going in. There's no room to try out different things like storyboarding, animatics, 3-D modeling. Not having that focus was overwhelming. I had read that the U had a much broader interdisciplinary program. Faculty from the EAE program gave me a personalized two-hour tour, worked with me to make the most of the curriculum, and allowed me to branch out. This way, I could both do art for games and, as it turned out, learn how to do stunts in films.
Gavin: When did all of you first meet, and how did you become friends?
Kyle: We met in our senior capstone class. A few of us already knew one another, but for the most part we were strangers. We became friends while working on the game together.
Brendan: We made a conscious effort to build team camaraderie, going out to eat together or having card or board-game parties or movie nights. But it was really when we started doing major cons and trade shows that we really bonded. Ten people in a van and crammed into tiny hotel rooms -- yeah.
Gavin: How did the idea of starting a new game company come about, and where did the name come from?
Brendan: I had been part of a two-man mobile operation, an LLC that primarily produced games. I never put as much time into that; I was the gunnery position. But I had experience in the industry that way, had learned how much money you can make, how much you can lose and what the requirements and hazards of development and self-publishing an actual game are. I knew that the initial steps were easy, so I wanted give us at least the option to pursue it if things worked out. Once we got heavily into development, we all felt that this team's really good and that we could take the game and the team farther.
Paige: Becky had experience working on games in a freelance position, and Brendan had done mobile, and most of the rest of us had done some hobby stuff, but this was our first major game effort. I'd done a lot of volunteer work, being part of and managing large teams on year-long projects, and I knew almost from day one that we had something special in this group. Everyone here is so driven, so motivated to succeed. Each of us fed off of the enthusiasm of everyone else, always pushing one another further, producing more and better work; it's kind of an ambition infection. As for the name, for us it evokes a sense of possibility and movement or change. Sort of like the three slashes indicate that something happened here, but what?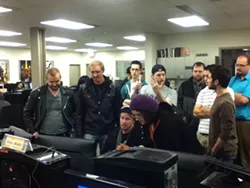 Gavin: Considering the majority of you had no professional experience in the industry, what kind of a challenge was it gathering as a group and formulating this company from scratch?
Paige: The short answer is, a big challenge and an on-going one! We have a wide variety of backgrounds, yet none of us are marketing people, none of us are business people, none of us have studied management. So, these are all things we are learning as we go. We were fortunate to meet supportive veterans early on. Our group went to Game Developers Conference in California last year and that was a watershed moment. Talking with other students and indies from around the world, and also getting encouragement from successful AAA developers, made starting our own studio feel achievable.
Jon: Our biggest issue has been communication. I mean, our only setbacks have been due to miscommunications. We've gotten much better at this, but we are a group of peers rather than a strict hierarchy, so when something has to change, it can feel more personal. And with such a diverse group, we have a wide variety of communication styles. So, that has been something we've struggled with.
Gavin: What was it like getting the company started, and what made you decide to form it in Utah rather than head for a coastal city?
Jon: When we first started, we had a very simple endgame: Spit out a student game on the Xbox 360. At some point, we realized that we worked so well together, and that the game was cool, that we had a reason to keep going. The company in my mind sort of started twice in that way. It felt cool to be doing something on my own instead of following a path laid out for me by someone else.
Paige: We had talked about location a good deal when we first began, but came to the conclusion that Utah is actually a great place to begin. The Wasatch Front has a growing indie-game scene, a strong entrepreneurial culture and a legacy of technological innovation. While there are certainly great opportunities on the West Coast or in game dev hubs like Austin, we'd literally be starting from scratch in those communities. Here, we already have professional contacts with established developers at NinjaBee, ChAIR, Smartbomb, and we've made some good friends among local indies like Rainblade Studio and Califer Games.
Gavin: How did the concept for Magnetic By Nature come about?
Jon: Kinda funny. I had another concept in my head that I'd spent so much time trying to flesh out; so much time. I was becoming obsessed because I knew it had potential but just couldn't find the focus. One day, I was pacing back and forth in my kitchen and I saw some alphabet magnets on the fridge. I played with them, turning ideas over in my mind. Suddenly, the magnetism concept came into existence. I immediately ran downstairs and told my brother: He responded, "Yeah, man, that's dope. I'd play that."
Gavin: What was it like for each of you developing the game, from the mechanics and gameplay to the look and music?
Jon: There have been some low lows but also really high highs. The thing that makes it worthwhile is that we really do all enjoy working with everyone on the team. We all really caught the bug. We've had these lengthy discussions, sometimes almost arguments, but it's because we are all passionate and care so much! And everyone has had wins and losses, idea-wise. Some ideas get nixed while others become central. My initial thought was that the game should be 2.5-D, rendered realistically, but Becky came up with this loosely Art Deco look and I was, like, "Yup, that's better."
Brendan: The contribution I'm most proud of are the controls; that's the one thing we really struggled with. I was really concerned about our initial setup, which required dual joysticks and a lot of skill and coordination. It offered a great deal of precision and control but we knew it would be a turnoff to most gamers. So I asked myself, what is the game trying to do? To interact with multiple magnets at same time. How can we bring that intention out, so that the game does what the player wants instead of what the player says? The final solution took analysis, but there was also a flash of inspiration. It was a good moment.
Gavin: The game itself incorporates several different dynamics that make it both challenging yet distinct. How hard was it to make a game that could be picked up easily without overwhelming the player?
Brendan: The strongest part of our game is that the core mechanic is a simple-enough concept that it allows for a lot to be built on it without the whole becoming complex. We never had to reduce complexity to create a more direct experience, the way some other games do; instead, it always was this brilliant core idea and we just had to remind ourselves not to ruin that.
Paige: I could really see that. For me, there was this moment when Jon was pitching the mechanic, when you guys were showing off the original prototype, where the character made this little magnetic maneuver and I instantly understood the fun in the game. I was like, "Oh, yes, I want to be part of that!"
Gavin: What was it like shopping the game around at conventions and generating a buzz around it?
Evan: Great! I've loved it. It's fulfilling to see people enjoy your work, knowing that in some way your work matters. And it's a great chance to carefully observe a wide range of people playing. As an artist or designer, what you do on your own, unless you're really good, is always flawed. But it's hard to be objective. The only way to become objective is to show your work to others. Which designs read well, which play well, how people react to them -- it's all really obvious if you're attentive. That's where you get really good direction.
Jon: At first, every big event feels really daunting. They take weeks to prepare for, you have to somewhat set the game aside during that time, making post cards, business cards, fliers, T-shirts, and on and on; all that indirect work always feels like a huge gamble. But all the big events we've been to have paid off, not to mention being huge morale boosters -- seeing people you've never met, who have zero expectations, coming up and playing your game and loving it, then seeing them come back to your booth two or three or even four days in a row, just to play it again. That reignites the fire.
Gavin: The game is due to come out soon. What are your hopes for it, and how do you see it fitting into the current wave of games and systems hitting the market?
Brendan: So, if this were three to five years ago I wouldn't feel half as confident. In the last three years, there's been a huge indie surge. All three new consoles are aiming, to some degree, at indies. Players and platforms creators are interested. There is huge competition, but at the same time, there are people out there actively seeking just this kind of game. We are offering exactly what a certain segment of the market wants, so as long as we can polish and finish it on time, we will fit right in.
Gavin: What have you currently got in development at the studio that we can look forward to?
Kyle: Right now, we're only working on Magnetic By Nature. We aren't yet looking past ensuring that this game is as fun and polished as possible. We have many concepts on the table; it's a matter of building prototypes and seeing what plays best.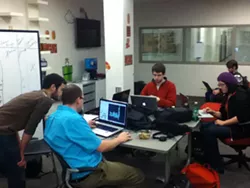 Gavin: Looking at gaming today, what challenges do you face as a studio to meet the expectations of fans now that there are two new systems in the market?
Paige: We're really excited at the prospect of developing for the new consoles and, for that matter, for portable devices that are already available. But as far as fans go, we haven't felt much pressure to go next gen. So far, most of what we've heard from players has been requests for gameplay features. Some suggest new mechanics for Magnetic, some are interested in DLC, or the new soundtrack, and everybody wants a level editor. We'd like to do all these things, but it takes time! For the level editor, I'm not sure we'll get that far. But, wow, I'd love to see what sort of levels other folks would create.
Gavin: What can we expect from both yourselves and Triple Slash going into the new year?
Brendan: Our goals are to have Magnetic out and on all three computer platforms -- Windows, Mac, and Linux -- and to create the DLC we've promised. Beyond that, just to establish ourselves locally and begin on our next title.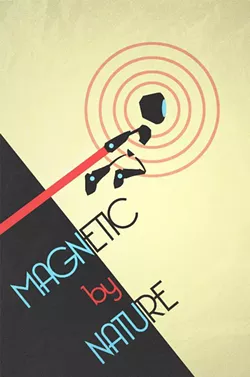 Gavin: Aside from the obvious, is there anything you'd like to promote or plug?
Paige: Yes! We're working with other local indies -- Rainblade Studio, Califer Games, Fringe Games, Roli Poli Team -- to organize an event for local indie developers and indie gamers early next year. I'm afraid it's too soon to announce much, but keep your ears open, as we'll have more to say in a month or two.



| | | | |
| --- | --- | --- | --- |
| Follow Gavin's Underground: | | | |