Justin Townes Earle's show at The State Room on Saturday night—the first I've seen him play—was enthralling, so much so that it cemented the Tennessee singer-songwriter's new status as one of my favorite artists. Not bad for a first impression.---
The night started out a tad shaky, but only got exponentially better. Earle began his set by striding onto the stage, mumbling something about being worried that he had the wrong guitar cord, and trying to make jokes about how he'd forgotten to bring his guitar to soundcheck earlier that day. Crickets. But by the time he played "They Killed John Henry" and "Memphis in the Rain"—which he introduced by saying "Memphis has never been a good place for me; I get in a lot of trouble"—Earle had the audience hooked.
Even though he was only one guy with one guitar, Earle seemed to fill the stage as much as three people would have. A ball of restless energy, he paced back and forth whenever he wasn't singing into the microphone, moved his head constantly and overall just couldn't seem to stand still, creating an eye-catching spectacle. During "Move Over Mama" and a cover of Lightnin' Hopkins' "My Starter Won't Start This Morning," especially, he was a fiery, uncontainable force, and made me realize that I prefer hearing/seeing Earle live rather than on an album. A recording just can't capture all that raw power.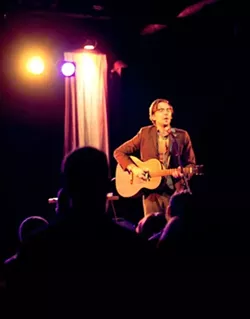 His voice was at times a low, almost unintelligible rumble; other times a gruff, cigarette-cured shout. And with his style of guitar playing, he had no need for percussion: By striking the down-strums extra hard, he kept the beat on his own, with his intricate blues picking filling everything out.
Between songs like "Mama's Eyes," "One More Night in Brooklyn" and "Christchurch Woman," Earle revealed his opinionated, larger-than-life personality, with onstage storytelling and biting one-liners. He talked about when his mama found a bag of cocaine and a pistol under his bed when he was 13 ("I was a pain in the ass"), the state of country music ("The Grand Ole Opry is a mockery") and guitars no normal people can afford ("Gibsons are overpriced").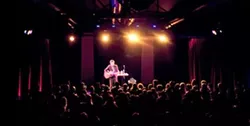 Earle also proved he's a champ at shutting up hecklers. During "Unfortunately, Anna" (a quiet, subdued tune), drunken morons were disregarding the music, laughing and loudly yakking. Fed up, Earle finally stopped mid-song and said, "If I can hear you over the music, you're talking like an asshole," to much cheering. That quieted the chatterers the hell down, at least for a while. Some people are just flat-out rude.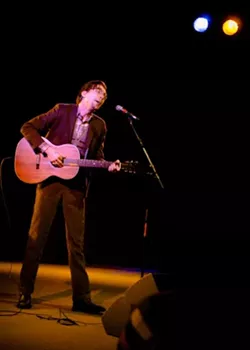 After an encore of "Slippin' & Slidin'" and Townes Van Zandt's "Rex's Blues," Earle called it a night, telling the audience to drive home safe in the snow. But we will probably see him again soon. He mentioned he got married recently ("to a mountain woman") and said he'll be staying in Utah until spring—some lucky soul might run into him at the grocery store.