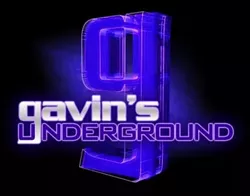 Continuing our theme of looking at independent dance companies, we're seeing more sprout up from SLC inspired by the work of those who paved the way before them. --- Movement Forum started up back in 2003, employing different methods to put together productions to become one of the more successful dance companies without a proper theatre. Through their unique fundraising techniques as well as their willingness to try unconventional performances, they've made a name for themselves in Utah as a leader for the experimental and willingness to branch beyond the sum of their parts.
Today we chat with the two founders of MoFo, Erin Romero and Danell Hathaway, about their careers and creating the company, the longevity they've had so far, their 2014 season, thoughts on local dance and a few other topics. (All pictures courtesy of MoFo.)
Danell Hathaway & Erin Romero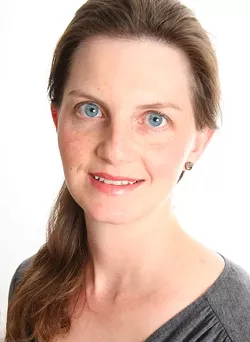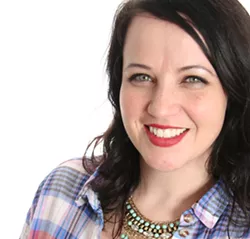 Gavin: Hey Danell and Erin, first thing, tell us a little bit about yourselves.
Danell: On the professional end, I have been a member of Movement Forum since 2004. Around 2006 I became the Co-Director, and in 2010, the Artistic Director. I received my BFA in Modern Dance from the U of U and worked there for six years as the marketing/pr/design director after I graduated. I am currently a dance teacher at Olympus High School (go Titans!) and am an adjunct faculty member at SLCC. I choreograph, create dance films, try to perform in other projects and I do free-lance design on the side. On the personal end, I am a sloth-loving klutz (off-stage) who is currently addicted to playing Wordament, but awful at it! My husband is a banjo-player and artist so you can imagine the madness that happens in the wee hours of the morning...
Erin: I've been dancing with Movement Forum since the company began in 2003 and have been the Executive Director for about two years. I originally moved to Salt Lake City from Colorado to earn my BFA from the Modern Dance Department at the U of U. Since then, I have also produced my own choreography and dance films and earned my Pilates instructor certification. I am currently working as a lab technician in the Department of Pharmacology and Toxicology at the University. My husband and I have two daughters, and sometimes I find time to dance with other local dance productions in addition to Movement Forum.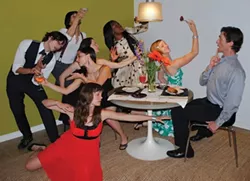 Gavin: How did each of you take an interest in dance and what were some early influences on you?
Danell: Up until 25, I thought I was going to be a visual artist and only dance as a hobby, but I realized that the results of dance were --I didn't have to spend hours staring at a canvas (though replacing it with staring at a mirror) -- and could see the results of my thoughts much quicker. Dance is also not mounted to a wall and collecting dust. It's alive and can change minute to minute, year by year. It's affected by earaches and bodies and the state of mind of that body. This is a bit embarrassing but the Fly Girls (specifically Jennifer Lopez) from the television show In Living Color had a huge influence on me when I was younger. I also remember seeing Ririe Woodbury and thinking of those dancers as rock stars! I feel my mentor, professor Tess Boone (SLCC), professor Steven Koester (U) and choreographer Doug Varone (NYC) had a major impact on me as I started training in Modern Dance.
Erin: Honestly, I really didn't like the ballet classes that I took as a 5-9 year old! But I did enjoy going to all the performances my mom would take me to, any time a group passed through town. It clicked for me in junior high when the Cleveland Ballet Dancing Wheels (a professional company with several dancers in wheelchairs) came to perform. This led to me choreographing dances with my close friend, Denise Allison, who uses a wheelchair, and both of us eventually attending classes in Cleveland with the company. By the time I was in high school, she and I started to teach in a dance studio so that kids with and without disabilities could perform together. I did eventually develop a fondness for ballet in high school, but I am a modern dancer at heart.
Gavin: What was it like for both of you growing up learning the art form?
Danell: I didn't have a lot of formal training when I was younger. I remember I tried out for a local dance studio's competitive team, never having a dance class in my life except for "mini-spinies" (my local high school's drill team fundraiser). I had no idea what I was doing! Around 11 years old, I borrowed a leotard and shoes from my mom's co-worker's daughter and cut-up a sweat shirt because I saw it in Flash Dance and tried out. The director thought I had been dancing for years, but I was just strategic: I watched carefully and hung out at the back of the line when we did across the floor sequences so I could pick it up by the time it got to me. They said pirouette and I thought, "Treats!?" Even after high school dance company, I didn't even know the left side of my body could move and was actually the stronger of the two. I certainly wasn't the best technical dancer but arguably, I had the most passion. I feel not having that formal training early on helped me to not get locked into how things "should be" and "styles" and all the stuff that makes dancers neurotic. It truly allowed me to see it as an absolute creative pursuit. Sure, I had to "catch up" by taking Ballet twice a day and retrain my body but I wouldn't change it. However, my hips feel differently.
Erin: Similar to Danell, dance wasn't something I did my whole life. For a long time, I thought I wanted to be a writer, and then I became really interested in science, while at the same time starting to dance more in high school, perform on pointe, and teach dance classes. But I was going to summer science camps instead of summer dance camps! When it came time to apply for colleges, I decided that I would audition for some dance programs to see if I would get accepted. I assumed I could always go back to school for a science degree later. So it really felt like attending a college program gave me the chance to "grow up" as a dancer.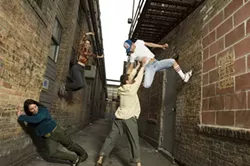 Gavin: How was it going through college and eventually pursuing professional careers as dancers?
Danell: Going to the U felt like coming home. Of course, I am biased but the U cultivated not only a strong work ethic and technical training, but it allowed me to explore other aspects of dance like writing, costume design, stage lighting and teaching. It also prepared me for the life a dancer usually endures. Getting a degree in dance is like getting a degree in unemployment, because it is not necessarily celebrated or supported in here in the US (especially Modern Dance), but the U can help you gain a pretty mean skill set and supporting network to be successful. Since I started a little later in life, I decided that moving to New York or jumping into the audition circuit was not for me and that I might have better luck teaching and choreographing. However, I was offered the job to work in the Dance department the summer I graduated so I was lucky enough to spend a few more years at the school and really network and lay the groundwork for what I am doing today.
Erin: I remember being uncertain about getting graded for dance classes. That was a completely new concept to me! It was difficult to figure out the physical and emotional challenge of dancing nearly every day for four years. You have to go, even if you don't feel like it, even if you are intimidated or lack confidence. But at the same time, every day, I realized that I loved dancing more and more. By the time I finished my degree, I had learned so much about what motivates me to dance, and about having the confidence to make opportunities for myself, even if a role I wanted wasn't offered to me. I did attend several auditions for local companies as well as companies in NYC after graduation. It was around this time that I realized I probably would not enjoy the rigor of dancing in a full-time company, touring, or moving away from SLC. I also started to gain success with creating my own work in Salt Lake City, through support from local arts councils, and I was regularly dancing with Movement Forum as well. I was also fortunate enough to continue working for the Pharm/Tox department, which is where I still work, allowing me to do some pretty compelling science and stay in touch with my other interests.
Gavin: When did the two of you first meet up and become friends?
Danell: Erin and I were actually classmates at the U. Again, that program! But because you spend about 10-13 hours a day for 4 years with your cohorts, it becomes relatively easy to become friends. Though I would have to say the reason Erin and I became good friends was because of another classmate's obsession with Dolly Parton. Our first semester together, Michael O'Connor started an annual Christmas Party which revolved around watching Dolly Parton's Smoky Mountain Christmas Special. Only a few of us showed up (Erin being one of them) and the friendship just blossomed from there.
Gavin: Did you interact much with each other professionally or was it more occasional bump-ins?
Danell: As mentioned before, we've been interacting and bumping into each other while dancing for years now!
Erin: As classmates, we really only did a few projects together, if I remember correctly. In some ways, Movement Forum has been the thing that has connected us more as dancers, separate from our social friendship.
Gavin: How did the idea of starting your own dance company come about, and where did the name come from?
Danell: The company actually began as a group of U students in the dance program deciding they wanted to practice improvisation as performance. Graham Brown eventually became the director of Movement Forum. I actually saw one of their first performances at the U of U library and knew immediately that I wanted to be a part of it and so began bugging Graham to let me in. A little less than a year later, I was able to get involved in the group. For the record, our professional name is Movement Forum, but all the cool kids and how we usually talk about ourselves is "aka MoFo" or just plain MoFo. We do also like the name Movement Farm and have a catchy little tune we sing about it, but if you want to hear it, you'll have to come check out a rehearsal.
Erin: The name came from the idea that our group would be a forum for movement. Meaning that through dancing, we would learn about movement, learn about the other dancers, and "discuss" our different perspectives about movement through the act of dancing together. But sometimes Movement Farm does seem more appropriate!
Gavin: What was it like for you getting a crew together and formulating how to approach it?
Danell: In the beginning there were many approaches on how best to sustain the company. It was originally supposed to be a collective, meaning everyone plays a part in it's success. This makes sense because improvisation is very fluid. Everyone is responsible for bringing their own creativity, voice and abilities to the table. You can't really tell improvisers what to do, you have to create a structure or set of rules with which they can play, bend and alter to their liking. We eventually decided that someone needed to be able to act on behalf of the whole company, which is when Graham Brown became the first Artistic Director. The company members still did their best to contribute to all areas of running the company including finding gigs, creating posters, and running rehearsals, though Graham, being the leader would often take on the bulk of this. A couple of years in we all realized that it was hard for one person to keep it all going so I asked Graham if I could help him. Eventually it evolved into he and I becoming Co-Directors and we divided the jobs as we needed. When Graham left the company to pursue a graduate degree, the company fell to me and it has again evolved into Erin become the Executive Director and me becoming the Artistic Director. Erin is a grant writing rock star and I am the driving end at rehearsals. However, if a dancer has a project they want to pursue, they take it to the company and become the "director" for that project. This model has helped us be involved in very diverse projects like the New York Fringe Festival, Salt Lake's Gay Pride Parade, and performing at The Leonardo in SLC. The great thing about an improvisational company is there is never one way to do anything. How we approach any project, the company and general duties is dependent on the project, who is in the current company and who feels capable of the duties at hand. Sometimes we have a collection of dancers that are very driven and come to rehearsals with several ideas to try on. Sometimes we have members that would much rather go with the flow and then the directors take a more active role. The more we stay together the more we re-learn and re-evaluate the best approach to the task at hand. Mostly, we just have to remain open. Open to new ideas, open to failure, open to starting over and open to being open!
Gavin: What was the process like in finding dancers to take part in the company and how did you go about selecting those who are currently involved?
Danell: Through many reincarnations of the company, we have found our best versions are when we have an eclectic set of dancers who have a wide array of interests in and out of dance but are also exquisite movers. They more versatile the dancer is, the better, as improvisation doesn't fit into any one style or box of what it should look like. We usually ask that potential members have a collegiate education or professional experience in dance. Just like a family, there needs to be the loud one, the funny one, the quiet one, the one who is keeping it together, the crazy one and so on. We hold auditions much like any other company, however, we do also have monthly improvisational jams where we informally consider possible company members. Facebook stalking is not out of the question.
Gavin: You launched the company in 2003, what were the first few performances like for you, both in setting them up and getting them ready for stage?
Danell: The nuts and bolts of getting a show ready for the stage is kind of similar to what I have heard about childbirth. It is so painful that you forget what it took to get you there! The first few performances were frightening, exhilarating and exhausting! I have never really felt more alive on stage than when I am improvising and connecting with my fellow company members. Every aspect of you as a human is on high alert. You have to be simultaneously living in the moment as well as thinking ahead to what is next; you are seeing yourself dance from the outside but also being acutely aware of what is happening inside. There is a lot of trial and error during rehearsals, a lot of process that is discussed, revised and clarified, a lot of fun but frustration and a lot of questioning whether or not what we have created is a sustainable and viable piece of art for an audience. I feel for a really good improv to happen, there isn't a lot of in-between. It can be quite nerve racking to try to guess what could potentially happen on stage (because you never know, it's improv) and then prepare for it. But not too much because it's improv. We often say, "It is what it is," because once it's out there, that's it. It either just fell apart right in front of the audience or it worked on some level. The goal is to have it work brilliantly, but ultimately, it is what it is.
Erin: The majority of our first performances were actually outside. Our goal has always been to create an improvised performance that looks as if it could have been choreographed. Performing outdoors was one way to get an audience without doing much promotion, and it also gave us an informal way to experiment with the idea of performing improvisational dance. We also enjoy performing on stage and in unique venues as well. Improvisation has really served us to be able to perform anywhere.
Gavin: Being a company without a home theatre, do you find it easier or harder putting on productions as opposed to companies with established homes?
Danell: Because we have the freedom to improvise anywhere and often chose to perform in places that aren't necessarily seen as traditional dance venues, not having a home has suited us just fine. We have danced outside on cement, in the park, on the street, in formal and informal theatres, malls, coffee shops, abandoned buildings, the back of a moving truck, horrible stages not built for dance and more. We get to reinvent ourselves each time we create a project and feel each project almost chooses it's space. However, our biggest challenge is that when we do decide that we want to have a more traditional performance space, we do have to navigate in ways that companies that have homes do not. Those housed dance companies get first pick of space, dates, have an in house technical/support staff and often use it rent-free or have a discounted rate. We don't get that luxury. I remember after our run of "Zodiac Tattoo" we swore we would never perform in a formal theatre again, as all aspects of securing and renting the space was an absolute nightmare. We do have to say here that Sofia Gorder (Fromme) former member of the company and the director of Rowland Hall St. Mark's School dance program and Influx Dance has been a huge supporter of Movement Forum and allows us to use her studio once a week for rehearsals and our community dance jams. If anything, we consider that home.
Gavin: What kind of a challenge has it been maintaining and company and keeping it growing over the years?
Erin: Looking back, I don't think any of us knew that Movement Forum would be consistently performing for ten years. This alone makes us somewhat unique, because there are a lot of students that start groups in Salt Lake but eventually lose momentum when dancers/directors move or change artistic goals. I think the fact that we have been able to succeed with changing directors and having so many wonderful dancers participate over the years, has really been the key to keeping the company going. Of course, it has been a lot of work to stay afloat.
Danell: Dancers come into the company knowing that they are doing it because they love it and not because they can live off of it. Additionally, we have an admin staff of two: Erin and me. We also dance with the company so sometimes it gets a little daunting knowing that after rehearsal our work is not done.
Gavin: Something more recent that sets you apart from other companies is you do fundraising for each performance. What inspired you to take that route?
Erin: This is actually starting to become a common way for small dance companies to work, out of necessity. Most of the grants we receive are for a specific project, which means that we are not permitted to reserve any funds for regular operating expenses. We have successfully partnered with non-profit organizations, such as loveDANCEmore, in the past. However, we are planning to seek our own non-profit status in the next year, which will make us eligible for additional funding sources. We typically try to produce one full show per year, while participating in other festivals and group shows throughout the year. Each production requires a lot of planning, and our work has frequently been supported by the Salt Lake City Arts Council.
Gavin: How successful has it been in getting the audience and community to help fund each performance, and how do you reward those who contribute?
Danell: We usually fund performances through grants and often don't expect that ticket sales will be the bulk of our revenue. We actually enjoy putting on free performances around the city on street corners and have the passer-by become an unsuspecting audience member. We could say that they get rewarded by being part of the performance whether they like it or not!
Erin: We have been successful with a one or two grant applications each year, receiving support from the Salt Lake City Arts Council and the Puffin Foundation in the past. Our current project is being supported by the Utah Division of Arts and Museums in addition to the Salt Lake Arts Council and our successful Kickstarter campaign. With Kickstarter, this is the first time we have done an extensive amount of fundraising through personal donations, and we are so grateful for the support! Bringing in guest artists is a big undertaking, so we would not have been able to fully realize this project without the individual donations from our supporters. Movement Forum is also fortunate to have rehearsal space donated by Rowland Hall Upper School, which reduces our operating expenses. Dancers also volunteer their time for rehearsals, which is unfortunate, but in many small companies, unavoidable.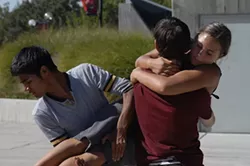 Gavin: You recently started the Guest Artist Series and commissioned five artists to create new pieces. What made you decide to start that program and what have you started working on with those artists?
Danell: The idea of having other improvisational artists set work has been tossed around a bit, but Erin really solidified and designed the series as she felt strongly that having guest artists set work on the company would give us all an opportunity to work together in a very different way to jump start us into another 10-11 years together. We will start to work with the guest artists as soon as February if possible but the bulk of the rehearsals will take place early summer.
Gavin: Tell us a bit about the artists you'll be working with and what we can look forward to this coming season.
Erin: We have gathered a very diverse group of dancers who all work with improvisation in their work. It will result in a very unique performance that will likely have something for everyone in the audience to enjoy. We invited artists based on the recommendations of dancers in the company, and we hope to bring performance work to Salt Lake City that would otherwise not be presented here. Stephen Koester is the Chair in the Department of Modern Dance at the University of Utah. The improvisation classes that he teaches had a significant influence on many of the dance company members, and for this reason, is arguably one of the main reasons that our company exists at all. We are thrilled to be working with him again in this professional capacity. Gabriel Forestieri is the Director of projectLIMB in NYC, which focuses on integrating the environment and landscape into the dance work. We are interested in creating an outdoor performance with him. Miguel Gutierrez is based in Brooklyn, NY and through his website states that his work is "quite emotional and concerns itself with the phenomenon of existence." He recently taught at the Salt Dance Fest in summer 2013, and we were able to discuss the possibility of commissioning his work at that time. Yvonne Meier (also based in NYC) is from Switzerland, and her work can have a humorous perspective. She will sometimes use props for inspiration, which can give a dance framework, while at the same time creating situations that are unusual and theatrical. Ishmael Houston-Jones will be joining us from NYC. His work tends to deal with topics of a serious nature, using text in the performance to explore his themes through movement and dialogue.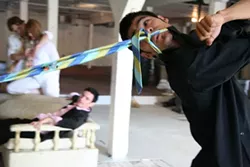 Gavin: Going local, what's your take on the Utah dance scene, both good and bad?
Danell: Not only are we a state that houses many top dance programs in the nation and our elementary and secondary schools have dance embedded in its curriculum but there are dance studios on almost every corner. Our local scene is beginning to expand from just traditional dance companies to more experimental and urban/street dance companies. You could probably see a dance performance every night of the week. However, people may not know this because I don't think there is enough consistent public promotion, available venues, financial or collegial support for the smaller or fledgling companies to get their work out there successfully enough to consistently pursue, fund and show work. And maybe it will never be enough because I am greedy! I do think it is unfortunate that underground or "grass-roots" companies don't work together more. And I include us in that statement. We can all do more to help each other out. I am not sure if it is because some of the more well-known dance companies have a choke hold on the bulk of the grants, audience, performance venues and media outlets so it feels like you have to scavenge and hoard, or if there just isn't enough enticement to get people away from their Netflix and their So You Think You Can Dance fix. It's possible we are all exhausting the same audience base, half of which are other dancers, and after a point, everyone just burns out. However, Ashley Anderson (who is a one-woman tour de force) and her loveDANCEmore organization is definitely attempting to get dancers, companies and the public on the same page. Her efforts to umbrella companies, create artists-in-residence opportunities, preview and review dance, and give dancers a working performance space has given a voice to dance in utah that it has never had before. Likewise, the SugarSpace is pushing to make rehearsal and performance spaces more readily accessible and affordable to companies like us. The more these organizations are successful, the more they can help the dance scene flourish.
Gavin: Is there anything you believe could be done to make it more prominent?
Erin: It's a very slow process, but I see the local dance scene evolving over the years. When Danell and I graduated from the University, Sugarspace and loveDANCEmore had not yet started their work in SLC. Now, there are more opportunities to perform dance on a small-scale budget. Eventually, I think the audience size and funding will also start to catch up to the amount of qualified dancers and choreographers who are working in Salt Lake. But it takes time, and I think that the performances, an online presence, and having some regular press with local reporters is important to keep the project-based choreographers in business.
Gavin: What's your opinion on other local dance companies and the work they're doing to promote the art?
Danell: That's a tricky question because being immersed in it from all angles, I don't want to negate the work of fellow colleagues as I know the time and energy it takes to create anything and I commend that work is being done, whether good or bad. I do think our local companies are brilliant in their own ways. However, I am and will always be interested in seeing more risk-taking. I leave the definition of risk-taking open to interpretation. For instance, Ririe Woodbury, can we please see some different body types on the stage? For them, I feel that would be risk-taking. Hey Repertory Dance Theatre, can we see more of what the dancers can do? I feel they don't tap into the talent of the dancers they have on that company. Excuse me MoFo, but why don't you do some choreography in your next project? That would be risk-taking for us. I can tell you we have tried a little in rehearsal and it was a hot mess, but an intriguing hot mess. The old saying, "If it ain't broke, don't fix it," should not apply to dance. We should be breaking it, re-examining it and putting it back together in a different way. Maybe it's an awful version of what it once was or maybe it doesn't even look like what it was before, or maybe you throw it away and just buy something new, but at least it would be different. Complaints can be sent to info@akamofo.com.
Gavin: What advice do you have for anyone looking to get into professional dancing for a career?
Danell: Build a thick layer of skin because directors, fellow dancers, critics and your own inner dialogue can be cruel. Explore all dance styles for versatility and marketability (I can't tell you how much I want to see a ballet dancer bust out a good roger rabbit now and then) as well as your own artistry so you can be unique and stand out. Most directors are interested in the creative voice you bring to rehearsals aside from your exquisite battlement. Most importantly have a back-up career, and as Tandy Beal said, "Cultivate a passionate hobby."
Erin: I think it is important to define what "success" is for you and allow that to change as things in your life change. For me, being paid to dance, and being able to pay those who perform for my projects is my current definition of success. I used to think dancing full-time was the ultimate goal, but right now, I'm so happy that I have time for my family and my other career paths. Everyone has a different approach to what a professional dance career will look like.
Gavin: What can we expect from both of you and MoFo going into next year?
Danell: A completed website, consistent blog, enhanced tweeting abilities, agile thumbs, consistent work being shared, and a better dialogue between companies. In my personal dance world, I will also be performing in the lovely Natosha Washington's company/project The Penguin Lady in Fall 2014. It will be fierce.
Erin: With the Guest Artist Series, each residency will be split between working with the company, teaching a master class for dancers in the community, and participating in an improvisation jam that is for everyone to attend (even absolute beginners). We are also planning informal performances at the conclusion of each residency to invite an audience to see the work before our formal performance. Please check our website, Facebook, or Twitter for updates regarding the schedule. I will also be performing for Natosha Washington, and I will be making a small appearance with my daughter in Ririe-Woodbury's show Flabbergast at the end of the month.
Gavin: Is there anything you'd like to promote or plug?
Erin: Even when we are not working with guest artists throughout the coming year, we will continue to host an improvisation jam on the last Wednesday of the month, from 7-9 p.m. at Rowland Hall St. Marks Upper School Dance Studio (843 Lincoln Street, SLC). This is a great opportunity to dance with and learn from members of our company. We are happy to welcome people with or without a dance background. We've also really enjoyed having musicians attend, and we've even had artists come to sketch. We hope to see some new faces there and at our other events coming up!
| | | | |
| --- | --- | --- | --- |
| Follow Gavin's Underground: | | | |