Days before the start of the 2014 Legislature, The Church of Jesus Christ of Latter-day Saints dropped a public-policy revelation on lawmakers that explained that Utah's liquor laws were fine and didn't need any more normalizing. Besides having Church Apostle Todd Christofferson release a video statement, the church made a cute whiteboard animation video explaining why Utah's laws are just hunky-dory the way they are. But the church made a few sloppy points while talking public policy under the influence of the Word of Wisdom. Here's a rundown of what our fact-checkers found. ---


Utah laws are "perhaps" the reason why there are so few alcohol problems
"Did you know that Utah has the lowest number of alcohol related traffic deaths per capita in the nation? While several factors contribute to that statistic, perhaps the most important are the state's comprehensive alcohol laws and regulations that promote public health and safety."

The video references 2012 data showing Utah having 1.2 alcohol-related traffic deaths per capita, compared to the national average of 3.3.
But is it Utah's laws that are "perhaps the most important" factors in aiding this number, or does Utah's majority Mormon population—62 percent of Utahns are members of the LDS Church, which forbids the consumption of alcohol—have anything to do with it?

Connor Boyack, head of the libertarian-leaning think tank the Libertas Institute, finds it odd that the church would give credit to laws and regulations as opposed to the practices of its members in the state.

"The prevalence of Latter-day Saints in Utah who abstain from alcohol is, in my view, the most significant contributing factor," Boyack writes via e-mail. "Utah ranking as the lowest of the 50 states in terms of beer consumption, for example, is likely due more to the LDS Church's Word of Wisdom than to the legislature's mandates."

Only jerks weird-shame Utah for its liquor laws
The video also goes to the trouble of drawing a featureless cartoon man complaining that Utah's liquor laws are "weird" before stating that "these same voices are calling on lawmakers to make statutes 'normal like the rest of the states.'"

The spin here is again that Utah shouldn't be ashamed about its quirky laws when other states have even weirder laws—and when they result is an increase in public safety.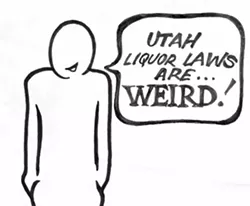 It's a slick argument, except for the fact that the voices calling for changes to Utah laws aren't just faceless whiners bitching about Utah's liquor laws. In past sessions, the most vocal presence on the Hill for reforming liquor laws weren't ornery barflies but upset small-business owners who feel they're suffocating under Utah's booze bureaucracy.

In the 2013 session, for example, Rep. Ryan Wilcox, R-Ogden, brought an unsuccessful bill to take down "Zion Walls"—partitions in most Utah restaurants that shield patrons from watching drinks being poured or mixed.

Wilcox brought the legislation on behalf of a family restaurant in his district that was required to place an expensive and obtrusive wall in its restaurant.

Research sorta maybe shows that Zion Walls protect the children
"Research shows that if alcohol is prevalent in everyday life, kids become accustomed to its presence and desensitized to its consumption, which can lead to early drinking among children."

The video hones in on defending the booze partitions, saying they serve a vital role in protecting impressionable children from the influence of "the culture of drinking."
That "culture" is something that the church, lawmakers and other groups have said leads to underage drinking. But during his research for his 2013 bill to do away with Zion Walls, Wilcox found no evidence that linked underage drinking to watching drinks being mixed.

So what about this fancy-sounding research the church video references?

In 2013, the conservative think tank the Sutherland Institute argued for the walls, citing two studies. The institute also referenced several other studies when contacted by City Weekly.

We'll take a good look at the relevant studies in just a moment, but let's start by pointing out that none of the studies looked specifically at connections between underage drinking and minors viewing alcohol being poured and mixed in restaurants.

None.

So far, it appears that no studies have actually been conducted on the subject.

As for indicators of underage drinking, a 2011 report to Congress by the U.S. Department of Health & Human Services and Substance Abuse & Mental Health Services (cited by Sutherland) said that restaurants are sometimes locations for underage alcohol consumption, but that the clear majority of underage drinking occurs at private residences—usually unmonitored house parties.

Another study cited by Sutherland is a Journal of Studies on Alcohol & Drugs report from September 2011 that shows a strong link between "parental drinking frequency" and underage drinking. The problem here is that Zion Walls don't stop kids at Applebee's from watching their parents drink their alcoholic beverages—it just stops them from watching it get poured.

The closest the research gets to analyzing the subliminal influence of drinks being poured, shaken and stirred on underage drinking is through linking advertising to underage drinking. One of the strongest studies there seems to be a 2007 study of more than 1,700 sixth graders in South Dakota showing that a combination of ads precipitated the youth drinking in the next grade or expressing an intention to drink.

Even still, researchers pointed out that South Dakota was ranked among the Top 10 states for binge drinking among adolescents to begin with, and therefore "results may not generalize to other locations, particularly those with low rates of alcohol misuse."

This is public safety, not proselytizing
Finally, the video argues that the church's interest is not trying to force its beliefs on others, but simply promoting public safety, arguing, for example, that if Zion Walls "prevent one life from being negatively affected, wouldn't it be worth it?"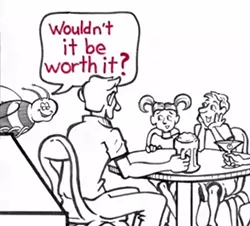 But if that's the barometer by which the church encourages public policy, why have they only made that argument when it comes to alcohol, something that conflicts directly with the tenets of its doctrine?

Certainly, stricter gun control legislation would likely stop one life from being "negatively affected." Or how about air quality—surely the tens of thousands of hacking coughs along the Wasatch Front could merit a cartoon from the church, couldn't they?

Or maybe those videos just haven't come out yet—in which case we'll quit our preaching and hold our tongues until they do.