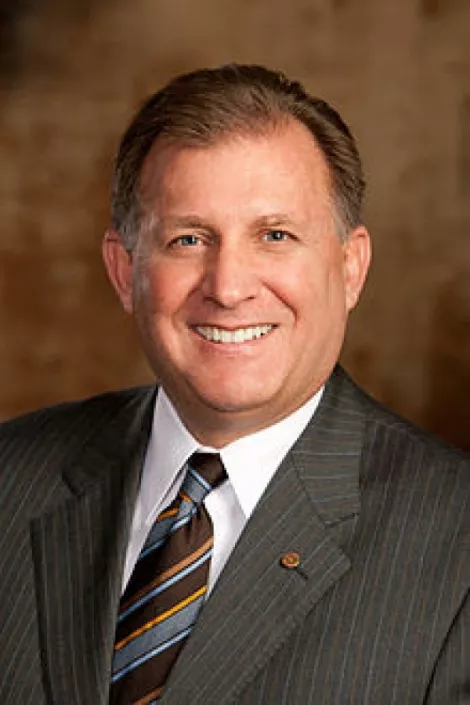 Medical Cannabis Payment Solutions announced Wednesday that it had welcomed Sen. Curtis Bramble, R-Provo, to be chair of its advisory board. The company's press release touted Bramble's "deep experience in accounting, legislative framework, regulation and compliance."---

Bramble, who's spoken against marijuana legalization in the past, says his role will not involve any government relations—though he will draw upon his experience in government and his decades of work as a certified public accountant on the advisory board.

"The question is, if this is the direction the country is going, then how can that environment be most effectively regulated in a way that meets the legal requirements in the various states [medicinal marijuana is] legal and also also recognize there are states where it's not legal?" Bramble says. "And how do you navigate that? This company has come up with a very innovative approach."

Medical Cannabis Payment Solutions is a 2013-formed Nevada company that plans to ride the green boom by helping dispensaries manage their business through innovative tech solutions. MCPS also wants to help these businesses work better with "policymakers and stakeholders," a key function that, the company's press release says, makes Bramble's role invaluable.
Bramble's political connections extend beyond the Utah Legislature. In August 2013, Bramble was elected as the vice president of the National Conference of State Legislatures, and also currently serves on the American Legislative Exchange Council, a secretive organization known for playing matchmaker between corporate interests and lawmakers in state legislatures across the country.

Bramble says he is not receiving a paycheck from MCPS. His compensation for being chair of the advisory board hasn't been discussed, he says, and the board has not even yet met yet formally.
MCPS was formed May 17, 2013, shaking off its former direction as Refill Energy, an energy-exploration company, to make a push into the medicinal marijuana business..

The CEO of MCPS is Utahn Jeremy Roberts, who has a background in marketing and politics who was formerly the secretary of the Utah County Republican Party. The company itself is publicly traded, but not on the regular stock exchange; it's instead sold on the "Over the Counter Market" as a "penny stock."

Penny stocks traded on the OTC "Pink Sheets" like MCPS aren't subject to regulations from the Securities & Exchange Commission as traditional publicly-traded corporations are, and have been criticized by some for their lack of transparency.

While "Pink Sheet" companies don't disclose the same qualitative details that SEC-regulated companies have to, MCPS did post a quarterly statement on Sept. 30, 2103, noting that the company had no revenue and had taken out a $35,000 loan at the end of the quarter to continue operating.

Roberts has not yet responded for comment.

Bramble is quoted in the company's press release enthusiastically supporting the company's mission of using technology to outfit the budding medicinal marijuana business, but Bramble has not always been a cheerleader for the industry.

On Aug. 26, 2013, Legalize Utah, a group advocating for the legalization of medical marijuana in the state, posted the response from Bramble to an e-mail blast the group had sent to lawmakers asking them about medicinal marijuana.

"I have previously responded to you and voiced my strong opposition to your agenda of legalizing marijuana in Utah," Bramble's response read. "My position is unchanged. I strongly oppose legalizing marijuana in Utah and will continue to do all I can to defeat this proposal should it actually come before the legislature."

Bramble says his response to the group was based on his belief that the group was simply using the call for medicinal marijuana as a "front" to legalize recreational marijuana in the state. Bramble says he sees a big difference between marijuana for recreation and well-regulated medical treatments such as those being considered on the Hill that could aid those who have severe epilepsy.

On the same day MCPS published its press release, a bill by Rep. Gage Froerer, R-Huntsville, was introduced on the House floor to allow the medicinal use of a cannabis-extract oil in the state. The treatment has made news recently for its ability to help children with severe epilepsy.

In another press release, MCPS stated that it would advocate with the Utah Legislature about the benefits of cannabis-oil extracts.

Bramble says he hasn't read the bill, and points out that "I didn't write the press release" for the company.

The release does quote Bramble for touting the company's "Seed 2 Sale" integrated solution as "a powerful way for dispensaries and state governments to improve their relationships, work together on the right risks and drive overall premium growth."

But, Bramble says, "I don't expect a paycheck, I don't see myself changing careers or anything like that … and I certainly don't see myself entering into any lobbying effort."