Any excuse to do some grilling or barbecue - President's Day holiday for example - is a good one. I really love having a Monday off to fire up the grill. --- Too cold to grill in winter, you say? Well, with this preparation for baby back ribs you'll do most of the cooking in the oven, and just finish off the ribs on the grill.
Many years ago, I acquired a fantastic recipe for baby back ribs. I don't recall where I got the original recipe, which I've tweaked a bit here and there. All I know is that this recipe and method results in some of the most bodacious baby backs I've ever gotten my lips around.
Don't be freaked out by the number of sauce ingredients. It's really pretty simple once you have all of your ingredients lined up. And, the recipe makes enough sauce to freeze some for use another time.
Sauce ingredients:
2 tbsp. vegetable oil
1 small minced onion
1 1/2 cups water
1/2 cup tomato paste
1/2 cup vinegar
1/2 cup brown sugar
2 1/2 tbsp. honey
2 tbsp. Worcestershire sauce
2 tsp. salt
1/4 tsp. ground black pepper
1/2 tsp. liquid smoke flavoring
2 tsp. whiskey
2 tsp. garlic powder
1/4 tsp. paprika
1/2 tsp. onion powder
1 tbsp. dark molasses
1/2 tbsp. ground red chile pepper
Ribs & seasoning
2 slabs baby back pork ribs
salt
pepper
ground red chile pepper
Method:
Preheat the oven to 300 degrees.
Cut each rib rack in half. (If you use two slabs, you'll now have four half-racks.)
Sprinkle the ribs on each side with salt and pepper (more pepper than salt), along with a few pinches of chile pepper.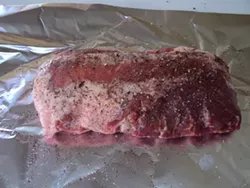 Wrap each half-rack securely in aluminum foil.
Place the foil-wrapped ribs onto a rimmed baking sheet (in case some of the juices leak out). Bake for 2 1/2 hours.
While the ribs are baking, heat the vegetable oil in a medium saucepan over medium heat.
Cook the onions in the oil, stirring occasionally, for about 5 minutes.
Next, stir in all of the remaining ingredients: from water through the chile pepper. Mix well, bring to a boil, then reduce the heat and simmer for 1 1/4 hours or until the sauce has thickened.
Remove the sauce from the heat and set aside for later use.
Remove the ribs from the oven and allow to stand for 10 minutes. Heat an outdoor grill to high heat.
Remove the ribs from the foil and place on the grill. They'll look sort of grey-brown and funky. But, have no fear. They're going to look great once you finish them on the grill.
Grill the ribs for 3-4 minutes on each side.
Brush the whiskey BBQ sauce on the ribs just before they're done grilling, so the sauce doesn't burn.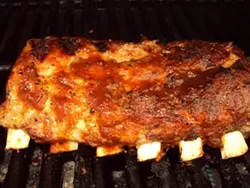 Serve heated, additional sauce with the ribs, if desired.
Photos by Ted Scheffler