Hello to all you line-waiting, book-shuffling, bag-toting, costume-dressing, getting-all-the-free-comics-we-can enthusiasts! --- As mentioned several times this week, today is Free Comic Book Day, where swarms of people took over every store nearby and snagged every comic they could get. Check out this photo gallery from the crowds that invaded Dr. Volts this morning.
Going to events, tomorrow is May 4th, which for some marketing reason became an unofficial Star Wars Holiday (May The 4th Be With You... get it?). In celebration of this fake holiday, the Urban Arts Gallery in partnership with Blonde Grizzly and the Salt Lake Comic Con will hold their annual Star Wars art exhibition, followed by a screening of the original film. Its totally free and runs from Noon until 5 p.m.
Next up, a shameless self-plug for City Weekly as the Best Of Utah party will take over The Leonardo this Wednesday. This is the first year that spectators were allowed to purchase tickets to attend the party. And that's about all I'm going to say because if you don't buy a ticket, you won't know what's happening. Join us and all the winners we can cram into three floors.
This Saturday, the Wasatch Roller Derby will be holding another home bout at the Derby Depot. This week's battle will put the Salt Flat Fallouts against the Hot Wheelers, you can still snag tickets off their website, game time will start at 7 p.m.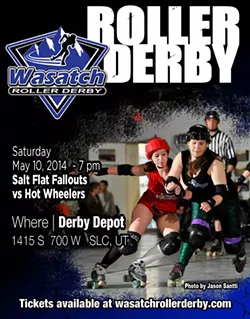 On Monday, May 12, the Beehive Design Collective will take over Mestizo Coffeehouse for "Mesoamerica Resiste!" This will be, as it is described in their event plan, a graphics-based picture-lecture, comprised over the course of eight years from dozens of contributors, totally free for the public to check out. You can read more about it on their Facebook invite, it sounds like an interesting showcase to check out.
On Thursday, May 15, we'll see Utah's Give OUT Day. If you're familiar with the Love Utah Give Utah fundraising program, its much like that, only with a focus on LGBT organizations. For nearly 24 hours, you will be encouraged to donate to the five organizations below so they may continue to thrive, grow and support change in our community. You can get more information on it at this link, which includes donation links to help them out ahead of time.
And then finally on Saturday, May 17, the AIGA 100 Show will take place at the Utah Museum of Fine Arts. This will mark the organization's 25th anniversary in the state, as they show off the winners from their annual design competition.
As for the blog... a lot of it is up in the air at the moment, but you're going to be reading a lot on local fashion and art, as well as some music and a major festival in town. As always, we'll see what happens.



| | | |
| --- | --- | --- |
| Follow Gavin's Underground: | | |