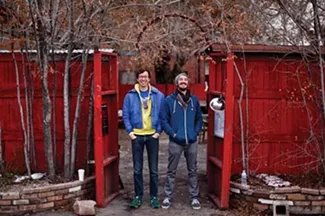 Will Sartain and Lance Saunders at Kilby Court in 2008
It's impossible to imagine the Salt Lake City music scene without
Kilby Court
. Kilby was originally opened in 1999 by Phil Sherburne—co-owner of Signed & Numbered with his wife, Leia Bell—as one of the only all-ages venues in SLC at the time. In January 2008, Lance Saunders and Will Sartain took over ownership of Kilby Court, with the goal for the venue they'd grown up with "to remain alive and well for all ages events in Salt Lake City," Sartain says.
There's hardly a music lover in Salt Lake City that didn't attend some of their first concerts at Kilby Court, and it remains a favorite spot for many people as well as a hub for local musicians and the SLC music scene at large. Located at the end of a small downtown street and housed in a garage, Kilby Court is a friendly, low-key place to enjoy quality music, and one that celebrates the independent DIY spirit. "It is practically impossible to exaggerate Kilby Court's influence on the Salt Lake music scene," says Rebecca Vernon of Salt Lake City doom-metal/sludge band SubRosa.
In honor of Kilby Court's 15th anniversary, a diverse lineup of local acts will take to its stage on Friday, July 18:
SubRosa
, rapper
Atheist
and rock band
Great Interstate
, as well as folk-rockers
Westward the Tide
and
L'anarchiste
, who are the winning bands of the 2014 and 2013 City Weekly Music Awards, respectively. Since Kilby has impacted so many local artists, I asked all the performers to share some of their favorite memories of Kilby Court—check out their stories and photos below.
Rhyme Time/Atheist (House of Lewis, Rhyme Time Television)
When I was living in San Francisco, I was going to concerts all the time. Every weekend, I took the Muni downtown to see great bands and rappers. During that time, I met some of my idols and discovered some of my favorite musicians. But it wasn't until I moved to Salt Lake that I realized that I could be the guy that people [would] come to see. In San Francisco, I didn't know anyone who made music. But here, my wife introduced me to her friend, Drew Danburry. He was playing a show at Kilby Court and it was amazing, way different from the shows I'd been used to seeing. He was a guy I knew and he was playing his songs for a happy room of people. A lot of people grew up watching their friends' high school bands, but I never had that experience. It wasn't until my first Kilby Court show that I realized I could be a musician. Not that it would come easily, not that it wouldn't take a lot of work, but it was possible. I recorded my first song with Drew (still unreleased), and the rest is history. Kilby is special. There's not another place like it.
Cameron Brannelly (Westward the Tide)
Kilby Court has always been fascinating to me. It is a smaller venue and kind of hidden to those who have never been, yet it is still a popular one that always houses great shows. There is always a good vibe, and anybody in the music scene in Utah will know Kilby Court and could tell you some great bands they saw there. Our first show at Kilby Court was not too long ago, and it was great time. The crowd is right up in your face—making it an intimate show—and the sound was on point. It's easy to feel the energy of a crowd in that smaller setting. The little outside courtyard is a nice area to chill and listen or wait between sets as well. Kilby Court has established its name in Utah and is well known for a reason.
Rebecca Vernon (SubRosa)
I used to go to Kilby regularly—on average about twice a week—during 2000 to 2003 to see shows. I saw Pinback, Sunshine, Bright Eyes, Death Cab for Cutie and many, many more bands there that would one day become much bigger. I loved seeing Form of Rocket there play in the dark to a packed house. One of my favorite memories of Kilby Court was seeing Gaza play there a couple years ago, while SubRosa was on a break. I saw Gaza perform with such passion and anguish that night at Kilby Court that it really cut me to the heart. Their performance haunted me for days, and made me decide that I needed to make music again one day. Another memory I love was seeing a band called Barbie Car at Kilby Court in maybe 2003 with my bandmates from Violet Run. It was one of those wild-card nights where it was like, "Hey, what's playing at Kilby? Never heard of this band, let's go just check them out." They were one of the heaviest bands I'd ever seen, brutal, grinding death metal but with a certain bitter humor. Me and the rest of Violet Run fell in love with them and their band name instantly.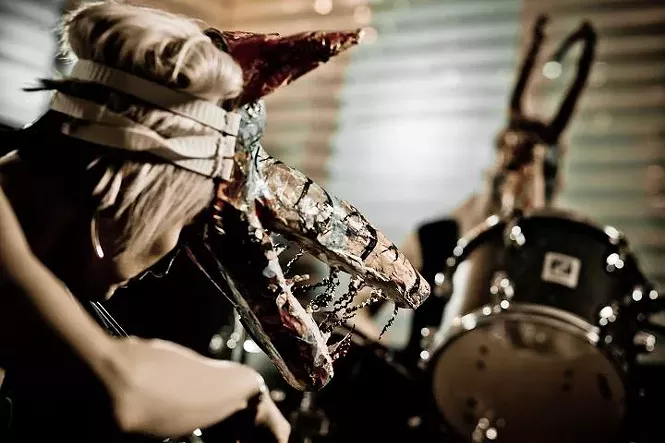 Kim Pack (violin) and Rebecca Vernon (drums) playing as Cicadas at Kilby in 2011
Rebecca Vernon playing with Cicadas at Kilby in 2011
Rob LeCheminant (L'anarchiste)
I wanted to talk about our (L'anarchiste) first show, which happened to be at Kilby. We weren't expecting too much, and I was super nervous about getting all the music ready, because I had poured everything I had into it. It started as a basement project of mine and bloomed into something much bigger. When we started setting up, we were all pretty nervous. We had a ton of things to set up as well, and it was a mess trying to figure out our setup with the sound guys. I'm sure we're notorious for having a big setup by now. Anyway, we started sound checking, and people just kept showing up and showing up. By the time we started playing, the place was packed. I couldn't believe it. We had probably 100 people there (or at least it seems like it even if it wasn't that many) and the energy was incredible. It was just so fun to play to that crowd. … I figure we probably didn't sound that great initially, but it is probably my favorite memory there thus far.
Gavin Sheehan
The original L'anarchiste lineup at Kilby: (left to right) Jacob Hall, Erik Maloy, Rob LeCheminant, Melissa Lapray, Jake Burch and Alex Gilvarry
Alex Gilvarry (L'anarchiste)
The first time I went to Kilby Court was to see the band Menomena. I had never heard of Kilby before, so I wasn't really sure where I was going, and I had been at a high school track meet before going to show, so we were running a little late. As we were racing downtown in my friends old Audi, it started raining pretty hard and the front window fogged up, and stayed fogged up the rest of the drive, not a great thing for a 16-year-old who is new at driving and has never really been downtown. Once we got downtown, we drove around somewhat aimlessly trying to figure out where Kilby was through our foggy windows. Since I had never been there before, we had no idea that it was down an alley, but when we saw the street sign, we figured this was it, quickly found a place to park and ran down the road. When we finally got there, the band was almost finished setting up, and there were probably only about 10 or 15 other people there. Luckily, Menomena didn't let that affect them at all, and they put on what was still one of the best shows I've ever seen Kilby. At one point, some guy in the audience yelled, "You guys are fucking awesome!" To which the bassist replied, "Isn't it illegal to swear in Utah?"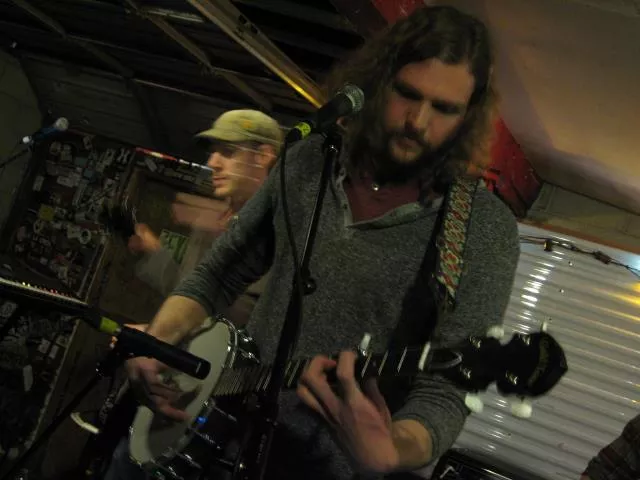 Gavin Sheehan
Rob LeCheminant (foreground) and Alex Gilvarry (background) performing with L'anarchiste at Kilby
Gavin Sheehan
L'anarchiste performing at Kilby
Will Sartain (Kilby Court co-owner)
Poster by Leia Bell
A 2002 poster for Mates of State, Currituck County and Redd Tape, which Will Sartain was a member of.
Kilby totally shaped me as a person. I started going to shows there when I was 16. After I saw my first show at Kilby, I was hooked. Looking back, one of the biggest life-changing things to happen to me was being hired at Kilby. When I was 18, I asked Phil Sherburne if I could volunteer at my favorite place in SLC. One week later, he happened to fire his only permanent employee, and I spent the next six days working. Things would never be the same for me.
Lance Saunders (Kilby Court co-owner)
I'm still in awe that it's been 15 years since the unforeseen inception of Kilby Court. I had attended many shows before January 2008, but I really kicked it into overdrive when Will Sartain and I took over the venue and I moved into one of the apartments at the end of the street. I was literally living in a dream scenario, a stone's throw away from the stage graced by numerous international and domestic acts (some of whom have grown to play 10,000-plus-capacity stadiums). Immersing myself in the energy that Kilby Court exudes made for a very enjoyable time for me. I'll never forget the blazing fires, conversations with bands and show-goers, excitement and smiles, late-night skate sessions on the ramp, cupcakes at the concession stand and overhearing all of the positive conversations regarding the venue itself. It's been 15 years, and [Kilby's] not going anywhere—anytime soon. I do believe that it is impossible to replicate the independent spirit of Kilby Court. The ever-expanding Salt Lake City music community has something very special to call its own.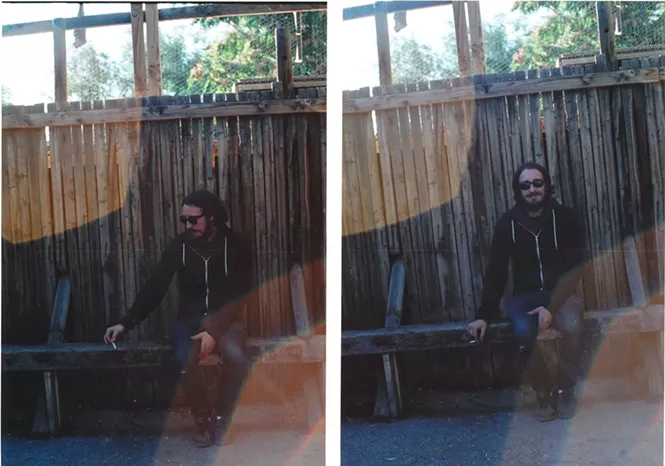 Danielle Mariott
Lance Saunders at Kilby Court
Andrew Goldring (Great Interstate)
My first show I ever played at Kilby was probably in the summer of 2010. I was playing a solo set with some other random kids from my high school. I had heard so much about the venue, but I'd never played there up until that point. It was one of my first solo shows after high school, and I was so stoked I even made my friends carry my "fun machine" organ so that we could have it onstage.
My fondest memory of Kilby was probably a show I played with my electronic duo (which shall remain nameless). It was the middle of January or something, and it started dumping snow about halfway through the show. All of our friends stuck around and braved the storm and danced all night to our incredibly stupid music. People were drenched in sweat, and I made probably a hundred laps around the room (in my blue booty shorts) over the course of our set. After the show, there was literally a foot or more of snow, and we all had to dig our cars out. Then we went to Denny's to celebrate.
One of my favorite shows I've ever seen at Kilby was Megafaun probably four or five years ago. They decided to unplug and play an acoustic set in front of the stage. The drummer played his kit with chopsticks, and the two others just played acoustic guitars and sang with no amplification. They made everyone sit on the floor, and by the end of the show, they had everyone dancing around in circles. That was the kind of show that could only happen at Kilby.

Kilby Court 15th Anniversary Show
Kilby Court
741 S. Kilby Court (330 West)
Friday, July 18
7:30 p.m.
$7