Biryani (also spelled biriyani) is a popular South Indian rice dish. I sort of think of it as rice pilaf or jambalaya with an Indian twist. It's easy to make and so flavorful that even kids will love it. I like to serve it with
dal
alongside.
Ingredients:
1 Tbs
ghee
or butter (clarified, if possible), or canola oil
4 boneless, skinless chicken thighs diced into 1/2 inch pieces
1 onion, peeled and minced
2 cloves garlic, peeled and minced
1 tsp garam masala
2 tsp ground cumin
1 tsp ground fennel seed
1/4 tsp cayenne pepper
4 bay leafs
1 cup basmati rice
1 1/2 cups chicken broth
1/2 cup toasted cashews (I like to use Thai-spiced cashews from my local supermarket)
1 hard-cooked egg, peeled and sliced into wedges (optional)
Method:
Heat the ghee, butter or canola oil in a large, deep skillet or sauce pan over high heat. Add the chicken and saute, stirring and turning frequently, until the pieces are browned - about 5 minutes.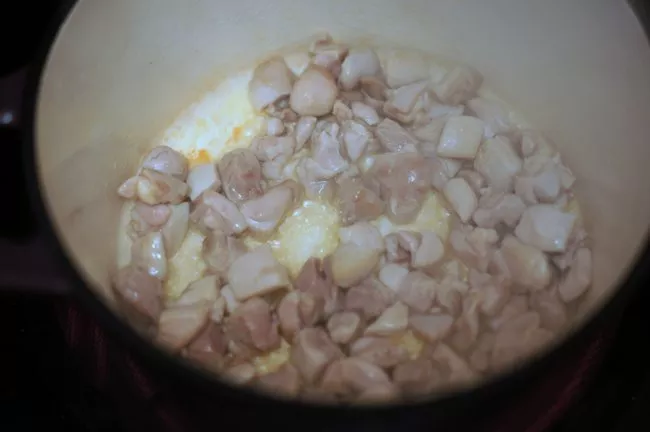 Using a slotted spoon, remove the chicken from the pan and set aside.
Add the onion and cook until softened, 3-4 minutes.
Next, add the garlic, spices and bay leafs and cook, stirring, until nice and fragrant.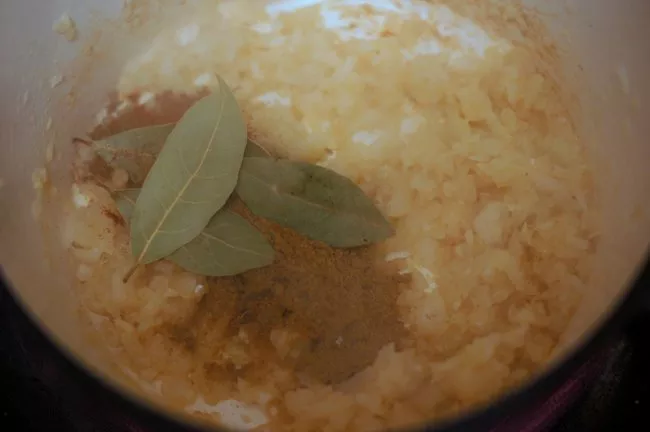 Add the chicken back to the pot, along with the basmati rice and cook for a minute or two, stirring to combine the ingredients.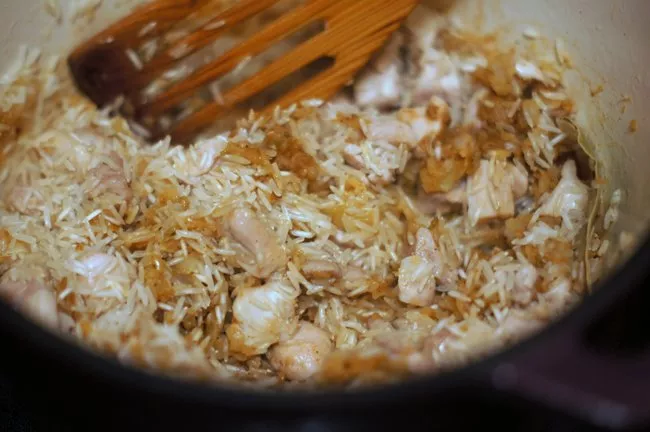 Pour the chicken broth into the pot and bring to a simmer.
Cover the pot and simmer the biryani over medium-low heat until the rice is tender and the liquid is absorbed - about 10 minutes.
Remove the pot from the heat and set aside, covered, for an additional 10 minutes.
I like to serve biryani warm, but not hot. Just before serving, remove and discard the bay leafs, then add the cashews to the pot and toss gently with a large fork.
It's traditional to serve with wedges of hard-boiled egg on top.