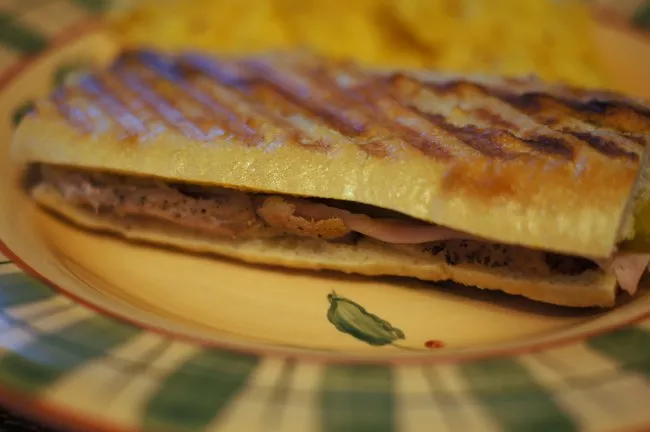 If, like me, you saw the great Jon Favreau movie
Chef,
you probably (also like me) drooled through the food porn scenes depicting Cuban sandwich making. The Cuban sandwich, also called a
Cubano
, is a culinary staple in southern Florida cities like Tampa and Miami, where I'm told it's much more popular than in Cuba, itself.
An authentic Cubano is a simple affair. I've seen far too many bastardized versions in restaurants which include ingredients like mayo, lettuce and tomato. Of course, you can put anything you want in/on your Cubano, but a
true
Cuban sandwich consists of nothing more than the following: bread, mustard, roast pork, ham, Swiss cheese, pickles and butter. Anything else is a
variation
on a Cubano.
The key to making a good Cubano is in pressing the sandwich. Typically, they are made in a heavy sandwich press called a
plancha
. However, I don't own a plancha so I make my Cubanos in a panini press. You could also just cook the sandwich in a cast iron skillet on the stove and use a smaller heavy skillet to press down on the sandwich while it cooks.
Finding Cuban-style bread here in Utah isn't easy, so I use fresh baguettes. They are a little denser and not as soft as Cuban bread, but work pretty well.
Ingredients:
(For each Cubano)
6-8 inch piece of Cuban bread or French baguette, sliced in half horizontally
Yellow mustard (don't get fancy - Cubanos are made with cheap yellow mustard, not Dijon or whole grain)
2 slices of store bought or homemade roasted pork (see roast pork recipe below)
2 slices boiled ham
2 slices Swiss cheese
thinly sliced dill pickles
Soft or melted butter
Method:
You can use roast pork from the deli for making a Cubano. However, I like to roast a small pork loin and then slice it up and freeze the slices for future Cuban sandwich sessions. Here's a simple roast pork recipe:
Preheat the oven to 400 degrees F. Drizzle olive oil over a 1 1/2 to 2 lb. boneless pork loin and season generously with kosher salt and black pepper.
Roast the pork loin in the oven until the internal temperature reaches 140 degrees F. This should take about an hour.
Remove the pork from the oven and let it rest for 15 minutes before using. Cut the pork into quarter-inch thick slices.
To make the sandwich:
Spread mustard on the inside of the top and bottom halves of the sandwich bread.
Layer the sandwich ingredients in this order: roast pork, ham, Swiss cheese, pickle slices.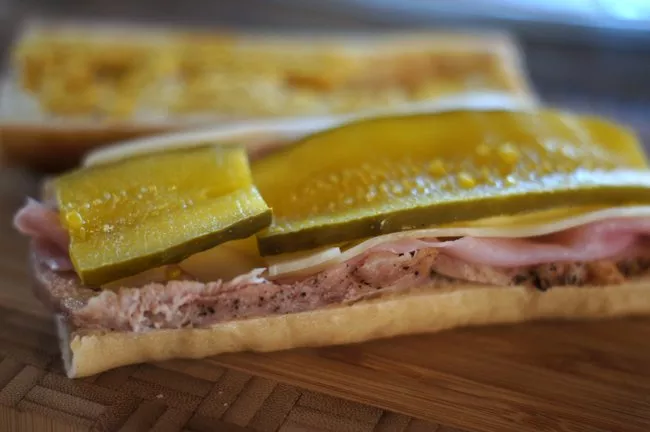 Brush melted butter onto the outside tops and bottoms of the sandwich.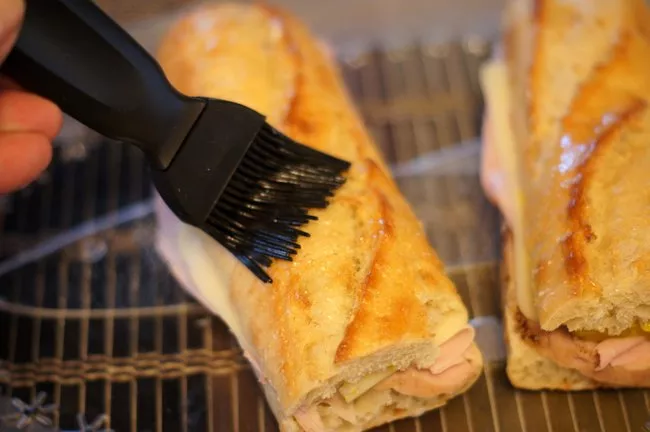 In a plancha, panini maker, or on the stove, cook the sandwiches for 2-3 minutes, pressing very firmly, until heated through and the cheese is melted and sizzling.
The finished Cubano should be only about half as thick after cooking as before.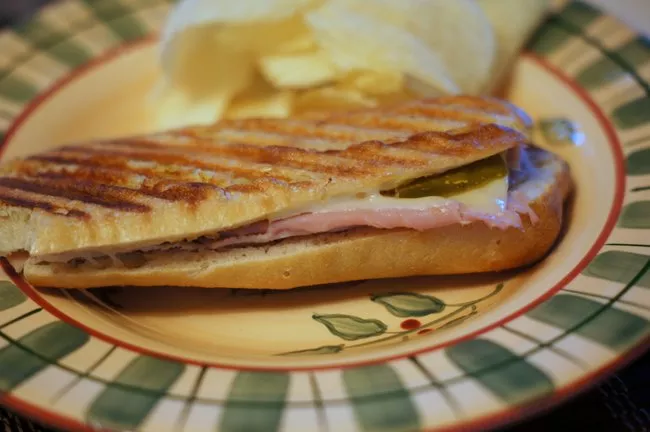 Eat immediately!
Photos by Ted Scheffler