Before you know it, there will be snow on the ground. So, I've been making the most of this nice early fall weather and using my outdoor grill as much as possible.
Here is a really easy, but extremely tasty recipe for grilled halibut. It's based on a recipe from Utah food blogger Kalyn Denny, whose
Kalyn's Kitchen
web site is a treasure trove of excellent healthful recipes. I especially like the idea of seasoning a neutral tasting fish like halibut with a zippy seasoning like cumin.
Kalyn's original recipe for Grilled Halibut with Cumin and Lime can be found
here
. Her photos are much nicer than mine! I only tweaked the recipe slightly, merely adding some additional spices.
This recipe will make enough marinade to season four 6-ounce halibut fillets. I was just cooking for myself, so I only made one portion.
Ingredients:
1/4 fresh lime juice (from 2-3 limes)
1/4 cup canola or peanut oil
1 Tbs Worcestershire sauce
1 garlic clove, peeled and minced
1-2 tsp ground cumin (depending on how much you love or don't love cumin)
zest from 1 lime
2 tsp. onion powder
1/2 tsp. chervil leaves
1/2 tsp. ground chile powder, such as ancho chile
1/2 tsp. freshly cracked black pepper
1 quartered lime for serving
3-4 halibut fillets or steaks
Method:
Zest one of the limes and finely mince the zest. (I like to use a microplane for this.)
Combine all of the ingredients except the fish and quartered lime in a Zip-loc bag or plastic/glass container.
Mix the ingredients well and put the fish into the container to marinade. Allow the fish to marinate in the refrigerator for about an hour. Don't marinate the fish too long or the citric acid from the lime juice will begin to "cook" the fish.
Turn on the grill and heat to medium.
Remove the fish from the marinade and cook for 3-5 minutes per side, depending on the thickness of the fish. Figure on about 10 minutes of total cooking time per one inch of thickness.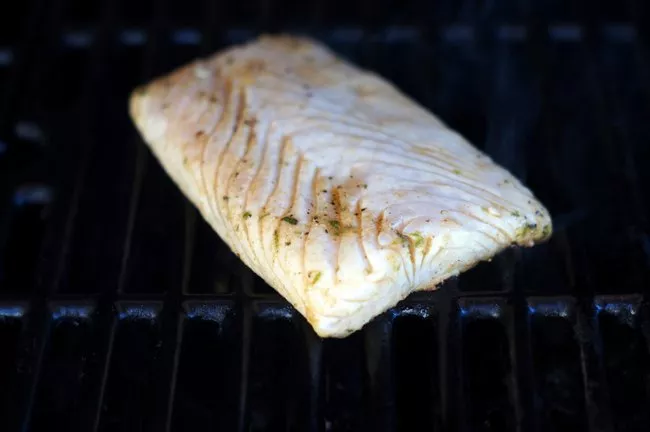 Serve hot off the grill with lime quarters for squeezing on top of the halibut.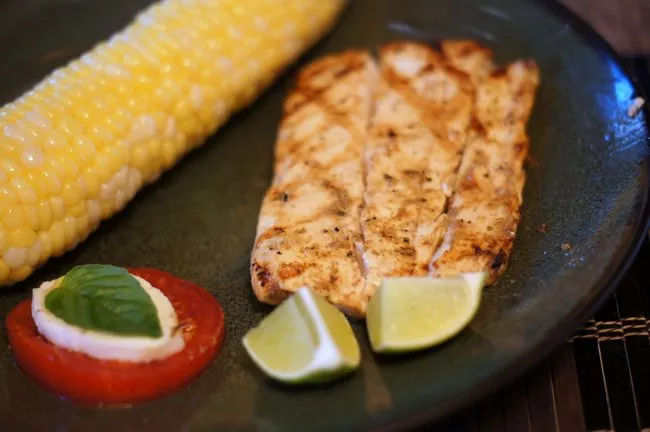 Thanks for the great recipe, Kalyn!
Photos by Ted Scheffler