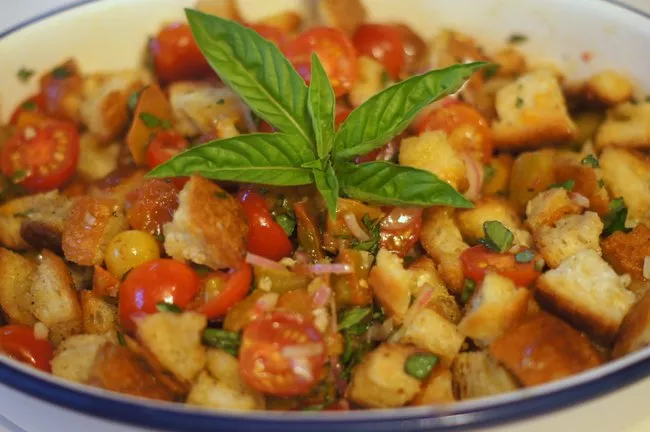 With summer's ripe tomatoes on the vine, it's the ideal time for a refreshing panzanella salad. A dish of Italian origin, a panzanella salad is a combination of toasted bread cubes tossed with tomatoes, garlic, onion, fresh basil, vinaigrette, and pretty much anything else you'd like to include. For example, you could add diced mozzarella or other cheese. Many people put cucumber into their panzanella; I don't much care for cucumber so I leave it out.
The exact quantities for making panzanella aren't important. If you want to feed more people, just add more ingredients. This recipe serves 3-4 generously as an appetizer or side salad.
Ingredients:
1/2 loaf of crusty bread such as rustic Italian or a baguette, cut into 1/2 inch cubes
Olive oil for drizzling on the bread
salt and pepper, to taste
2-3 cups diced ripe tomatoes or cherry tomatoes, halved
1-2 shallots, peeled and minced
1 garlic clove, peeled and minced
1/2 red onion, peeled and thinly sliced
1/4 cup olive oil
3 Tbs red wine vinegar
1 handful of fresh basil leaves, shredded or chopped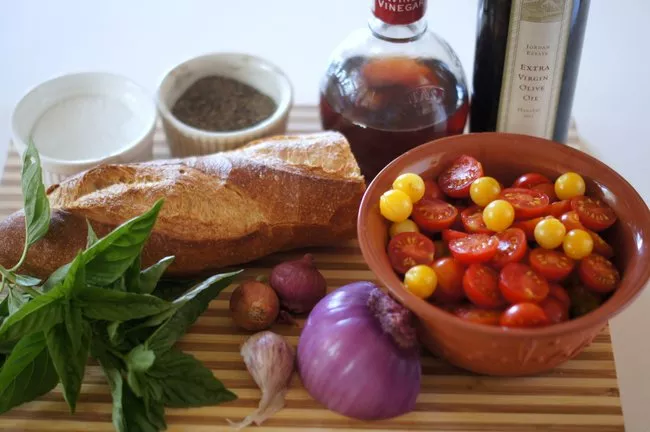 Method:
Preheat the oven to 400 degrees F.
Place the bread cubes in a bowl and drizzle generously with olive oil.
Add salt and pepper to taste.
Spread the bread cubes out on a baking sheet (preferably lined with parchment paper).
Bake the bread crumbs until crunchy and golden, about 10-12 minutes.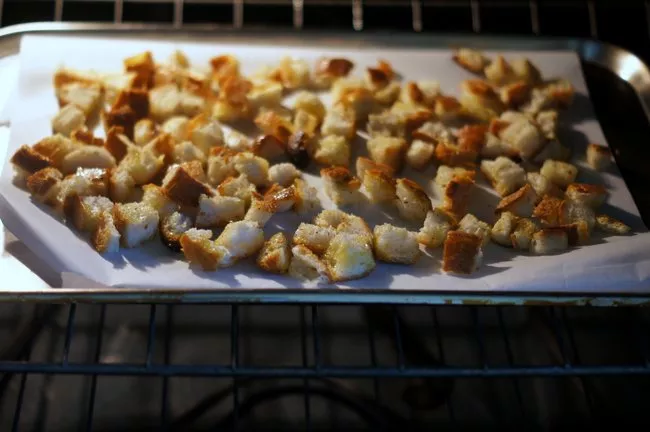 Remove the bread crumbs from the oven and set aside.
Make a simple vinaigrette by whisking together the shallot, garlic, olive oil and red wine vinegar. Add salt and pepper to taste. Note: This vinegar is made with more than the standard ratio of vinegar to olive oil. That's because I want the extra tang of the larger amount of vinegar to give the bread cubes a zippy flavor.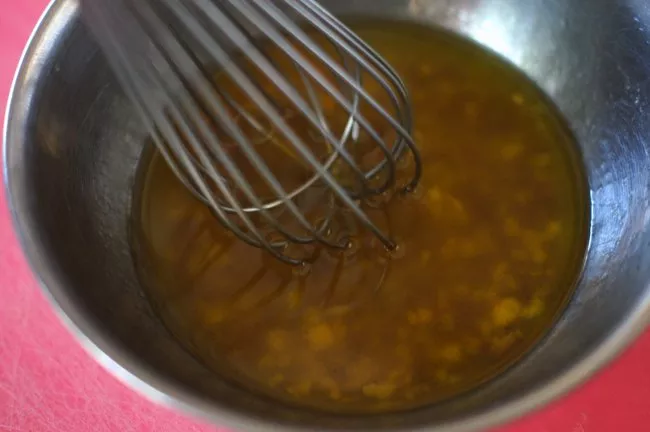 In a serving bowl, toss the tomatoes, red onion and the vinaigrette and allow to sit for at least 15 minutes to allow the vinaigrette to permeate the tomatoes. I usually do this a couple hours ahead of time so I can focus on the rest of the meal.
About 15 minutes before serving, add the bread cubes to the serving bowl with the tomatoes and toss lightly. Allow the panzanella to sit for 15 minutes to soften the bread a little.
Taste and adjust for salt and pepper, if necessary. Garnish with fresh basil and serve.
Photos by Ted Scheffler