While Salt Lake City gets a lot of honor in having the state's biggest pride festival, occasionally lost in the glory of that celebration is the fact that Utah has many smaller cities that don't have a pride event to call their own, and in many ways still feel alienated in their own city. Hell, Provo barely started its own festival last year to great success. But before that, Moab, one of the "biggest small cities" in Utah, actually started its own festival in 2011 and has seen the numbers grow every year in support. Today will begin the last leg of the week-long pride events with a two-day festival in Swanny City Park, followed by the Visibility March Saturday morning. Today, we chat with Moab Pride's executive director, Sallie Hodges, about the festivals origins and this year's events. (All pictures courtesy of Moab Pride.)
Sallie Hodges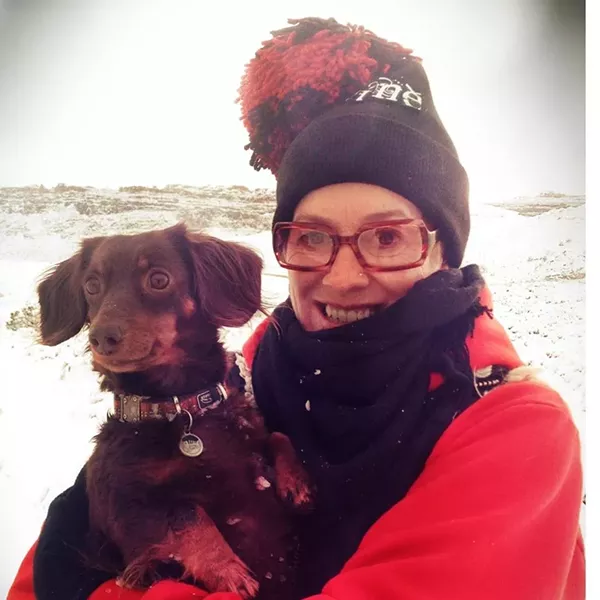 MoabPride.org
Gavin: Hey Sallie! First thing, tell us a little bit about yourself.
Sallie:
My name is Sallie Hodges and I am the Executive Director of Moab Pride. My background is in film and photography, which are both means of communication. This taught me not only how to formulate ideas but how to communicate those ideas by means of production, which goes hand in hand with organizing an event.
Gavin: Before we get to pride, you're an Outreach Coordinator with the Utah Film Circuit - Moab. How is it being a part of that organization and helping broaden cinema exposure in our state?
Sallie:
I love this job as I get to be a part of showing people films that they wouldn't necessarily get the chance to see on a big screen. We don't have an independent cinema here and the Utah Film Center has definitely stepped in to fill that need. My dream is to see film as a part of Moab's future cultural landscape with an outdoor film series and possibly a festival.
Gavin: Getting right to it, how was it for you growing up in a smaller community?
Sallie:
I didn't grow up in Moab, I grew up in a small rural farming community in southwestern England, with however very similar views on the world, hard work and family. It was an environment I had to leave in order to find myself and to look for a community who accepted me for who I was, and I found this at university as well as my first girlfriend!
Gavin: Did you face any personal struggles while living there or were there even any issues?
Sallie:
Growing up in a tight-nit community where it is assumed everyone is the same is difficult, because you have to listen to the majority talking in a derogatory way about anyone they feel is outside of their circle. This can include anyone from the boy down the street who can't drive a tractor to people of color and, of course, fags and dykes. It's a shame because navigating puberty is very hard even without hearing that there is something very wrong with you. It can make you feel very alone, but in my experience, the power of wanting to love another human being gave me the drive to leave the community I grew up in. At the end of the day, love is so much stronger than hate.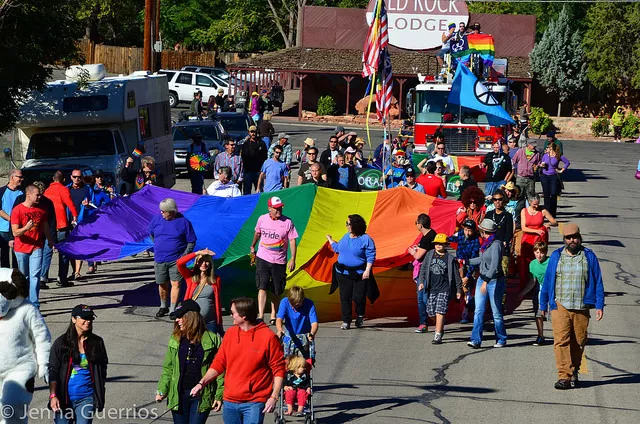 Gavin: How was it for you over the years getting involved with LGBT causes or organizations around Utah?
Sallie:
When I arrived in Moab in 2004, there was no such thing as a gay community. There were and still are a number of older gay couples who lead quiet lives, but there was no visibility. At that time fresh off the boat from L.A., I wasn't involved in LGBTQ politics other than being very openly gay.
Gavin: I read the catalyst to it all was a video from The Onion and a post on Facebook. How did things start coming together to actually have a Pride Festival in the city after Amy Stocks' post?
Sallie:
Amy Stocks, who grew up in Moab, saw a post on
The Onion
about a small town throwing the only gay man in town a pride festival. As a joke, she posted it on Facebook and, rather than getting silly jokes back, people responded by saying "yes, what a great idea." So in many ways, it was the Moab community who embraced the idea of a pride festival, and so we came on board to facilitate it.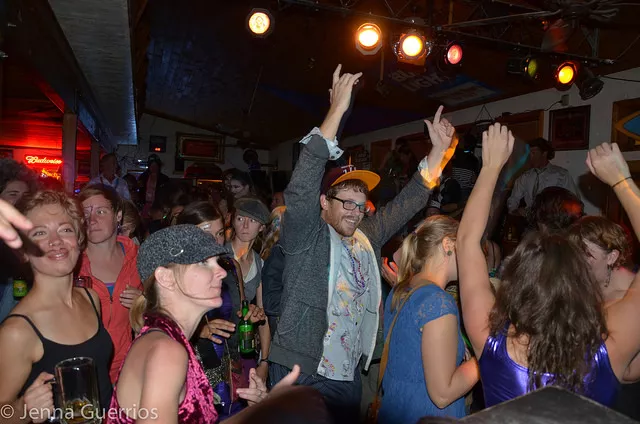 Gavin: How has it been for you seeing the impact that political issues and court proceedings and seeing that community bond together had had on the state over the past decade?
Sallie:
In the process of starting Moab Pride in 2011, we were introduced by the wonderful Executive Director of the Utah Film Center at that time, Missy Dawson, to key leaders of organizations. Equality Utah, HRC, ACLU and individuals who were all working very hard to end discrimination against the LGBTQ community. Their mission was and still is equality for all, and that blew me away. Never had I met so many incredible people working together for change, and as we have seen their advocacy paid off, who would have believed two years ago that couples would be getting married in the state of Utah.
Gavin: The first festival happened in October of 2011. What was the response like from the community and what impact do you believe it had on the city?
Sallie:
I remember on July 4, 2011, we decided Moab Pride should carry a banner and march in the July Fourth parade to test what kind of response we should expect from the locals. We marched behind a bunch of vintage tractors and people cheered. It's hard to describe the first Moab Pride Festival, as it was overwhelming because of the response we got from not only friends and allies, but from the Moab City Council who were, and [still] are, incredibly supportive. There was a lot of love that first weekend which has continued and seems to continue at everyone of our Pride Festivals. One of the major goals of the festival was to make the LGBTQ community visible and I think we have achieved that and more. Three months ago, Moab Pride partnered with the Moab Valley Multicultural Center, who have provided a space for us to hold a drop in once a week. We hope this will help in finding out what the LGBTQ communities needs are and how we can best facilitate those needs.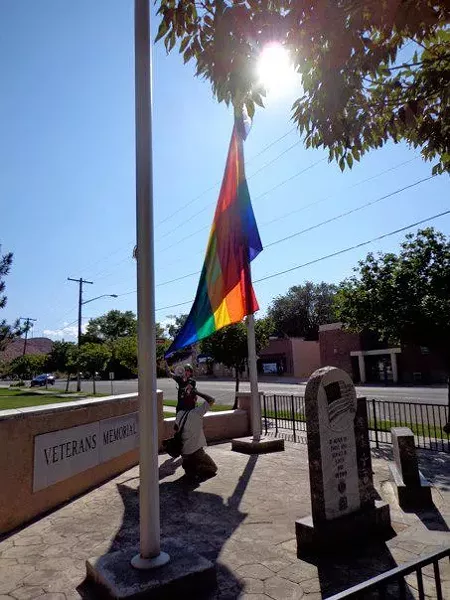 Gavin: Did you think it would be a one-time thing or did you know you'd be back?
Sallie:
To be honest, I didn't see myself coming back to Moab Pride. But when I was asked to take on the role of executive director to organize this year's festival, I felt it was the right thing to do. Organizing a volunteer-driven festival has it's challenges, but I have an incredible team of volunteers who are dedicated to Moab Pride and who are proud to be a part of the most fun festival of the year.
Gavin: Tell us a little bit about what you have planned this year.
Sallie:
This year, the festival is different from the last three years as the venues have changed. For the first time, the festival itself will be at Swanny City Park rather than Old City Park, which in the past you had to drive out of town to find. Once the Visibility March is over you will go straight into the Festival. Our parties are both at Club Rio and will have a burning man feel. In fact, it has been said that if Utah Pride and Burning Man had a baby, it would be the Moab Pride Festival! We will have fire spinners/dancers and of course, the art car Chundra will be back. We also have the legendary DJ Dan spinning at our after party on Saturday night.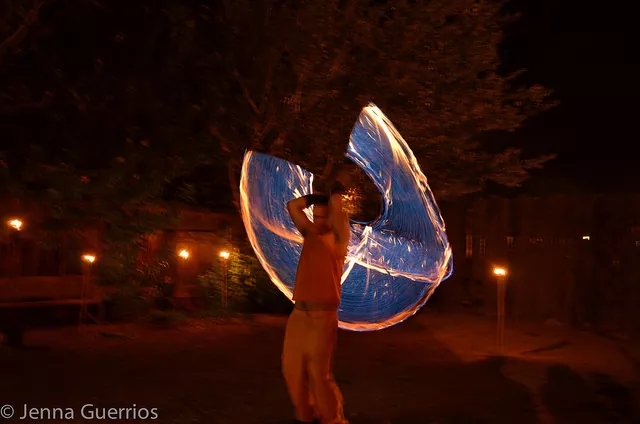 Gavin: For those going to check it out, what major events do you have planned on Saturday and set to happen for the Visibility March?
Sallie:
Our festival actually kicked off unofficially on Thursday, Sept. 25 at Star Hall, where in partnership with the Utah Film Center, we screened the documentary
I Am Divine
. Friday night starts with our Orange Party at 8 p.m. Saturday we have the Visibility March at 11 a.m. followed by the festival, featuring Amy Cook from Austin, Texas, Talia Keys and Marinade, Stonefed (a local band) and Jennie McNulty, a comedian from Los Angeles. Diva Danielle and DJ Dan are both playing at our after party at Club Rio.
Gavin: For those looking to take part in the festival and parade, what can they do at this point?
Sallie:
For those wanting to join in the Visibility March, it is open to everyone and the more the merrier! So just come on down to Swanny Park at 10:30 a.m. ready to march at 11 a.m.
Gavin: What would you say is the long-term goal for Moab Pride, outside of the standard LGBT missions?
Sallie:
I would love to see Moab Pride become a "destination pride" that attracts people from all over the world. As a run up to Moab Pride, we have Gay Adventure Week, which started on Sept. 22 and runs up to the festival. This is the only one of its kind, not only in the U.S. but in the world, and we hope to capitalize on the uniqueness of this collaboration.
Gavin: What can we expect from you and Moab Pride over the rest of the year?
Sallie:
Once the festival is over, I will be taking a trip in October, sponsored by the Utah Pride Center to Interpride, a huge convention held in Pittsburgh, which will be a great networking opportunity as well as inspiring. Over the next year, I will be working on establishing Moab Pride as a legitimate organization, serving the needs of the South Eastern Utah LGBTQ community.