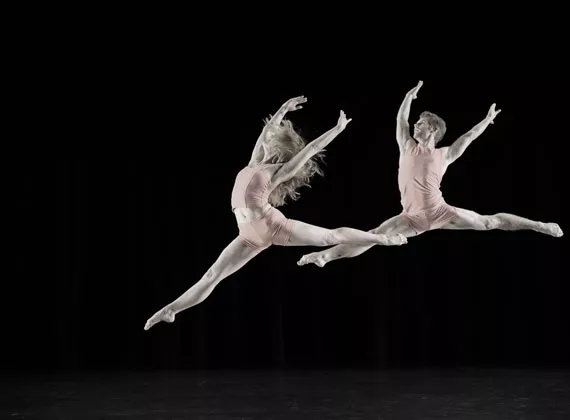 Portal
starts RDT's "threshold" 49th season on a strong note—surprisingly strong considering that half of their dancers, Lauren Curley, Dan Higgins, Lacie Scott and Utah native Jaclyn Brown, only recently joined the 8-member company this year.
The connectivity and energy between the dancers was keenly sensed from beginning to end, making me excited to see what will develop for the company as they spend even more time together.
Portal
is composed of four separate pieces:
Duets to Brazilian-Indian Music
(1998), composed by long-time RDT collaborator and current resident choreographer Zvi Gotheiner;
Fever Sleep
(2006), commissioned by RDT and choreographed by Stephen Koester;
Passengers
(1970), an early commission by Viola Farber; and
By the Snake
(2014), a world premiere by Israeli choreographer Noa Zuk.
While each piece has its moments of magic,
Fever Sleep
and
Passengers
are the heart of the production.
Fever
starts on a dark stage with single point illuminated by the stark glare of a spotlight, inside of which stands dancer Efren Corado Garica, looking like a man facing his worst nightmare. He screams; his body convulses. From there, Garcia and three other dancers (Curley, Orcutt, Scott) pull the audience down a rabbit hole of madness. It could be the madness of dementia, as the performance bill suggests, but like any good piece of modern dance it is suggestive and powerful enough to invite other interpretations. For me,
Fever
was an exploration of our increasingly inhumane and self-destructive human race—the rat race in all its horror.
Thankfully, intermission allows the audience enough time to process and unwind from the intensity of
Fever Sleep
before stepping off in a completely different and charmingly playful direction with
Passengers
. Choreographed during modern dance's golden years—when improvisation and "chance devices" gave the form even more room for experimentation and expression—
Passengers
is a great example of the pure joy that can result from this free form dance. While those who have studied dance are more likely to recognize the loose structure that guides this piece, seeing the invisible hand of the puppeteer is certainly not necessary to enjoy the journey. All eight company members participate in
Passengers
, and subtle cues, visual and spoken, move the dancers through more than 20 different seamless sections. Working together on stage, making split second choreographic decisions, infusing the piece with plenty of humor, the company truly shines collectively during
Passengers
. It's obvious that they love working together, and it's clear that there is a natural connection and mutual understanding—all good signs for the future.
Portal
runs through Oct. 4; click
here for ticket information
.