With the evening being one of the warmest October days I've felt in years, this past Friday's Gallery Stroll was well attended everywhere you went. Crowded, even. I can't think back to the last time I went out on Stroll to a well-populated street, or see that every place I visited was packed or well-attended. It will be very interesting to see what happens to the monthly event during the winter months. For this month, I went off the beaten path and into unknown territory with the Guerrilla Gallery, an exhibition with a temporary residence as it will move from month-to-month in different locations, featuring artists and performance art not normally found at the usual locations. The inaugural event featured works from the gallery founder, Cecilia Anthony, with whom we chat today, as well as performances from dancer/choreographer Temria Airmet.
Cecilia Anthony
Pop Up Art Utah on Twitter
Gavin: Hey Cecilia! First thing, tell us a little bit about yourself.
Cecilia:
Fun facts – I am the youngest child of 11. Catholic, in case anyone was wondering. I have climbed 3 of Colorado's 53 14ers, only 50 left to go! Ha! I have a cat, Ginger, and we like to take naps in the sun.
Gavin: What first got you interested in art and what were some early inspirations for you?
Cecilia:
I have been making art my entire life so you could say I was always interested. When I was very young I would glue dried beans onto construction paper in crazy Matisse-esque designs with home-made flour and water paste that I think every parent used, in case their child wanted to taste test the glue.
Gavin: What specifically drew you toward make-up and performance art?
Cecilia:
I fell into make-up by complete accident. I loved it and it sustained me financially and creatively for too many years to mention (still does to some extent). Performance art, like so many things involving movement, is poetry in motion. It has the ability to forcefully or delicately impact an audience and how they interpret the world around them. It moves us past the idea of art as simply a pretty picture and into the realm of life as art. Who could not love something that causes us to question our definitions of art?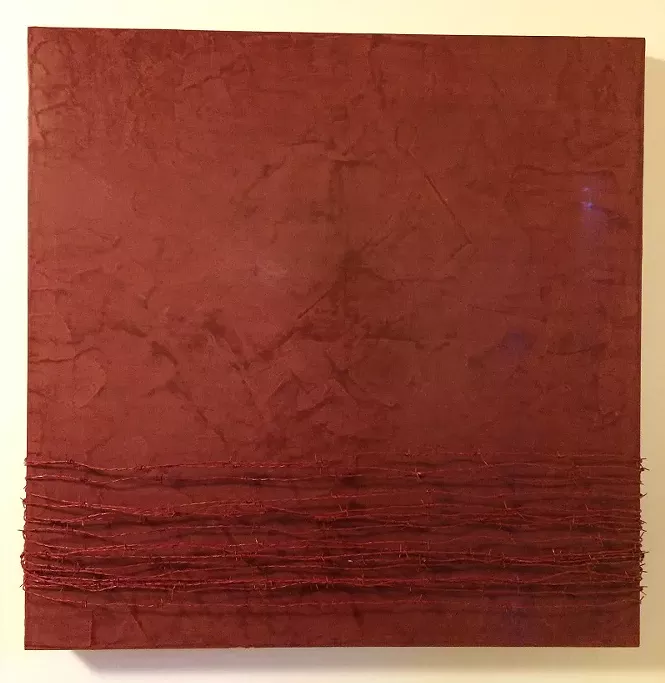 Gavin: Did you seek out any professional training for it or were you primarily self-taught?
Cecilia:
I have a license to practice aesthetics which comes in handy when I freelance. I studied Industrial Art at the Art Institute of Colorado and have my Fine Arts Degree from Colorado Mountain College. While my education did not necessarily teach me how to make art, per se, it did teach me to absorb art with a more open and critical mind. My informal education came from working at the Aspen Art Museum under the tutelage of Heidi Zuckerman Jacobson. The Aspen Art Museum is a world-class non-collecting contemporary art museum and working there brought me face to face with living, contemporary artists who push the boundaries of beauty in art everyday. I learned from Heidi (through osmosis mostly) what made good art; specifically, well constructed art and how that art should be curated. I learned a great deal about curatorial process and what defines a great show versus something, well - mediocre. And I hope I have been able to translate some of that into this show.
Gavin: What was it like for you breaking into the business and getting work behind the scenes?
Cecilia:
I completely fell into that career by accident and it fed me well for many years (and literally, still does). Production is very different than retail. Neither job is glamorous and they both have their rewards and challenges. Production is a lot of early (and I do mean early) mornings and long days but there is an element of creative freedom and the opportunity to meet some interesting (read famous) people that retail doesn't generally offer. Retail on the other hand offers human hours and a sense of stability. The dream is to wear make-up and make art and maybe even wear make-up when making art. My time at the Aspen Art Museum was really my behind the scenes education in the art world.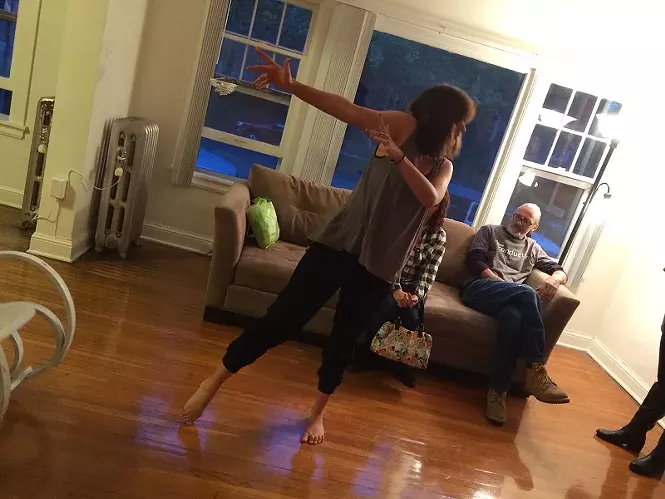 Gavin: How was it going from film to TV to commercial work throughout your career and taking on multiple jobs at a time?
Cecilia:
I definitely prefer working in television over film – less worry over continuity and still photography is my favorite. I began my art making practice in my early 30's as my 20's were made of make-up and parties. There has only been a short time since that I have been able to devote my time entirely to the process of making art. I have never considered make-up part of my art practice; that has always been my job. It is challenging to be an artist, make a living outside of my practice and still finding time to do the very thing that feeds me spiritually. As I said before: the dream is to make art full-time. Until that happens I will thank God for coffee and cold showers.
Gavin: During that time, what made you stick with Utah as your home rather than living on a coast and being closer to places where that work would be more frequent?
Cecilia:
I moved to Utah from Colorado one year ago in September. I chose Salt Lake over other cities for a variety of reasons: access to the outdoors (I am an avid skier and hiker), easy plane ride to visit my parents, and most importantly a vibrant and growing contemporary art scene. I wanted to be in an environment where I could positively contribute and impact the art scene in a meaningful way as well as grow my own practice. Cities that are known for their art culture, L.A., New York, Seattle, San Francisco etc., tend to be saturated and I wanted to be somewhere fresh and burgeoning and Salt Lake fit that bill.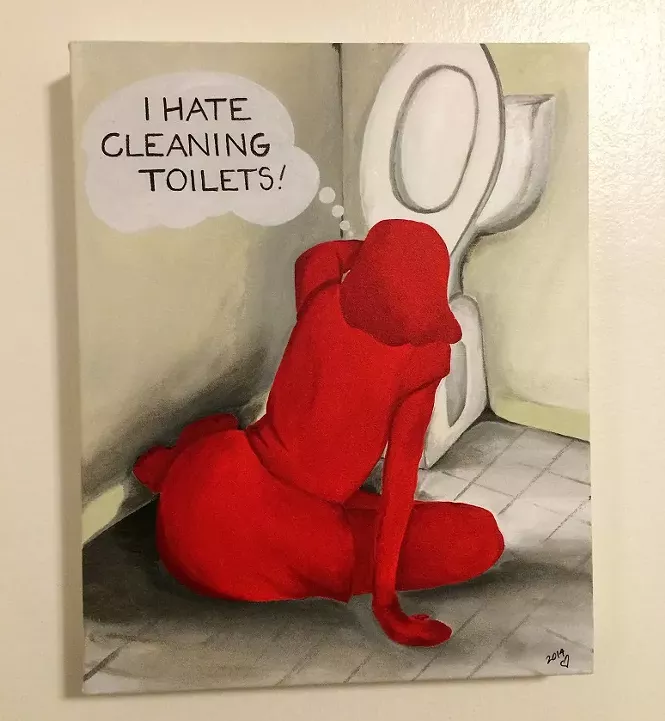 Gavin: How did the idea come about to start-up a pop-up gallery and what's your experience been with them? How did you decide on the name Guerrilla Gallery and the location for this month's exhibition?
Cecilia:
Guerrilla Gallery has been festering in my mind for years and for whatever reason the timing just happened to work out. The idea was born of several experiences, the two most prominent were an article I read in the New Yorker about a now famous gallery owner who got his start hosting guerrilla galleries in New York in the 50's and 60's. He began doing it for the same reason I am doing it: to give contemporary artists who may not otherwise have a platform to give voice to their work an opportunity to do so. And the other was an artist talk I attended at UMOCA in which the artist was describing these self-made "apartment galleries" in Seattle and I thought "Aha!" Not all work is appropriate for a gallery (I'm thinking mostly performance art and some digital art) and museums often don't have the budget to exhibit new work for established artists nor maybe take a risk with an unknown so guerrilla gallery helps fill that void. The name stems from the obvious and then maybe, unless you are immersed in the art world, the not so obvious, Guerrilla Girls. Guerrilla Girls is a group that started in New York in 1985 with a mission to bring gender and race equality to the art world. They scored a big coup when earlier this year MoMA decided to focus entirely on women artists in 2015.
Gavin: Knowing that it is a one-night event only seen during certain hours, do you believe that increases a regular patron's need to go see it, or do you believe it focuses more on encouraging true art fans to get out?
Cecilia:
I think a little bit of both. I am hoping that art fans (this includes artists) come and are inspired by the concept and what they see and experience and I am also hopeful that the buzz will encourage less artsy types to come and have their art horizons expanded. I had an acquaintance tell me (while helping me move furniture) that he liked the idea as it felt more intimate and therefore created a less intimidating experience. He felt you could really get up close to the work and personalize it which is wonderful feedback because that is exactly what we are aiming for as artists; we want people to feel our work. I want people to feel, when they attend a guerrilla gallery, like they are entering a cross between UMOCA and a Gertrude Stein salon; inspiring, relaxed, intimate, and smart.
Gavin: Tell us about the work you put on display for this one-time event?
Cecilia:
The exhibit is called "Moving Through Pain" and the work was born out of a very painful divorce. And while it is highly personalized it is also global and accessible. I felt it deserved, as a body of work, to have a space to tell its own story. The work is a mix of art genres that fit well together to weave a narrative. While I generally have an aversion to labels there are a few that are helpful when explaining style so, people can expect to see influences from the Arte Povera movement, the Pop Art movement, Abstract Expressionism, and Dadaism. Additionally Temria Airmet, a dancer and performance artist whom I greatly respect, will be showcasing some of her new work as well.
Gavin: What made you decide to do this outside the Gallery Stroll run while still holding it during the event?
Cecilia:
After speaking extensively with Kristina (the Executive Director) we decided that this event wasn't a good fit. That said, we do hope to eventually collaborate.
Gavin: What are your thoughts on our art scene, both good and bad?
Cecilia:
Like all burgeoning art scenes there is a mix of excellent and mediocre. The good news is, I find most of the art to be of excellent quality and the support from the community is unlike anywhere I have ever been. The venues are good and for the most part execution is also well done. I also like the degree of affordability. I like and want collectors and consumers to realize that fine art is accessible. People can find beautiful, original pieces for their homes and office spaces at affordable prices and they don't have to settle for the latest IKEA print. My least favorite thing about the art scene in Salt Lake is the lack of sophistication of the audience and with that statement I am speaking directly about the performance venues of the ballet, symphony, and opera. I wish someone would teach the audience that while they may be intensely moved by a piece (with good reason, we have world-class performing arts here) there are appropriate and inappropriate times to clap and show their appreciation.
Gavin: Who are some local artists you like checking out or recommend people should look for?
Cecilia:
Oh my gosh, there are so many. And then I'm left with the dilemma of leaving someone out, sigh. I was recently introduced to the art of Amy Jorgensen at the J-GO Gallery in Park City and I love it! In fact there is a piece of hers there I want to purchase but I can't tell you which one. Bruce Case's sculpture work I swoon for. Resin work from Todd Anderson and Jamie Clyde are near jealousy provoking and I'd like to see where Alexandra Reintjes' work takes her. And of course I have to attend every show of Temria's.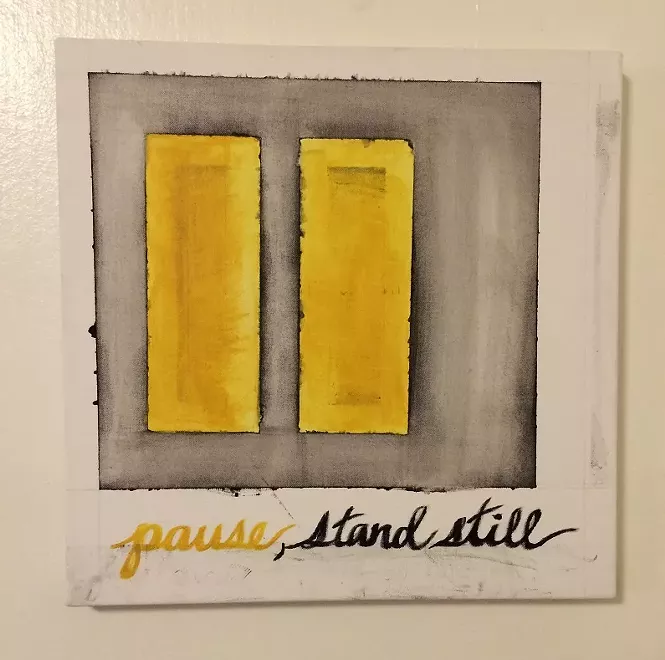 Gavin: What's your take on Gallery Stroll and the work they're doing to promote local art?
Cecilia:
Gallery Stroll fills a need in the community and I like that they work to get people out to connect with the art, the artists and the gallery owners/operators. I also admire the work Felicia Baca is doing at the Rio Gallery (a division of Utah Arts and Museums). She has been working diligently to build exposure for local artists and the exhibits at the Rio are always well done and intriguing. And CUAC is a tremendous voice for the local contemporary artist.
Gavin: What can we expect from you over the rest of the year?
Cecilia:
The next show is slated for February 2015 (date and location TBD) with a theme "Asking For What You Want." I have an idea in mind for a performance piece and am looking for a visual artist whose work fits the theme or who (as I mentioned earlier) wants to experiment with something new. After that, stay tuned on
Twitter
for what's coming in June.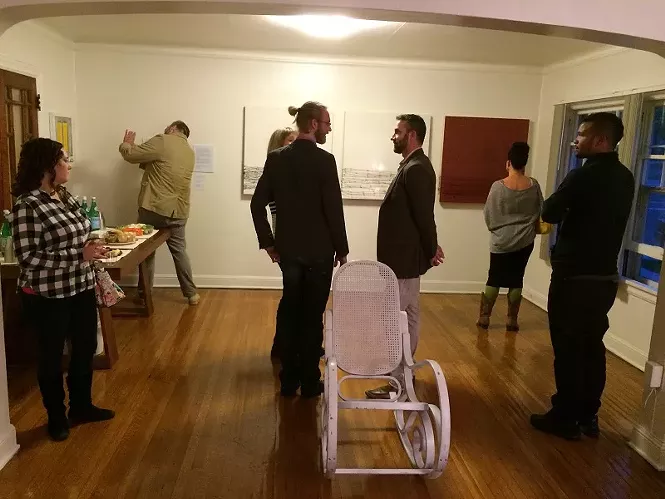 Gavin: Aside from the obvious, is there anything you'd like to plug or promote?
Cecilia:
ELLO! But right now, like guerrilla gallery, its invitation only.