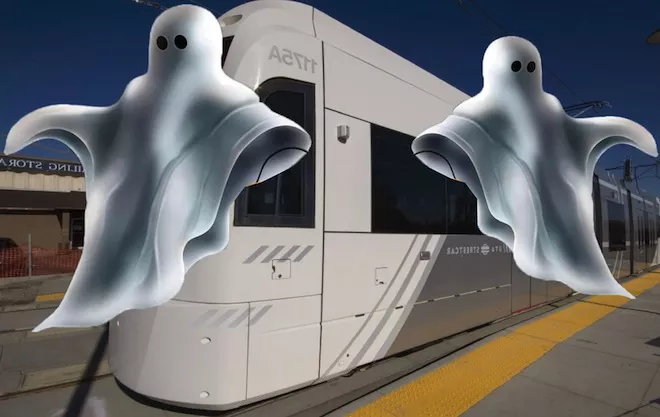 As you get older, Halloween costumes become more and more of a colossal pain in the ass. With every passing year, the temptation grows to throw on a garbage bag and call it a California Raisin. But thankfully, the great state of Utah makes coming up with a costume relatively easy. Over the past year, the Beehive State has served up plenty of news stories that easily lend themselves to topical, cheap and simple last-minute costumes ideas. So, if you still haven't pulled the trigger on your Halloween getup, here's our Top 10 listicle of last-minute costumes for 2014:
10. Polygamy Ninjas
In September, two women who were involved in a polygamous relationship
dressed as ninjas
, armed themselves with knives and stun guns and broke into a West Jordan home to abduct a teenager who was a witness in a rape trial. Luckily, the dad went into beast mode and was able to subdue the intruders until police arrived. It is one of the weirdest stories of 2014 and, arguably, one of the best costume ideas.
How to pull it off:
Throw on some black tights, a ski mask and carry around a case of locally brewed Polygamy Porter all night.
9. UTA's S Line Streetcar
Ooooo, nothing is spookier than a ghost train, am I right? Well, how about
a UTA streetcar that nobody uses,
runs impractical hours and will cost taxpayers at least $4.5 million? What's even scarier is the fact that there are still SLC neighborhoods that lack decent bus service. But hey, the ghost train makes for an easy Halloween costume!
How pull if off:
Find a cardboard box, cut out some arm holes, and paint it to look like a streetcar with a UTA logo. Add cobwebs for extra flair.
8. BYU Anti-Masturbation Soldier
In December, BYU-Idaho released a school-backed PSA video that told students to tattle on their roommates for rubbing one out to porn and compared kids who masturbate to soldiers dying in battle. Haha, oh man,
I still can't write about this without laughing
. But anyway, a porn warrior makes for a great costume.
How to pull it off:
Camo, lots of camo, and, of course, a Book of Mormon. And if you can, rock a chastity belt.
7. Anti-Gay Hunger Strike Idiot Trestin Meacham
It's been a tough year for
Utah resident Trestin Meacham
. If you recall, this local hater went on a 15-day hunger strike back in December 2013 to protest same-sex marriage. Now that it's legal, it's a miracle he isn't a withered corpse. But no one has really heard from him since, so hell, maybe he is.
How to pull it off:
Just wear skeleton pajamas with some sort of bullshit "Adam and Eve not Adam and Steve" sign.
6. The Goblin Valley Rock Topplers
Remember when those
Boy Scout leaders posted a video of themselves pushing over million-year-old rock formations
in Goblin Valley? Of course you do. This one needs no explanation, and it's a great costume for people who hate nature.
How to pull it off:
Be a hefty man in shorts and a T-shirt who knocks shit over all night. If someone complains, say you did for their safety.
5. Angry Pac-Sun T-Shirt Mom
Who could forget angry T-shirt mom Judy Cox? While shopping with her adult son at the University Mall in Orem, she noticed a "provocative T-shirt" in the window display of a Pac-Sun. Offended and "worried about the children,"
she decided to purchase the store's entire stock
of smutty shirts.
How to pull it off
: Dress like a Utah mom and get a couple of Pac-Sun shopping bags. Also, complain about slutty costumes as the night progresses.
4. The "No Lunch For You" Cafeteria Worker
When 17 elementary school students had their school lunches tossed out in January because their lunch accounts were in the red,
most of the blame fell on Shirley Canham
.
How to pull if off:
Dress as a lunch lady complete with apron and hair net and throw away people's food.
3. The Elusive Mountain Man Cabin Burglar
In June,
Troy James Knapp
, also known as Utah's "Mountain Man Burgler," pleaded guilty to multiple weapon and burglary charges for invading cabins along the Wasatch front and also shooting at a federal helicopter.
How to pull it off:
Dress as backpacker and simply invite yourself to other people's parties.
2. Excommunicated Mormon Kate Kelly
A pioneer, a rebel and a hero within the LDS community,
Kate Kelly of Ordain Women was excommunicated in June
by the LDS Church for campaigning for women's equality in the priesthood.
How to pull it off:
Have you ever seen the show
Daria
?
1. Trey Burke's Dick
Nothing, and I mean nothing, is scarier than a leaked photo of an NBA player's ding-a-ling. Just this September, the day before Utah Jazz media day,
pictures of Burke's tallywacker surfaced on Instagram
, causing a collective cringe along the Wasatch Front—and the world, for that matter.
How to pull if off
: This one's easy. First, sport a Trey Burke jersey. Second, stuff large pantyhose and hang from open zipper fly. Third, collect digits.