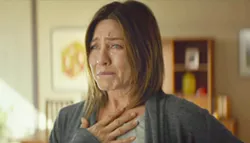 While the film focus locally is on the
Sundance Film Festival
this weekend, a few new releases are sneaking into multiplexes—and are mostly best avoided.
Scott Renshaw had no problem with Jennifer Aniston's performance as a woman suffering from chronic pain in
Cake
(pictured), but the movie surrounding her is a phony bunch of contrivances. But it's still not as stupid and tedious as
The Boy Next Door
, with Jennifer Lopez playing a teacher stalked by her teenage neighbor after a one-night-stand.
MaryAnn Johanson noted the stench rising off of
Mortdecai
, a would-be caper with Johnny Depp as a foppish art dealer searching for a stolen painting.
Not screened for press: the George Lucas-produced
Strange Magic
, an animated musical fantasy set to classic rock tunes.
In this week's
City Weekly
cinema feature, our film contributors weigh in on the
pleasant surprises and eye-rolling decisions
in the 2015 Academy Award nominations announced last week.