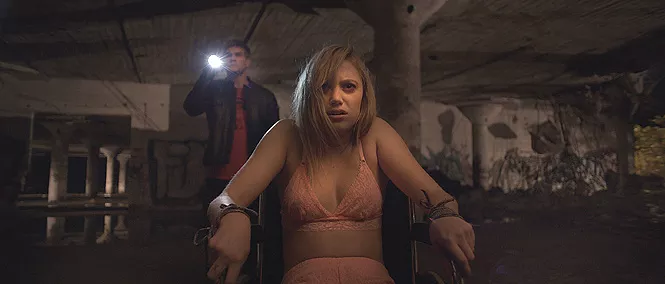 It Follows ***1/2
Appearing at first glance to be little more than a (very well-executed) exercise in cinematic style,
It Follows
has quite a bit going on beneath the surface, and is one of the best horror movies to come down the pike in a long time. Writer-director David Robert Mitchell's framing, lighting, tone, use of steadicam and score all scream "John Carpenter" in mile-high neon, which is of course one of the farthest things from bad that there is, although Mitchell has an additional, more postmodern streak running just below the surface.
It Follows
has been described as "
The Ring
with sex," which is not inaccurate, but doesn't sufficiently grasp the way and depth with which Mitchell plays with horror film traditions. The way both his script and camera regard the "threat" the protagonists face runs counter to the way less confident filmmakers treat the genre, and takes advantage of the fact that few things are as scary as the unknown, and few things less scary than a fully-explained horror movie villain. The movie's visceral power dissipates a bit by the concluding act, when it fully shifts into "movie about horror movies" mode, but overall it's still a terrific piece of work. (Danny Bowes)
Shaun the Sheep ***1/2
If you're going to trust anyone to take a minor character and spin it off into a separate feature, it might as well be Aardman, whose track record for inspired silliness still really doesn't have a blemish. The sheep originally featured in the Wallace & Gromit short
A Close Shave
becomes the hero of a story in which—after he leads an escape of his fellow sheep as a break from daily tedium—Shaun winds up in The Big City, trying to evade the clutches of animal control and re-connect with his owner, who has forgotten who he is after a bump on the head. Writer/directors Richard Starzak and Mark Burton aren't afraid to cast a wide net for their humor, winning over the kids with fart jokes while tossing in a cat that resembles Hannibal Lecter as a wink to the grown-ups. But mostly there's just that wonderful Aardman combination of rollicking slapstick action and gentle character relationships, in this case entirely built on visual storytelling as even the human characters never utter an intelligible word. It may not reach the glorious heights of the best Wallace & Gromit material, but there's no reason not to be satisfied with something so richly packed with goofy, smart, sweet humor. (Scott Renshaw)
Turbo Kid **1/2
What starts off as a great big goof on cheesy mid-'80s genre fare—a post-apocalypse in which the "future" is 1997, and the theme song is bombastic synth-rock anthem—doesn't ultimately take it anywhere but an example of cheesy mid-'10s genre fare. It's the tale of the nameless Kid (Munro Chambers), orphaned and trying to survive in a wasteland of violent warlords like Zeus (Michael Ironside) with the help of a weird new companion (Laurence Leboeuf), a taciturn arm-wrestler (Aaron Jeffery) and the super-powered glove he scavenged. Anouk Whissell, François Simard and Yoann-Karl Whissell are committed to nothing so much as finding gleefully creative ways to ravage human bodies—the fake blood budget had to have been epic—and the gory over-the-top silliness gives it an energy to match the low-budget charm of the fact that everyone travels by bicycle. It's just not terribly funny, or thoughtful about how to take advantage of the kinds of movies it's spoofing.
Turbo Kid
knows what all the pieces are, but more or less just lays them out there, banking on nostalgia to do most of the heavy lifting. (SR)
Welcome to Leith ***
I'm going to grant the benefit of the doubt and suggest that my deeply conflicted feelings about this documentary are actually an indication that Michael Beach Nichols and Christopher K. Walker accomplished exactly what they wanted to accomplish. The events begin in September 2012, when notorious white supremacist Craig Cobb buys some property in the tiny community of Leith, N.D., and puts out the word that like-minded folks should join him in enough critical mass to take over local government and create an Aryan paradise. The established locals then make it their mission to drive Cobb and his cronies out, and the filmmakers amazingly get enough trust from both sides so that it's not merely a story of a heroic battle against racists. Indeed, the film wrestles with exactly what we have the right to demand from our "neighbors," and how far a community should be willing to go to make sure any idea—no matter how repugnant—is forced from its midst. Not much actually "happens" in a conventional sense, except the unsettling realization that horrible human beings sometimes bring out things in good people that aren't so wonderful. (SR)