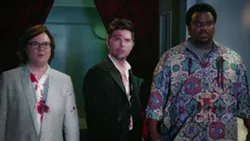 The biography of a great British artist and the return of that time-traveling jacuzzi are among this week's new releases in Utah theaters.
Eric D. Snider laments
Hot Tub Time Machine 2
missing the emotional center of John Cusack's character from the original, leaving little but one-dimensional vulgarity.
Scott Renshaw finds charm overcoming the derivative elements in the high-school comedy
The DUFF
, particularly Mae Whitman's engaging performance as the titular "Designated Ugly Fat Friend." The lead performance is also the best thing about
Match
, with Patrick Stewart doing terrific work as a bisexual New York dance teacher facing a very awkward interview.
Danny Bowes praises Mike Leigh's
Mr. Turner
both for its visual approximation of celebrated British painter J.M.W. Turner's style, and for Timothy Spall's richly human lead performance. And in this week's feature review, Bowes laments the return of the tired Great White Savior trope in the fact-based underdog sports drama
McFarland, USA
.