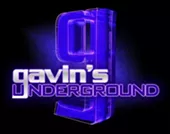 It's been a while since we've seen a new theater company spring up. That's not to say that things have been stagnant, the performing arts culture in Utah has been thriving well over the past two years, but expansion hasn't really been on anyone's minds as of late. Radical Hospitality Theater is a new pop-up company residing in Salt Lake City, looking to create a new viewing experience for audiences by mixing art, entertainment and food into both traditional and unique productions. Today we chat with the founders of the company about starting this new venture and their first production,
A Streetcar Named Desire
, which kicks off March 20 at the Gateway Mall. (
All pictures courtesy of RHT.
)
Tara Norton, Jaron Hermansen & Yolanda Strange
RadicalHospitalityTheater.com
Gavin: Hey everybody, first thing, tell us a little bit about yourselves.

Tara:
I am Tara Norton. I am a lover of art. I have always been captivated by individual expression of art—in every form. Acting, writing, interior design, architectural design, culinary craft, painting, drawing, singing, instruments—there are so many endless ways to express ourselves creatively. I spent several years pursuing my own art as an actor, vocalist, and designer in Salt Lake City and Los Angeles. I became a mother in 2002, which caused my attention and time to shift into the world of culinary arts and event planning to create a more stable income. I have had the opportunity to work in restaurants and fine dining for the last 13 years, where I have executed events for clientele such as National Geographic, Sundance, Wells Fargo Bank and many more. I enjoy meeting people from all walks of life—hearing their stories, interpreting their art, being influenced by their expression and experiences.
Jaron:
My name is Jaron Kent Hermansen, I am a freelance designer and filmmaker. I teach lighting design at Utah Valley University as well run my own independent film company, Underground Creative LLC.
Yolanda:
My name is Yolanda Stange. I am an actor/producer/coach and creative entrepreneur. I am the current President of Utah Women In Film. I am the wife of Chris Stange, a Realtor and insurance agent and mother to a 20-year-old son, Wesley Wood, a music producer.
Gavin: What first got each of you interested in theater and what were some early influences on you?

Jaron:
I love storytelling and connecting with an audience. Life is all about experiences, moments, and connections. When attending a theatrical production everyone involved is sharing a single experience, but each person is creating a personal connection with the show. I do what I do because I love to tell stories, and I only hope that the stories that I tell can have an impact on the lives of others. My family was a large influence on my involvement in the arts. As a kid, if we were not at the movies watching the latest film we were attending my brother's plays or admiring my sister's latest art piece. We have always been a family with the arts at its core.
Yolanda:
I grew up in the vibrant theater scene of Chicago. As a young girl, my mother worked for the Salvation Army and the organization would receive tickets to previews. I can still close my eyes and feel the moment when I first sat in a seat at the Chicago Theater, I knew theater was an important part of my life.
Tara:
I have had the opportunity to act in a few theater productions, and I attend as many as I can fit into my schedule! I have been fortunate enough to travel and see several productions on Broadway in London, New York, and Chicago. I am a season ticket holder for Broadway Across America at Capitol Theater. I also enjoy supporting the Utah Opera, Symphony, and Ballet West. We have an incredible theater scene in Salt Lake City. I am in awe of the work I have seen produced at Plan-B, Sting & Honey, SLAC and many others. A few specific theater pieces that have had an influence on me include:
To Kill A Mockingbird
,
Les Miserables
,
Confessions Of An Alley Cat
, and
The Book Of Mormon
on Broadway in London.
Gavin: How did each of you get involved with the local theater scene, and what's the most recent projects you've been involved with? (Not counting this one.)

Yolanda:
I started my acting career as a film and television actor. It was not until I was cast in Salt Lake Acting Company's production of
Overwhelming
and Utah Contemporary Theater's
Neglect
that I felt like a stage actor.
Tara:
I wouldn't really say that I'm personally "involved" in the theater scene as much as I consider myself a patron and supporter of the theater scene. I've been out of the acting community for many years and more submerged in the restaurant world. But, I love being in the audience and I am enjoying my first experience producing!
Jaron:
Growing up I spent my free time attending local theater, watching friends and family perform. When I got old enough I jumped at any opportunity to be involved in a production. Besides being involved with UVU's productions, some of my more recent shows are
The Private Ear
and
Hedda Gabbler
with the Sting & Honey Theater Company as well as
Fiddler on the Roof
for Sundance Resort.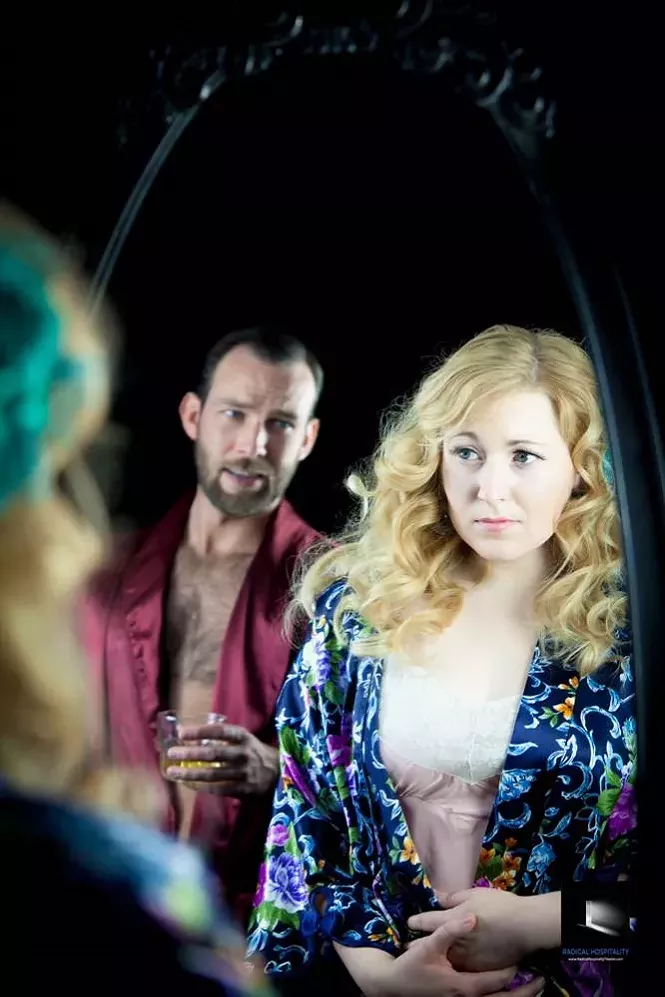 Gavin: When did all of you meet each other and become friends?

Jaron:
I first met Tara and Yolanda in 2014 when I was brought onto
A Streetcar Named Desire
by director Cooper Howell. The three of us really it hit it off and instantly became great friends and I immediately knew it would be a lasting relationship.
Tara:
I met Yolanda nearly 20 years ago in an acting class. We became fast friends, best friends actually. We have been through a lot together. We have incubated the idea of Radical Hospitality Theater and Radical Hospitality Productions for many years before we got to this place of our inaugural production. It has been an incredible journey. One I could not imagine taking with anyone else. I met Jaron last year and instantly had a soul connection. He is easily one of the most professional and multi-talented people I have ever met. I am thrilled to have crossed paths with him at this juncture of my life, and that he feels mutual. I am surrounded by amazing people. I am very blessed.
Yolanda:
Tara and I met almost 20 years ago in an intense film acting class with now artist/musician Gregory Haines. Jaron is the angel sent to us when we desperately needed technical support.
Gavin: How did the idea for Radical Hospitality Theatre come about, and where did the name come from?

Tara:
I'm going to let Yolanda run with this one. The name was 100% her idea, and I loved it. Mainly because it grabs your attention—I think the concept is accurately described in the word "radical." Our combined experience is in "hospitality" and the arts. It fits who we are and what we stand for.
Yolanda:
It all started when I found myself among a bunch of actors who were unhappy with the amount and kind of work for them in the Utah market. I was reading Lonni Pratt and Father Daniel Homans' book called
Radical Hospitality
. I thought the principle of the book correlated with the conversation with those actors. We needed a theater company that was different and unique who took chances not only with its productions but also with Utah talent and audience.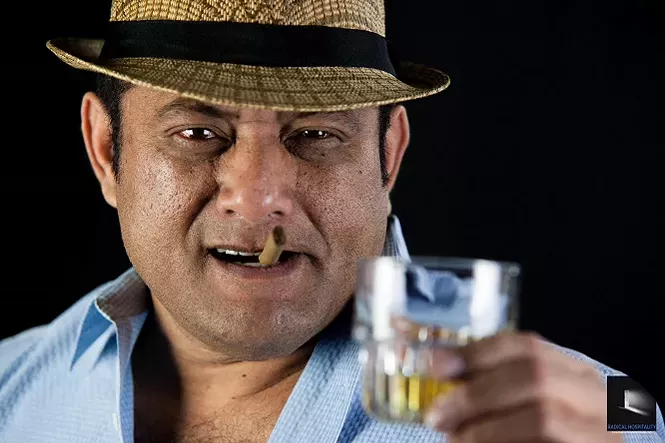 Gavin: What made you decide to treat the company more as a resource center than it's own non-profit organization?

Yolanda:
First, let me say, I prefer to be called a for-progress organization. A lawyer who does pro bono work doesn't call themselves a non-lawyer. It is my desire to have a place for local performance artists to get clear, open communication about the industry. I believe there is enough for everyone and if we stop competing with each other, we as a whole will be elevated. I just want to do my little part in making that happen.
Tara:
Radical Hospitality Theater is a non-profit organization and treated as such. It houses our Utah teen creative writing program called In Our Skin and all theater productions. The resource center is more of a function of Radical Hospitality Productions, a sister company of the theater that is a low-profit LLC.
Gavin: What was the process like in building up the company prior to deciding on a production?

Tara:
It has been a real work in progress. We have so much we want to do and so many brands of art we would like to incorporate, that at times, we have had to remind ourselves life is about the journey—taking things one step at a time. We are extremely fortunate to have such amazing friends, family and professional mentors in the community that have been willing to support our vision financially, emotionally and physically. The financial aspect is always the most necessary component and the hardest thing to secure for any new business. The rest is the fun stuff!
Yolanda:
Anyone who has ever started a business will tell you the beginning is easy. Ideas flow like crazy because you are on a creative high. Execution is when things get a bit more intense.
Gavin: What made you decide to do A Streetcar Named Desire for the first show?

Jaron:
I was brought in after
A Streetcar Named Desire
was selected. It's a true well known American classic and a phenomenal choice for a first production. As a production company, we want to address things that society typically ignores, we want people to take a look at themselves in the mirror and reflect what it is that makes them who they are. A Streetcar Named Desire delivers this, taking audiences places they would rather not go and forcing them to take a look inward.
Yolanda:
I hadn't seen the show done in Utah on a large scale. For me,
Streetcar
is a front row seat to a love affair among eight people. Who doesn't want to watch that.
Tara:
To me, it was the message of
Streetcar
that was the most important. The deep look at social masking and perception. The idea or conception that who we "think we are" is not how we project ourselves or how we are perceived at times. The disillusion, the struggle with ego, and the lies we tell ourselves and others just trying to survive "Life." It's powerful. It's earth shaking stuff, really. This cast is bringing that to the table and doing this Pulitzer Prize winner and Oscar winner justice. This script by Tennessee Williams does not disappoint. It truly is a masterpiece. We would like to produce original works by Utah writers—collecting those scripts takes time. We felt it important in the beginning since we have to choose well-known pieces, to select shows that are not done very often, if ever.
A Streetcar Named Desire
definitely fits that description. Our director, Cooper Howell, came to us with a great concept that fit into our "thinking outside of the box" mentality and way of executing things. Together the four of us have designed a modern, forward thinking adaptation of this classic work of art. I could not possibly be more excited about it! We are striking the set with several film elements - the stage is taped
onto
the floor with gaffers tape using very minimal stage props, exposed lighting and mostly live sound effects versus pre-recorded effects. There is no "back stage" so to speak. Several wardrobe changes are tastefully done right on stage. The actors are using a Meisner method approach - which draws focus to the emotions of the character and more attention to the writing and performance rather than the fluff of props. It is a unique and innovative concept that has not been done in Salt Lake City yet.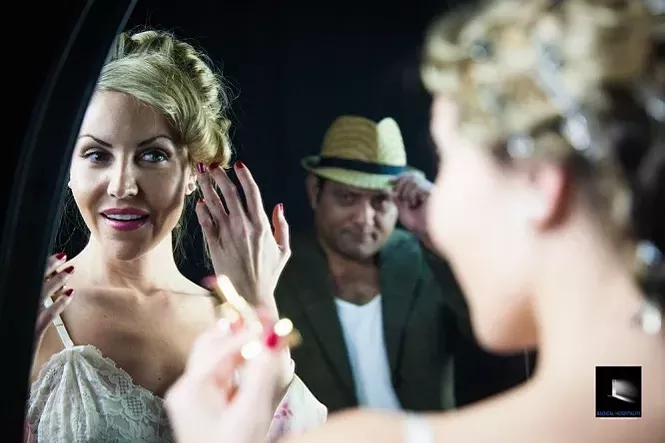 Gavin: How has it been working with the talent in this show and bringing it to life?

Yolanda:
The talent I believe is being stretch in ways they never have before and are handling it amazingly. We work under minimum Actors Equity rules meaning actors are given their scripts 3-4 months in advance and are expected to be off book by the end of the first week of rehearsal.
This of course
saves us time and money, but it also keeps the actors' choices fresh and in the moment.
Tara:
This cast, this crew—they're dynamite. I could not ask to have found a more talented group of people to be working with. I don't think it's possible, actually. The synergy and connection are palpable. It has truly been a joy watching it come together.
Jaron:
We couldn't have asked for a better cast for this production. I am very excited for our patrons to see this talented bunch of artist on stage because they will not disappoint.
Gavin: What made you decide on The Gateway Mall as the home for opening evening?

Jaron:
The Gateway Mall, right in the middle of our city, is a major shopping center devoted to people keeping up appearances. I can't think of a better place to stage a production making a statement that we want people to look inward.
Tara:
For me, I think it's important to support local business. Sometimes that includes struggling business' that deserve a second chance. Since the build of City Creek, Gateway has been trying to find a different way of surviving outside of retail. It is a beautiful mall, has wonderful energy, plenty of parking—it seemed like a great place to choose for us. The old Anthropology space (where we are leasing for this show) has a very artistic backdrop already in existence. It was a perfect space for us to build a pop-up kitchen to host our 5-course dinner theater menu and innovative concessions. Everything just kind of fell into place. I think it's a great fit for this show.
Yolanda:
I had shot a film in the space and immediately thought it fit with our concept. Excess amongst minimalism.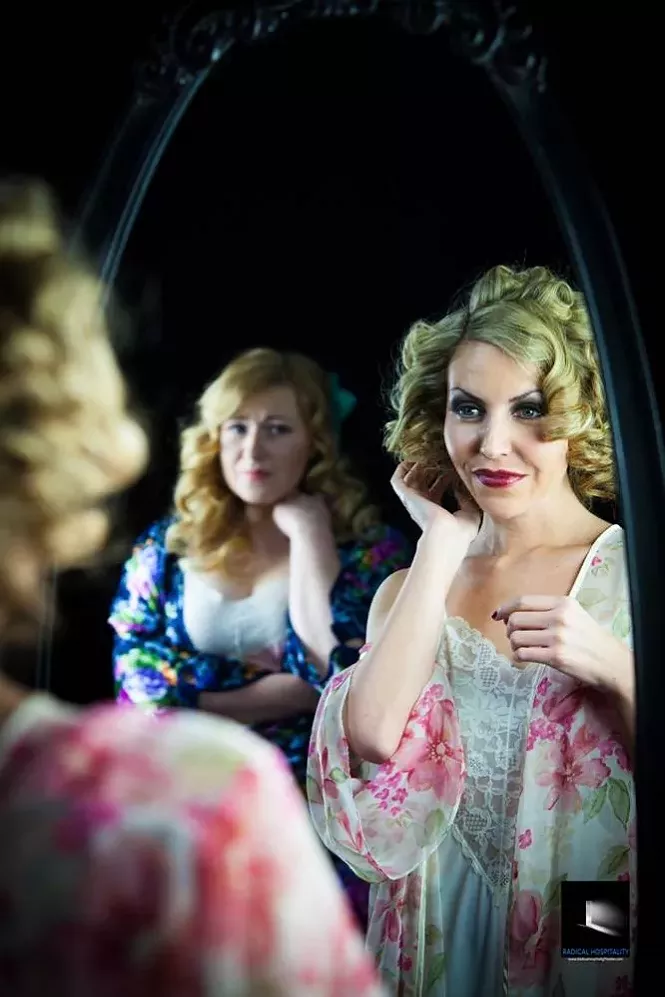 Gavin: Are you going to continually move around or will you be looking for a permanent home?

Tara:
We like the idea of continuing pop-up style theater. Some shows we are interested in producing would be great in an old church, others outdoors in a park, others in a warehouse—the possibilities are endless.
Yolanda:
We are working on our own space, we are particularly looking for areas of the city that need some love and have a strong sense of community.
Gavin: What are all your thoughts headed into opening night later this week?

Yolanda:
Opening night is my birthday, I'm actually more nervous about turning 45. I trust my cast and crew and know that this show will be amazing. I can't wait.
Jaron:
As we head into
opening
week I couldn't be more excited. We have been working round the clock on this production for months now. To see all aspects of the show come together and be received by audiences is very exciting.
Tara:
I, personally, am extremely proud of the cast and the crew we have been working with. I am excited about the message this script relays...I feel it will get the audience thinking. It's always a little nerve-racking to take risks...but, I am excited!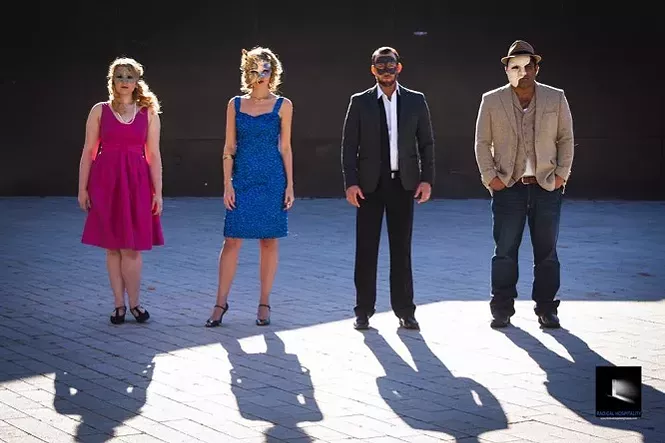 Gavin: What do you hope to achieve with RHT both as a group and a concept?

Tara:
We hope to achieve having a place for artists to express their voice. That concept isn't just about actors. It's about writers, directors, chefs, furniture designers, vocalists, musicians, photographers, hair and make-up, mixologists, painters, light design, stage/set design, costume and wardrobe—everyone who wants to share their art. We want to produce mind provoking theater that encourages the audience and the artist to think outside the box. We run on this idea: "When you change the way you look at things
...
the things you look at change..." We would be accomplishing our biggest goal if we were able to effect people through art. Open up and explore different combinations and channels of opportunity that may change the way they live, think and enjoy their daily lives.
Jaron:
Like I said earlier RHT is all about addressing the elephant in the room, making people look inward and hoping that it can make a change. We also want to encourage future generations to use their voice. With our program, In Our Skin, we hope to achieve just that. We hope to show that their voice can and will be a force for change in their community.
Yolanda:
That I will inspire others to dream outside of the box. To take risks and most of all support each other.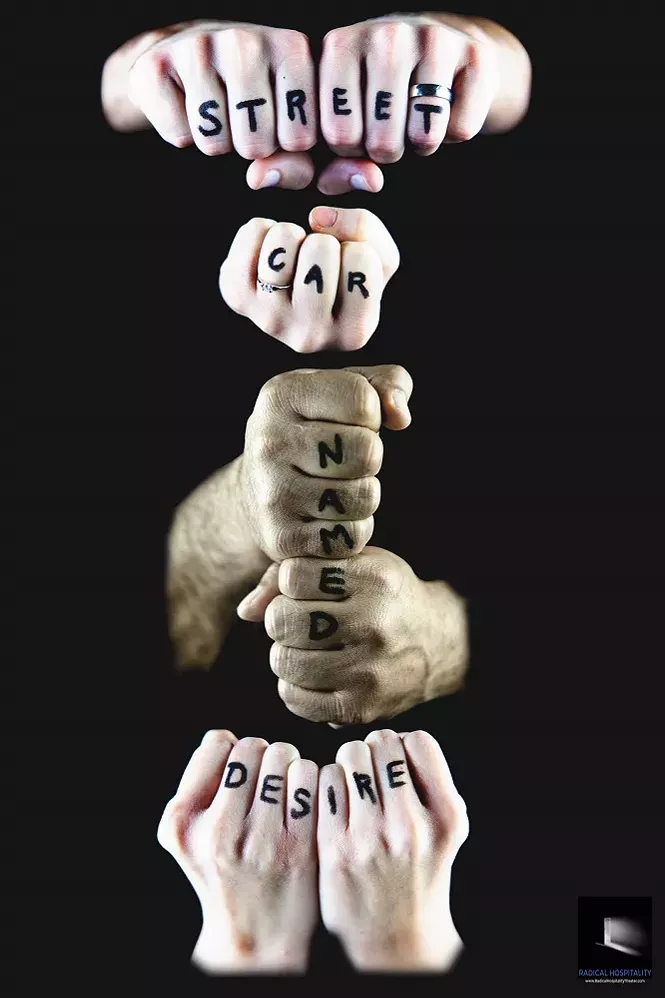 Gavin: What can we expect to see from you over the rest of this season?

Jaron:
We have some exciting things in store for our upcoming events and productions. And we greatly anticipate the day we can share those with the community.
Tara:
We are going to be very focused on our creative writing program In Our Skin. We are also interested in producing
Doubt
this year.