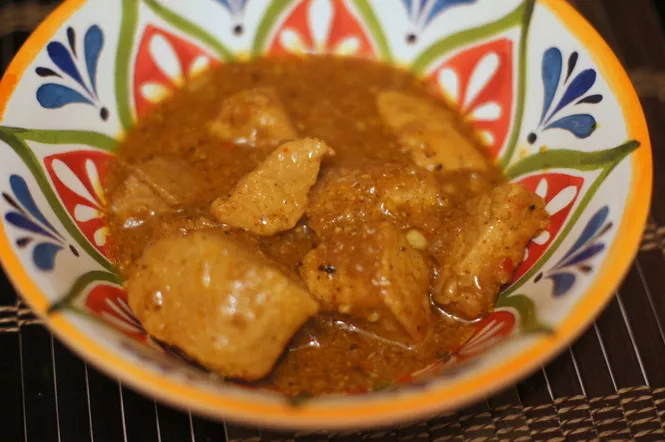 Located along India's west coast, the state of Goa is virtually synonymous, from a culinary standpoint, with
vindaloo
. It's a bright-tasting type of curry, the name of which is said to derive from a Portuguese colonists' dish called
carne de vinha d'alhos.
The crisp, bright flavor comes from vinegar which is mixed with a number of typical Indian spices.
This recipe is for pork
vindaloo
, but you could easily substitute chicken, shrimp, beef, tofu or veggies. Don't let the long list of ingredients disuade you from making
vindaloo
. Most of the ingredients are dry spices. I have an extra coffee grinder in my kitchen that is dedicated solely to grinding spices, black peppercorns and such.
Ingredients:


3-4 dried chiles de arbol, stems removed
1 cinnamon stick
2 tsp. black mustard seeds
1 Tbs. coriander seeds
1 Tbs. cumin seeds
1 tsp. fenugreek seeds
1 tsp. cardamom seeds
1 tsp. black peppercorns
2 tsp. kosher salt
1 tsp. brown sugar
1/2 tsp. turmeric
1/3 cup white vinegar or white wine vinegar
1/3 cup canola or vegetable oil
2 onions, thinly sliced
2/3 cup water
1 1/2 to 2 lbs. boneless pork, cut into 1-inch cubes
1-inch piece of fresh ginger, peeled and grated
1/4 cup finely minced garlic
Method:


Using a mortar & pestle or a spice/coffee grinder, grind together the chiles, cinnamon, mustard, coriander, cumin, fenugreek, cardamom, peppercorns, salt, sugar and turmeric.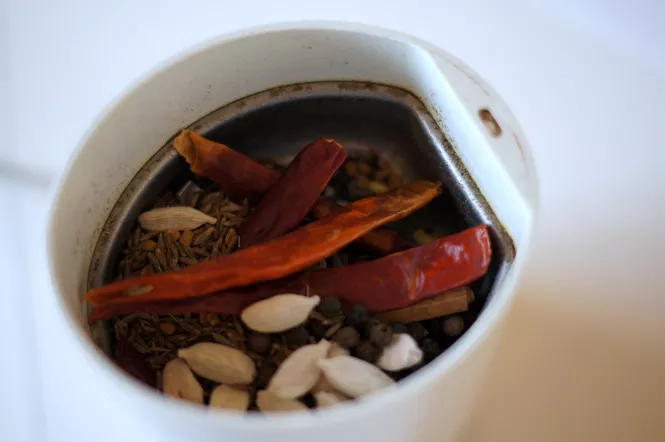 Transfer the ground spices to a bowl and stir in the vinegar.
In a large skillet or saucepan, heat the oil over medium heat. When the oil is hot, add the sliced onions.
Saute the onions, stirring occasionally, until they are brown and crisp. This can take up to 20 minutes, depending on your stove and the pan you're using.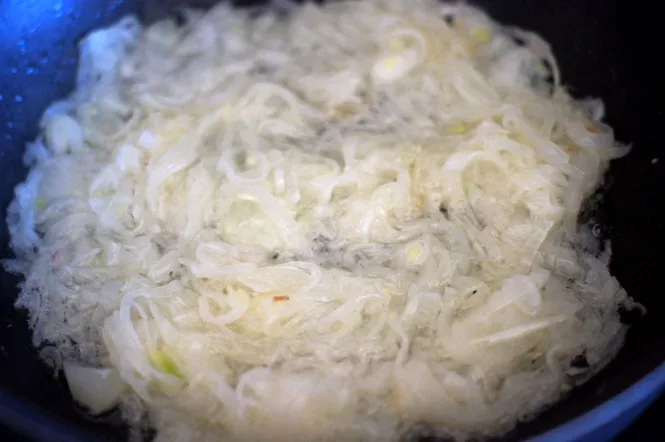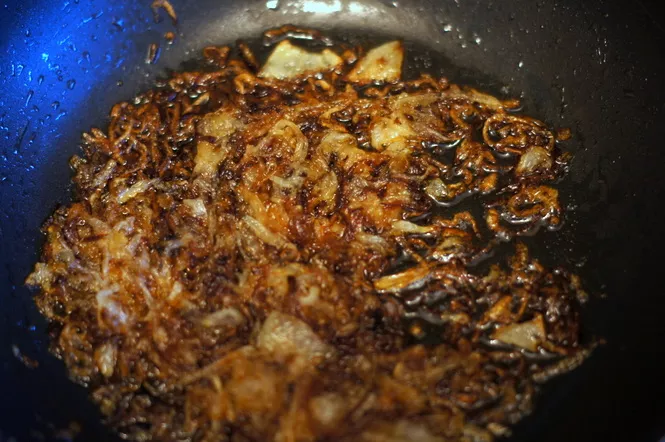 Using tongs or a slotted spoon, transfer the cooked onions to a blender or mini-food processor and blend to a puree with 2-4 tablespoons of water.
Add the onion puree to the bowl with the vinegar and spices: this is the
vindaloo
paste that will serve as the backbone of your pork
vindaloo
. You could make the
vindaloo
paste in advance and freeze it, if you'd like.
Heat the remaining oil in the skillet to medium-high heat and add the pork pieces. Lightly brown the pork on all sides.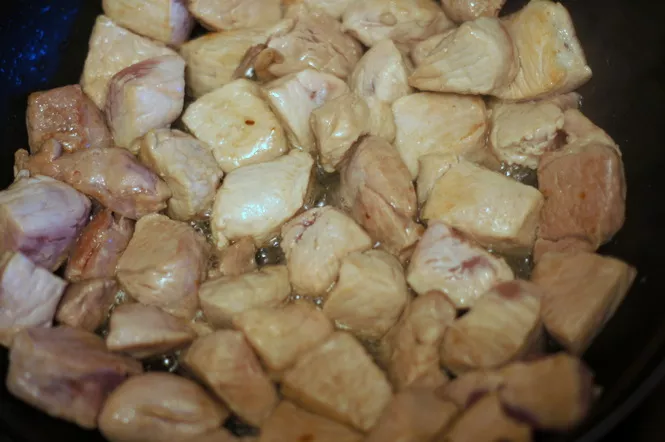 When the pork is lightly browned, add the ginger and garlic to the pot and stir, cooking for a minute or two.
Add the
vindaloo
paste to the pan and stir, turning the heat down to medium.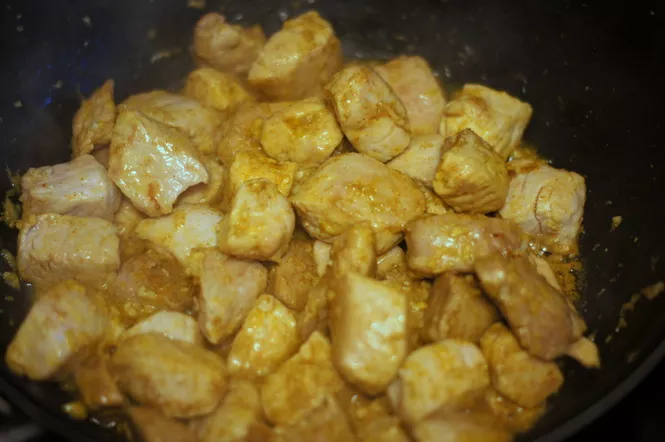 Add 2/3 cup of water (or more if necessary) to the pan, stir well and bring to a boil.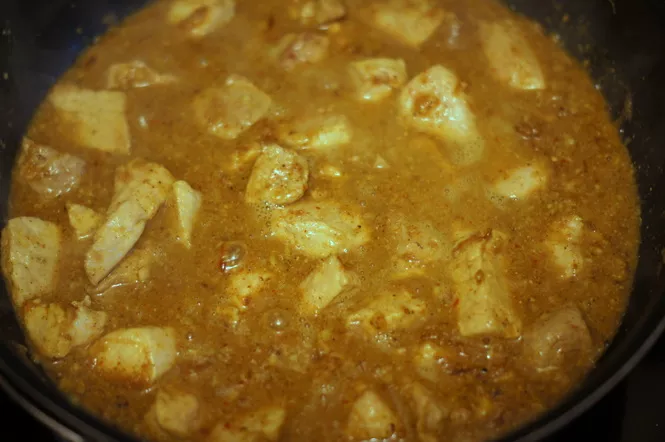 Simmer the pork, covered for about an hour, or until the pork is tender, stirring occasionally.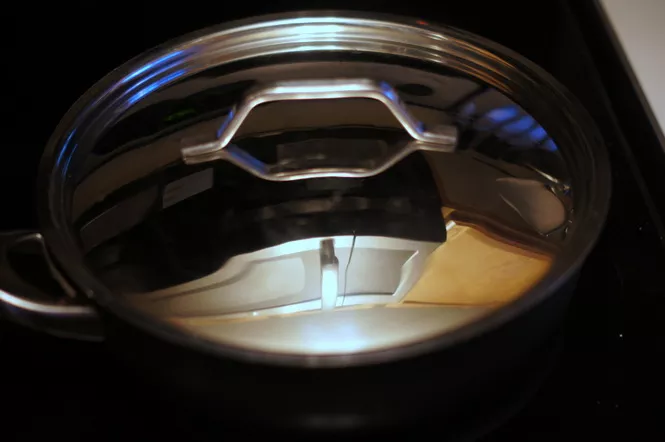 Photos by Ted Scheffler