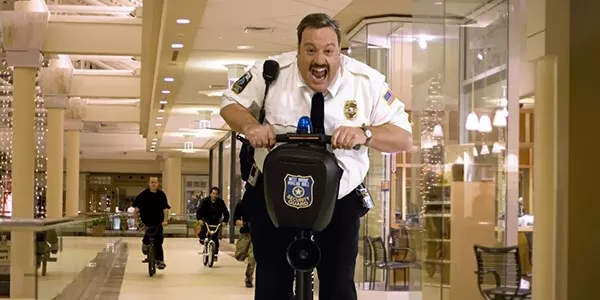 A full slate of new releases in Utah theaters includes an Oscar-nominated anthology, a haunted online presence and the return of an incompetent security guard.
Scott Renshaw welcomes the return of Bill Rohan in
Queen and Country
, writer/director John Boorman's semi-autobiographical follow-up to
Hope and Glory
. The Argentinian Foreign Language Film Oscar nominee
Wild Tales
delivers enough winners among its six tales of vengeance and justice that the weaker entries are forgivable. The suspense thriller
Beyond the Reach
provides an effective cat-and-mouse story with an economic twist, until the final 10 minutes blows up into spectacular nonsense.
Eric D. Snider finds the set-up of the fact-based drama
True Story
intriguing enough until it reaches a conclusion that offers no real payoff, and appreciates the commitment of
Unfriended
to its "haunted online profile" concept, even if the story doesn't make much sense.
MaryAnn Johanson despairs as
Paul Blart: Mall Cop 2
(pictured) reminds us that competence equals villainy, and incompetence is a virtue.
In this week's feature review, Scott Renshaw appreciates the value of a Disney formula in providing education and entertainment in
Monkey Kingdom
.
Also opening this week, but not screened for press:
Child 44
, a suspense drama about a Russian cop's investigation into Soviet-era murders.