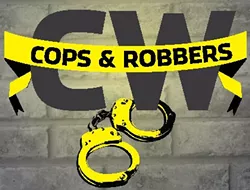 The weekend got off to a jumpy start according to Salt Lake City PD, with one guy pursuing a crime wave of sorts at two well-known downtown bars.
At 1.56 a.m. our man began his venting by getting into a fight with a security guard at the Moose Lounge after said guard had barred him and his friend. Such was his ire at not gaining access, he pulled a knife and stabbed the security man in the back, sending him to hospital.
Eight minutes later, not content it seems with shedding blood on the city streets, the same individual got into a melee in the parking lot of Trails, which is around six blocks or so from the Moose.
The fight was broken up but our guy had the last say, loosing off three shots from his departing silver Dodge Charger as he sped off into the night.
If you have information on this crime or other criminal activities you're encouraged to call the Salt Lake City Police Department at 801-799-3000. To remain anonymous, you can text the keyword TIPSLCPD plus any relevant info to 274637 with the reference: "crimetip."