Last week I took a quick inventory of my fridge and saw that I had ricotta cheese, arugula, grape tomatoes and parsley that needed to be used before it spoiled. So, I created a pasta dish utilizing those ingredients plus a few others. I must say, it's a keeper!
I had a craving for homemade pappardelle pasta, so I made some. However, you can use either fresh or dried pasta for this recipe. Plan on about 1 to 1 1/4 pounds of fresh pasta for 4 servings or 3/4 lb. of dried.
One trick to making this dish is to work quickly as soon as the pasta is cooked and drained. You'll want to stir in the cheeses while the pasta is still hot to create a creamy sauce.
Ingredients:


1 to 1 1/4 lbs. fresh pasta (such as pappardelle) or 3/4 lb. dried
1 Tbs. kosher salt (for the pasta water)
2 Tbs. extra-virgin olive oil
3/4 cup whole milk ricotta
1/2 tsp. freshly cracked black pepper
1/2 cup reserved pasta cooking water
1/4 cup Parmigiano-Reggiano or Pecorino Romano cheese, grated
3 Tbs. minced Italian parsley
3 Tbs. minced chives
4 cups (unpacked) arugula
1/2 pint grape tomatoes, halved or quartered
Freshly ground black pepper and kosher salt, to taste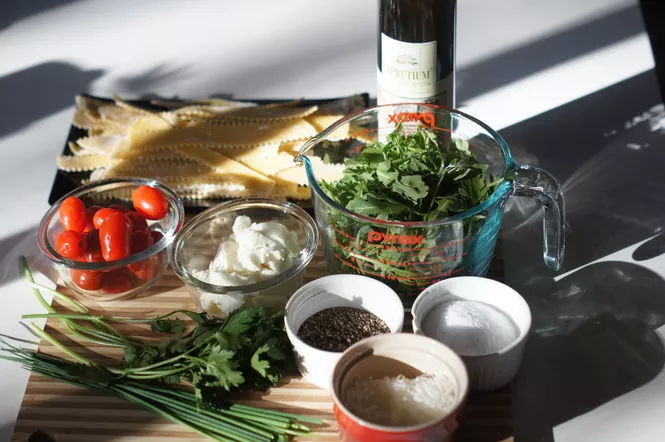 Method:


Cook the pasta in a large pot with 1 tablespoon of kosher salt, until just
al dente
.
While the pasta is cooking, place the ricotta and 1/2 tsp. of pepper into a mini-food processor or small bowl.
When the pasta is nearly done cooking, scoop out 1/2 cup of the pasta water and add it to the ricotta. Process or whisk until smooth.
Drain the cooked pasta and immediately return it to the cooking pot and add the ricotta sauce with the olive oil.
Toss the pasta in the sauce and oil, then add the chives, parsley, and grated cheese. Mix well.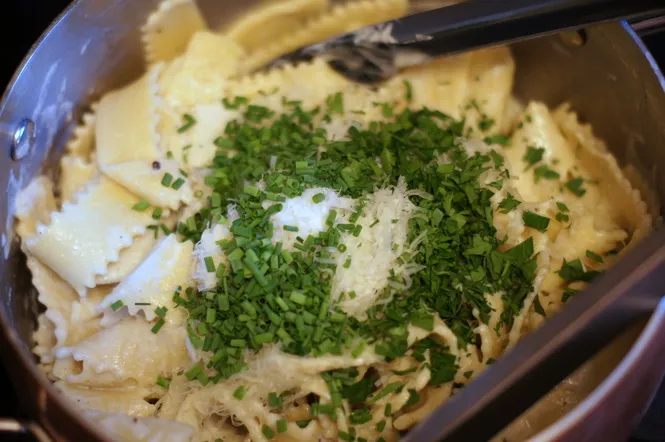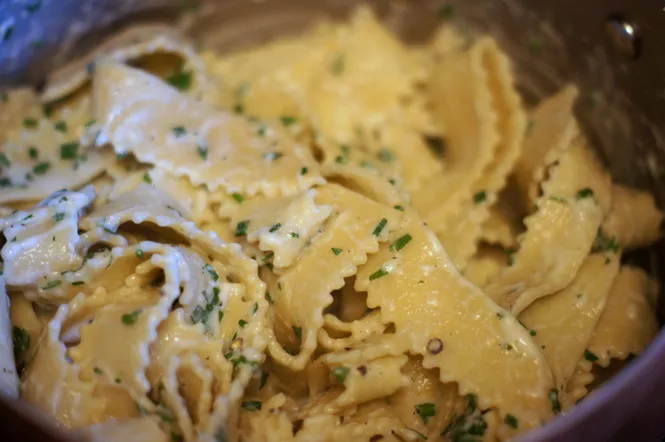 Just prior to serving, add the arugula and grape tomatoes and toss.
Add salt and/or additional pepper, to taste, if necessary and serve immediately.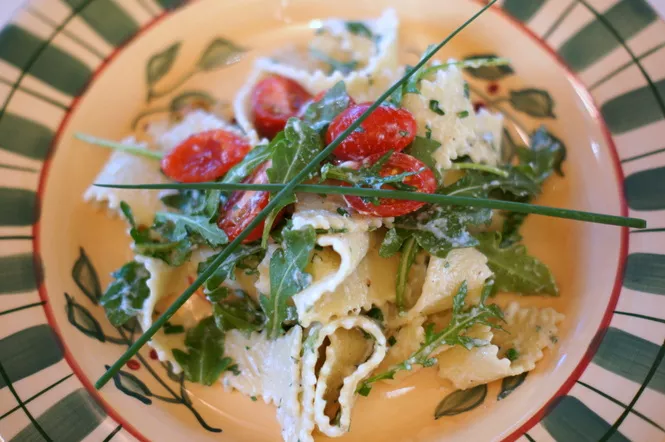 Photos by Ted Scheffler