With Memorial Day coming up, a lot of us will be grilling outdoors. After grilling hundreds, if not thousands, of steaks using a multitude of methods, temperatures, seasonings and such, I finally settled on one that's just about foolproof.
Most steakhouses cook their steaks at extremely high temperatures. At Ruth's Chris, for example, they cook steaks at about 1800 degrees F. - a temperature that isn't possible to achieve for most home cooks.
In addition, most steakhouses bathe their steaks in butter, usually after cooking.
The following method for cooking steaks on a charcoal grill is simplicity itself. I butter the steak and sprinkle with nothing more than salt and pepper prior to cooking, and grill at a temperature of around 700 degree F. The result is a perfect, medium-rare steak that is juicy and spectacular.
Since my gas grill doesn't reach 700 degrees, I wouldn't cook a good steak on it. The key to using this particular recipe is to get a charcoal grill good and hot prior to grilling.
When I took these photos I was home alone and cooking for myself, so I only grilled one steak. Obviously, you can cook as many as will fit onto your grill using this technique.
Ingredients:


Rib eye steaks, boneless or bone-in, approximately 1 1/4-inch in thickness. I try to use beef graded Prime whenever possible. Dry-aged Prime beef is even better.
Kosher salt
Freshly cracked black pepper
1 Tbs. unsalted butter per steak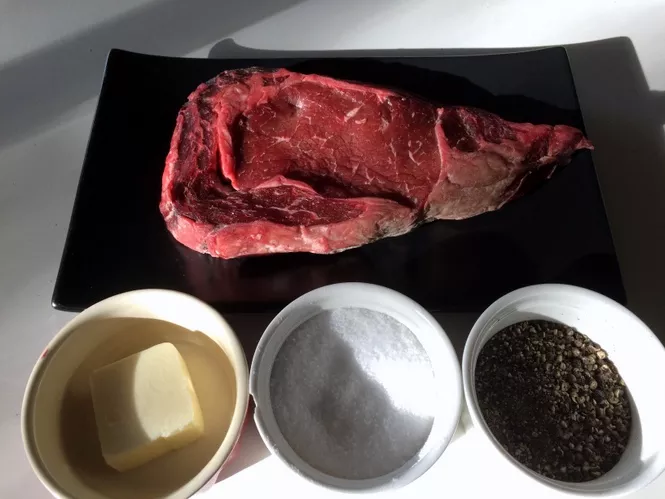 Method:


I use a kettle-style Big Green Egg for grilling, but this technique will work with any decent charcoal grill.
Remove the steaks from the fridge about 45 minutes before grilling and allow to reach room temperature.
Ignite the charcoal (preferably natural lump charcoal) in your grill. Make sure the top and bottom vents of the grill are completely open, close the lid, and allow the charcoal to burn for about 10-15 minutes, until burning evenly.
Check to see that the charcoal is completely lit and burning evenly. Close the lid again, leaving the vents completely open, and heat the grill to 700-750 degrees F.
While the grill is heating, melt the butter.
Brush the butter onto both sides of the steak(s).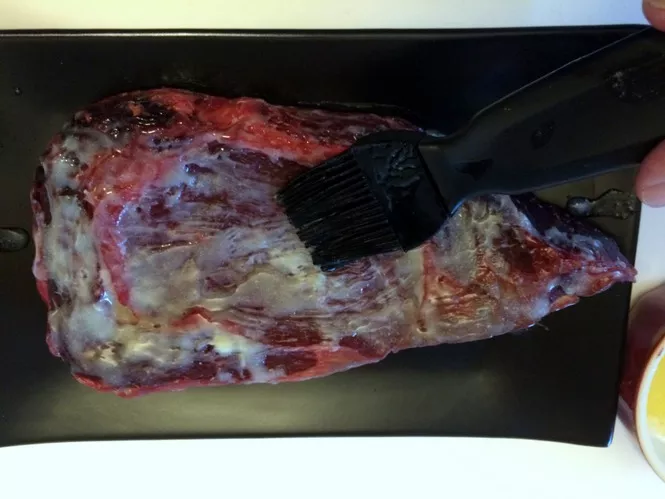 Season generously on both side with salt and pepper.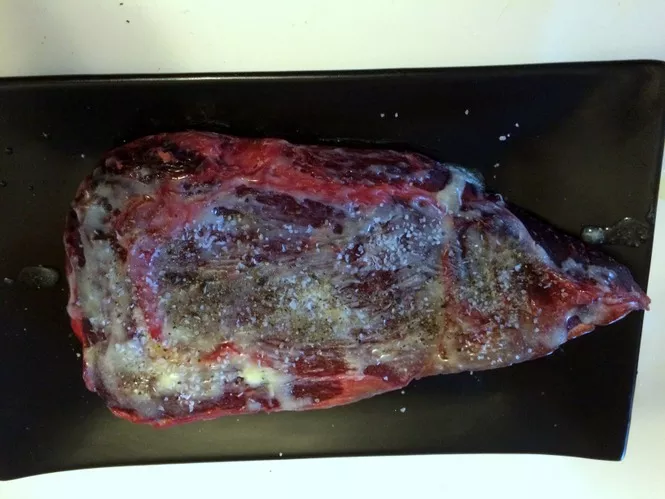 When the grill has reach 700 degrees, carefully open the lid and place the steaks on the grill rack. There will be flare-ups but quickly closing the lid should extinguish the flames.
Cook the steak for 2 minutes.
Open the lid again and flip the steaks, moving them to a non-fiery part of the grill, if possible.
After 2 more minutes, open the lid and flip the steaks one more time.
Close the lid and the bottom and top vents. Allow the steaks to cook for another 2-3 minutes for medium-rare, a little longer if you want your meat more done.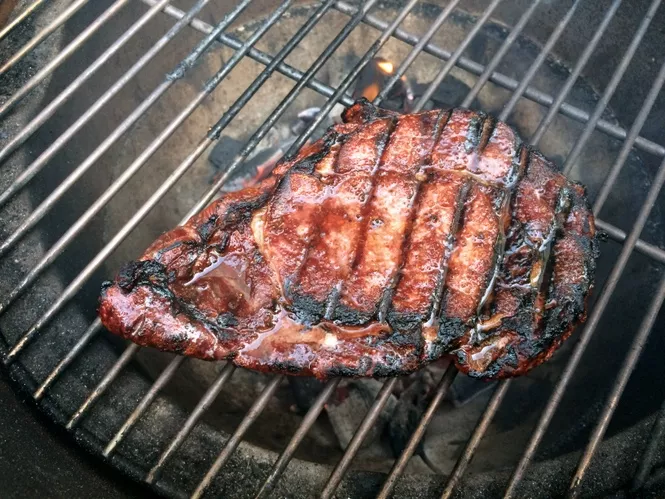 Remove the steaks to a large plate or serving platter and cover with foil. Allow the steaks to rest for 5 minutes.
Serve and enjoy!
Photos by Ted Scheffler