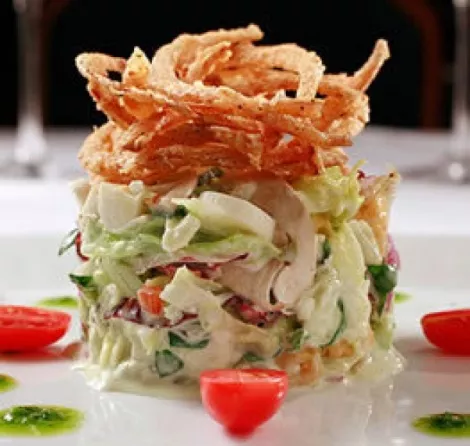 Ruth's Chris' chopped salad
Genealogy is not my forte, so I'll try to keep this family tree of
Ruth's Chris Steak House
in Salt Lake City brief. In 2009, the original Ruth's Chris Steak House SLC closed when the franchise was taken away from financially troubled restaurateur Gene Kwon. His Latitude Group also operated Mikado, Ichiban Sushi, Kampai, Harry's and Hapa Grill. Mark Robbins, current co-owner and franchisee of the newly opened Ruth's Chris on West Temple, was also general manager at Kwon's Chris; Brett Bartholoma, chef at the new Ruth's Chris, was chef at the old Ruth's Chris, with an in-between stint at Donovan's Steakhouse (located in the space of the original Ruth's Chris). Following so far? To make things even murkier, Chris Watkins of the Watkins Restaurant Group is also co-owner of the 2010 Ruth's Chris Steak House—and the Watkins group now also owns
Mikado
and
Ichiban Sushi
. Clear as mud pie, right?
Well, if any bad karma remains from Kwon's iteration of Ruth's Chris Steak House, it's not in evidence at the new restaurant, which is a tightly-run ship, not to mention a feast for the eyes and palate. But, back to co-owner Mark Robbins for a moment. He's been on the restaurant scene here in Salt Lake City for many years, working at the aforementioned Ruth's Chris 1.0 and at Gastronomy Inc. restaurants, including a 13-year stint managing The New Yorker. Over the years, he's nurtured relationships and loyalties from restaurant workers that border on Moonie-ism. At Ruth's Chris, he's assembled a top-notch team of servers, managers and kitchen staff, cherry picking many of them from an array of our city's finest restaurants. A number of employees I spoke to confided that they came to work at Ruth's Chris because of Mark Robbins; a few said they'd follow him anywhere. Gene Kwon, he ain't.
Now that you know the players, let's get down to the food and drink, and ignore the elephant in the room, which is: Does downtown Salt Lake City really need another high-end steakhouse, in addition to Fleming's, Spencer's, Christopher's and Donovan's? I suppose we'll soon know. Frankly, I think any eatery that's as professionally run as Ruth's Chris is a welcome addition to the Utah dining scene. The new restaurant has created 75 new jobs, and it seems that a good portion of those 75 are ready to greet and seat you when you enter. You will not be left at the front door staring at your shoes.%uFFFD
Make time, if you have it, to arrive early for a cocktail at the plush bar—a Pear Twist martini, perhaps, with Belvedere Lemonessence, "twisted" with Absolut Pear Vodka. Then, be seated and waste no time in ordering a Ruth's classic: The chopped iceberg lettuce, radicchio and baby spinach salad ($8) with hard-cooked eggs, hearts of palm, red onion, 'shrooms, green olives, croutons, bleu cheese, lemon-basil dressing and a topping of crisp-fried, julienned onions. It is one of the best salads you'll ever encounter, served artfully as a cylindrical tower.
Founded by Ruth Fertel as a little New Orleans neighborhood steak house, Ruth's Chris is celebrating its 45th anniversary this year by offering a selection of premium wines rated 90 points or more for $45 per bottle—normally priced higher. So, order a good bottle of vino and tuck into the barbecued shrimp appetizer: large, peeled shrimp cooked up in a New Orleans-style sauce of white wine, butter, garlic and Creole spices. Or, if you prefer to get your meat groove on quicker, try out the sinful veal osso buco ravioli ($12): saffron-infused pasta stuffed with tender veal osso buco and fresh mozzarella in a white wine demi-glace.
At Ruth's Chris, you hear a lot about "sizzle." The steaks are cooked at 1800 degrees and are topped with fresh butter so they sizzle all the way to your table. This is true. And, if you want sizzle with a capital "S," I recommend going whole hog—or whole cow—and indulging in the Porterhouse steak for two. It ain't cheap ($83), but this USDA Prime cut is both rich and tender at the same time. Plus, you get a bit of a show, as a well-trained server de-bones and slices the ginormous Porterhouse right in front of you. In all likelihood, you'll have leftovers. Our dog Beau loved the big bone we brought him, and I made delicious leftover Prime steak paninis the next day.
If you're not quite ready to tackle to Porterhouse for two—or you just don't want to share your steak—I suggest opting for one of the well-marbled, Prime ribeyes, either the boneless ribeye or the big, bone-in version called the Cowboy ribeye. It goes without saying that at Ruth's Chris every steak is cooked exactly as requested. I've never come close to sending one back.
Everything at Ruth's Chris is priced a la carte, so a one-pound baked potato, three-cheese potatoes au gratin, shoestring fries, asparagus with Hollandaise, creamed spinach, broiled tomatoes and such all cost extra, which means your dinner bill can creep to astronomical heights before you can say "caramelized banana cream pie." But, dining at a Ruth's Chris Steak House is, for me at least, a special event. You won't find better service anywhere in the state. So, if you want to be pampered, Ruth's Chris-style, you'd better be packing extra funds. It'll be worth every last Lincoln.
RUTH'S CHRIS STEAK HOUSE
275 S. West Temple
801-363-2000
RuthsChris.com