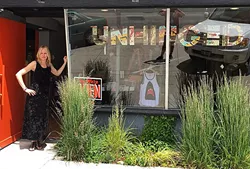 Facebook
Unhinged
Unhinged (2165 S. Highland Drive, 801-467-6588, @unhingedut) opened a few years ago in the heart of Sugar House amidst the frenetic growth and development of the area. They were smart in choosing their location, as it's become a destination for the young and restless.
Unhinged is a visually appealing store and its owner Corey Folster, a Salt Lake City native, has had years of visual merchandising experience. Mixed in with men's and women's clothes are antiques for sale, like old-fashioned sewing machines, glass bottles (they make great vases), Smith Corona typewriters, 1950s vintage luggage and AM radios with gorgeous round dials. It's like stepping into a cool boho indie-fashion boutique intermixed with the coolest finds from the best yard sale you've ever been to.
Retro's eclectic approach is great on so many levels—you can find something for everyone, including irreverent cards, groovy books, gorgeous jewelry locally made by Salvage West and Ker-ij, candles, shot glasses, mugs and natural body products from Salt Lake City-based Purring Buddha.
Instagram
Rewind Exchange
Upstairs is a vintage used-clothing department called Rewind Exchange. Many of the pieces have been reworked by local companies Hell Bent and Stress by surging, re-hemming and distressing some really cool clothes that were sweet already but are now refitted for the times. Rewind Exchange has a great stock of vintage Levi's for sale for $25 and gently used converse sneakers in an array of colors for $19. They have the coveted and revived used Red Wing men's boots for only $38.
Folster just opened a brand new men's store called Man Up (2155 S. 2100 East). It's a rugged-looking store with a great array of men's fashion—and thank God—because they have helped fill the void in men's fashion in the city of salt. The coolest thing is that it's attached to the newest location of Jed's Barbershop. You can hang out in the arcade while you're waiting for a trim and stroll over to Unhinged all under the same roof. It's exciting to see this collaboration in Sugarhood. Now, go out and shop.
Here's a weekend look styled from Unhinged:
Supe backpack from Japan with giant front zipper and Hawaiian flower print: $78; bucket hat in black modern flower print: $29.95; sunglasses: $12; used blue Converse sneakers: $19; striped socks by Richer Poorer: $12; denim Oxford shirt from George and Martha: $34; plaid clip-on bow tie: $16; My Cool Caravan book: $24.95.
Follow Christa on Twitter @ChristaZaro and Instagram @phillytoslc.