Holy
crap,
was this weekend hot. And not just your typical buildup to summer weather hot. This was sweat-inducing hot; this was vaporizing hot; this was the kind of hot you get from standing in the shower too long kind of hot, and it filled the valley. In the middle of this heat was Gallery Stroll this past Friday, and for this month's showcase I made my way over to Art Access where we interviewed three artists: Una Pett Rothko, Leslie Duke and Marcee Blackerby—all with photos I took of their artwork for you to view throughout the interview.
Leslie Duke
LeslieDuke.Squarespace.com
Gavin: Hey Leslie. First thing, tell us a little bit about yourself.

Leslie:
I grew up in Farmington, and am the oldest of four siblings. As a kid I was pretty shy and anxious; art was a refuge for me growing up, that and reading. I still love to read. I graduated from BYU with a BFA in Illustration and worked as an illustrator. Eventually, I realized that fine art was a better fit for me, so I ran after it; I'm still running after it, although I'm beginning to catch up I think. Currently, I live in Springville with my husband, who plays in the band Fictionist, and our two dogs.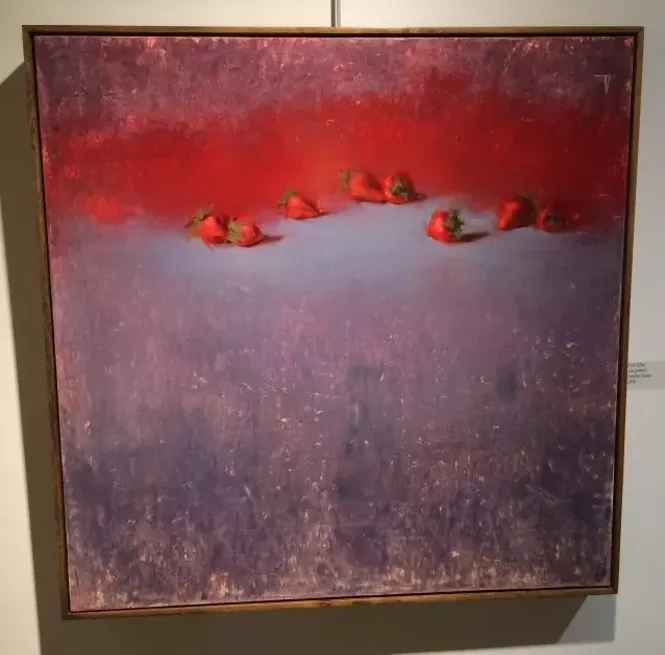 Gavin: What first got you interested in art, and what were some of your early inspirations?

Leslie:
My parents always had art surrounding us at home. My dad hung limited edition prints of artists on all of the walls and my mom made sure to talk about the illustrations in our picture books as she read them to us. Because of that, my early inspiration ranged from Frederick Remington to Eric Carl. As a teenager, I was really influenced by John Singer Sargent, especially his watercolors, and Burt Silverman. I actually met Burt at a college lecture as a sophomore—that's probably the first and only time I've actually cried after meeting an artist. I'm a serious fan girl. In college, I really got into Lizbeth Zwerger, an incredible illustrator, as well as illustrators Sterling Hundley, Jillian Tamaki, and Maxfield Parrish.
Illustration
is still a huge inspiration for me.
Gavin: What specifically caught your eye with illustration and appealed to you the most?

Leslie:
To be honest, I went into my undergrad [education] planning on law school. Art was a passion of mine, but I never considered it as a career option. I didn't know any professional women artists, so I guess that it didn't even seem like something I could do for a career. Law caught my eye because I liked to debate and do research; illustration seemed like a good undergrad because I loved art, wanted to do something creative and knew someone who recommended the program at BYU. So I went with it.
Gavin: You received your BFA in Illustration from BYU in 2010. What made you choose their program, and what was your time like there?

Leslie:
Like I said, it was all kind of a fluke; a really, really lucky fluke. The main reason I went to BYU was because it was affordable. Since I was planning on law school I didn't want to go into debt for my undergraduate degree. BYU made sense, although I really wanted to go back east to art school. I started out in the pre-studio program there. The classes were less fulfilling than I had hoped they would be, and I remember talking with a friend who was in the illustration program. She had really good things to say about it; the program seemed to teach you more fundamentals than the studio program was offering, and I really wanted to learn how to draw the figure, compose and paint. So I switched. My experience in there was excellent. That first year of the program quickly convinced me that I wanted to be an illustrator, and I basically forgot about law school. Sometimes I think back to that whole law school thing and wonder what I was thinking; I would have made a terrible attorney. But the illustration program—I
loved
it. We learned composition, color, life drawing, painting, narrative, history, concept—all sorts of things; I ate it all up. The professors were excellent, I made some really good friends and felt like I was ready for the professional world once I graduated. While I may not be doing
much illustration
anymore, I definitely use what I learned in that program on a daily basis.
Gavin: What would you say helped you the most in defining your style?

Leslie:
Learning to be okay with making mistakes and creating ugly paintings, as well as producing a
lot
of work; it's all about mileage and surrounding
yourself
with inspiration. When I was first transitioning from illustration to painting I did what I called the Thirty Project. Basically, I painted 30 small paintings in 30 days and made sure to post them on Instagram for accountability. The whole idea was to put in the mileage and see where it took me. I also surrounded myself with inspiration and was trying new things on a daily basis. The project was successful in a lot of ways, but the biggest success was challenging my fear of failure on a daily basis. Instead of fretting over whether a painting will be good or not, I just paint and see what happens (and if they're bad enough I just sand them down and start over again).
Gavin: What's is the process for you when creating a new piece, from first thought to final design?

Leslie:
It's pretty fluid, really. Usually, I'm doing some monotonous task and see something that intrigues me—usually I'm grocery shopping or something. Usually, it's the color or lighting that first gets my attention. If I'm drawn to the object enough then I'll take it into my studio and quietly spend some time with it (which sounds silly, I realize). I'll do some really quick sketches in my sketchbook and try to find a composition that I like. Once I've found something, then I'll set the objects up and start the painting; most of the time I'll change things here or there as I'm laying in the first strokes of paint. Then I let the process take me where it's meant to go; sometimes it comes easily, other times it's a struggle from start to finish.
Gavin: Do you improvise a lot along the way or stay with the original idea?

Leslie:
I absolutely improvise. Slowly I've been learning that I'm not in total control of the whole painting process. It sounds cliche, but once I get into a certain zone and turn off my logical brain then things seem to just flow together. It's once I become too preoccupied with a certain end product that things become really difficult, and usually pretty mediocre. Of course it's important to map out certain things—like a basic composition, value, and color structure—but my work definitely turns out better if, after nailing down the basics, I turn off my logic brain and allow the pieces to take me where they're meant to go. Then if I don't end up liking it I just sand the painting down and start something new.
Gavin: How was it for you breaking into the Utah art scene and doing exhibitions around the state?

Leslie:
It has kind of been a crazy ride. Really I just tried a lot of things and hoped for the best. In the beginning, I was applying for shows anywhere and everywhere, as well as doing just about anything art-related that was thrown my way. I met a lot of people and made sure to participate in local creative communities, allowing me to get to know other artists/creatives. Through it all, though, I've always had generous people who were willing to help me out. Really I couldn't do any of this without help from others, so I'm really grateful for that.
Gavin: You currently serve as an Adjunct Illustration Professor at BYU. How did that opportunity come about?

Leslie:
It's pretty simple, actually. I was interested in teaching so I reached out to the illustration department. There happened to have an opening that they felt I would be a good fit for, and I took it. It was one of those times that I was really glad I went out on a limb and put myself out there. If you don't ask, they can't say 'yes,' right?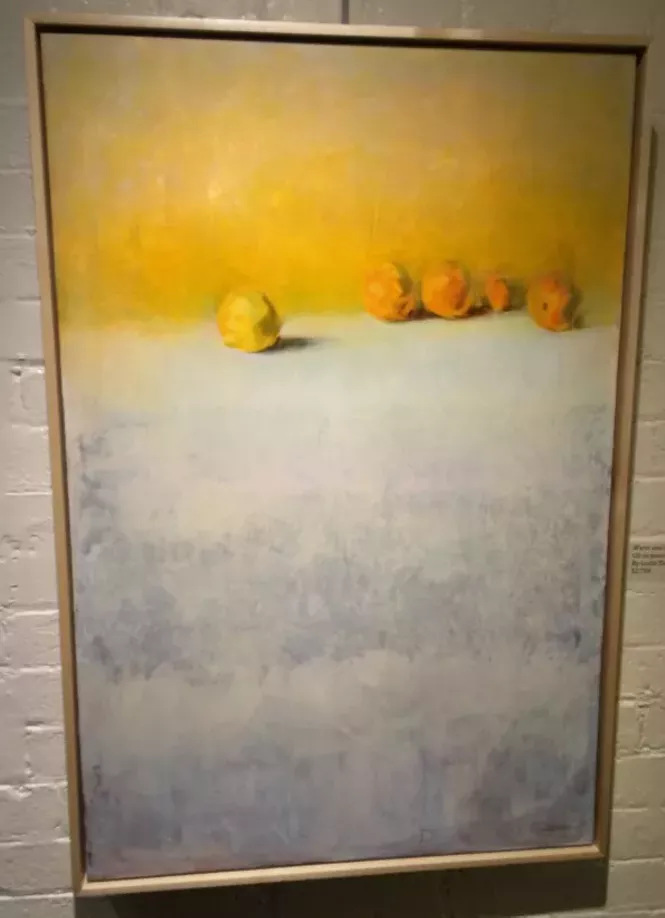 Gavin: You've also been displaying in the art festival circuit for a while now. How has it been for you as an artist to travel around and sell your art around the country?

Leslie:
Honestly, I'm still fairly new to them—this is my second year—but I really enjoy art festivals. It's fun to get out of the studio, set up my work and really interact with the crowd. I've gotten some really good feedback by doing them and met a lot of artists I probably wouldn't have gotten to know otherwise. It's also fun to see people connect with my work—that really is the best part about it.
Gavin: Tell us about the works you have on display for this month's Stroll.

Leslie:
I wanted to really explore color in this series, so I decided to focus on the overall atmosphere created by each piece instead of the actual subjects. It's a direction that I'm really excited about and am continuing to explore. Basically, I've wanted to strip still life down to its core and turn it into a medium for, well, emotion and inner dialogue. Often still life is kind of stuffy and boring (to me at least), so I wanted to turn the tables and (hopefully) create something more open and interesting.
Gavin: How has it been working with Art Access and being exhibited this month with Una and Marcee?

Leslie:
I have nothing but good things to say about Art Access. Sheryl is wonderful to work with and I really enjoy the exhibits they curate. Una reached out to me a while ago to chat about art over tea, which I'm looking forward to. We have yet to get together (my fault really) but we will. I'm looking forward to meeting Marcee at the opening.
Gavin: What are your thoughts on the current state of the SLC art scene?

Leslie:
Honestly, I'm not terribly familiar with the SLC art scene—since I live in Springville I'm closer to the Utah County scene. I have noticed though, that the SLC art scene seems to be a bit difficult to break into, or maybe it's just me. Gallery Stroll is always good, but there aren't many creative groups that I'm aware of. Recently I've been thinking about putting together a monthly "Social Sketch" evening in SLC, where anyone can come and collaborate on little pieces. Basically a creative hangout—I feel like that's what SLC is lacking right now.

Gavin: Who are some local artists you believe people should be checking out?

Leslie:
There are so many! Sabrina Squires—she does these awesome collage paintings that are really beautiful and almost remind me of illuminated manuscripts, minus the gold leaf; Colby Sanford—he paints on found objects and uses this limited palette that I love; Caitlin Connolly—she has some recent work that I'm totally digging; Miranda Meeks—her work is hauntingly beautiful and her limited color palettes are spot on.
Gavin: What's your take on Gallery Stroll these days and the work being displayed during it?

Leslie:
I haven't been a regular gallery stroller for a while, which I'm ashamed to admit. When I do go, though, I really enjoy seeing what our creative community here in Utah has to offer. There's a lot of inspiring work to be seen out there. Although I'll put another plug in for the "Social Sketch" idea—I think we need something more than Gallery Stroll to really strengthen our creative community.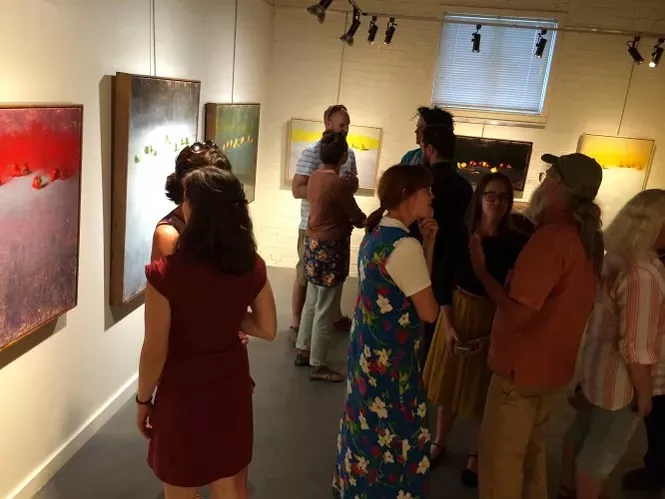 Gavin: What else do you have planned over the rest of the year?

Leslie:
I'll be teaching a few workshops—both locally and in California—and then prepping lots of work for arts festivals and local shows, all slated for this fall and winter.
Una Pett Rothko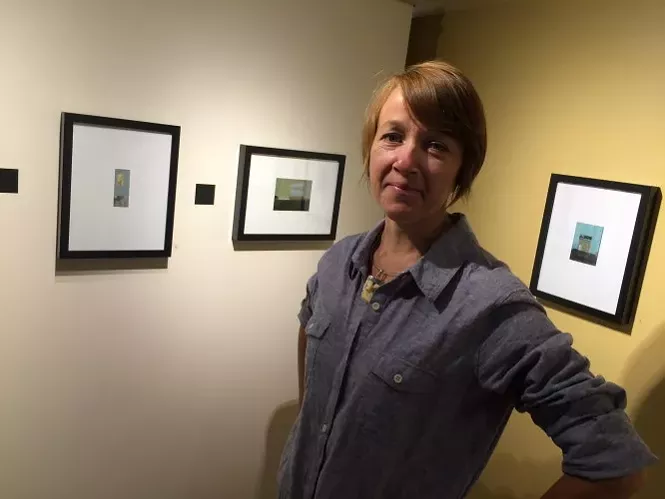 UnaPett.com
Gavin: Hey Una, tell us a little bit about yourself.

Una:
Well, I grew up here in Utah and after two decades away moved back, about 7 years ago. I've lived at points all across the country—California, Seattle, New York, rural North Carolina—and I feel compelled by the West. I have a young son, he's 4, and my husband, Lou, is from France and teaches French and lives for soccer. I am constantly navigating my day job—I am fortunate to spend time surrounded by talented people and great art at the UMFA—and my urge to be in my studio, and parenthood and just general existence. I am always thinking and reading about art and the creative process, and I feel lucky to spend my early morning hours in my studio before the house wakes. My primary work has been in portraiture, and I've done a lot of portraits from life of family and friends and on commission. I've done a lot of teaching — at universities and community college and at the wonderful Visual Art Institute—and love to teach. I read a poem once, called "You want a social life with friends", which says in a funny and beautiful way that everyone wants a social life with friends, a passionate love life, and as well to work hard every day—but that there simply isn't time enough, and that of the three you may have only two. I think about that a lot. I worry a lot about missing things, and find myself flitting about anxiously, but then when I focus and deepen, I'm much more satisfied. Also, I really love coffee. What was the question again?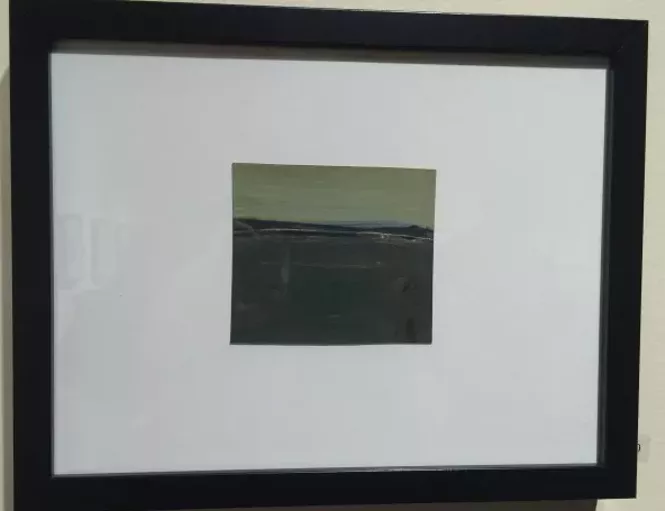 Gavin: What first got you interested in art, and what were some of your early inspirations?

Una:
I loved to draw, and my brother who is a cartoonist and children's book author, also did, and my dad was an architect and maybe that compelled me toward drawing also. I recall spending a lot of time drawing extensive floor plans of my ideal house, on graph paper, getting lost in a mix of daydreaming and drawing. I remember beginning to draw from life in junior high and high school, and being repeatedly awed by how my initial response—or what I thought I saw—was so much different than what was actually visually in front of me once I started sighting and measuring and trying to put it together. I talk with students about that a lot, about suspending ideas about what's there and really looking, observing, checking and rechecking—and how much fun that is, there's so much to learn, there are so many surprises in drawing from life. I always remember the phrase—I think it's advice for poets— "write drunk, revise sober." It applies to drawing too. I love beginning with a broad impression, and impulse, and then 'sobering up' and assessing, measuring, comparing, correcting, revising. I'm sorry—what was the question again?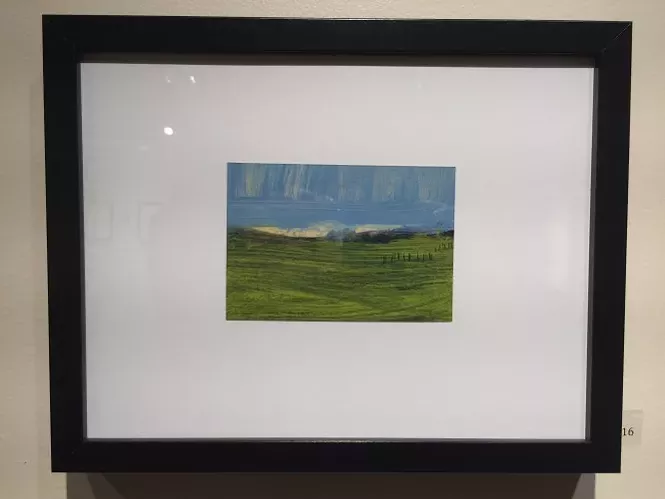 Gavin: The first place you attended college and earned your MFA was New York Academy of Art's Graduate School of Figurative Art. After that you went to both Gage Academy of Art and the National College of Art & Design in Dublin. How did those two opportunities come about?

Una:
I was living in Seattle and attending classes and working at the Gage Academy of Art (then called the Seattle Academy of Fine Art). They had an incredible, rigorous figurative program—almost all classes were centered around the figure—and I loved their high-caliber teachers and how much I learned about drawing and painting. Many of their instructors had attended school or taught in New York, specifically at the Art Students League and the New York Academy of Art. So when I began to explore the possibility of attending graduate school, I looked into NYAA, and there too the whole program was centered around the figure, which I love, and it was very structured, which I thought would suit me. We all studied drawing, painting, and sculpture, as well as anatomy, and it was a great place for me to be, plus New York in itself offers of course a great education, through the museums and galleries and everything going on there. I kept nagging our admissions officer about wanting to spend some time studying abroad if possible, and through a contact we had he helped arrange 6 weeks at the National College of Art & Design in Dublin. I confess I spent more time there attending music sessions and visiting galleries than on my own work, but it was a great experience overall.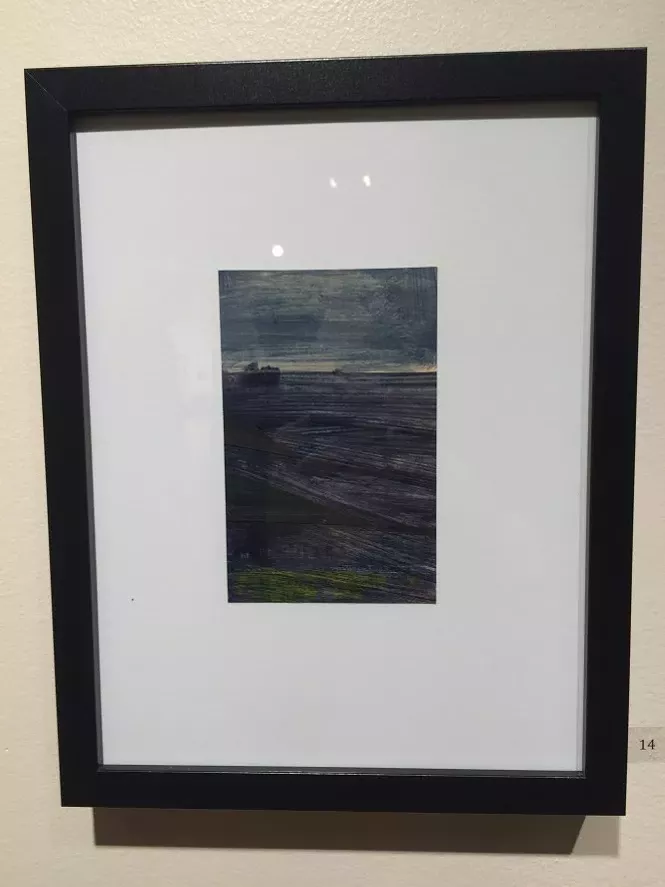 Gavin: What would you say was the greatest thing you took from your whole educational experience?

Una:
I think for me it took a long time before I could trust my own motivation. To be in my studio, to trust my ideas, to trust myself at all. The only drawback to the graduate program I attended was that it was so structured that we weren't learning necessarily how to work independently. At least I wasn't. Many students were already there, they already had a solid practice under their belts, but I was always scrapping it together and tended to depend on other people's 'assignments' for direction. I'd get distracted by museums, and the city, and sketching but not necessarily designing projects for myself. So that took me a long time and is something I'm constantly working on.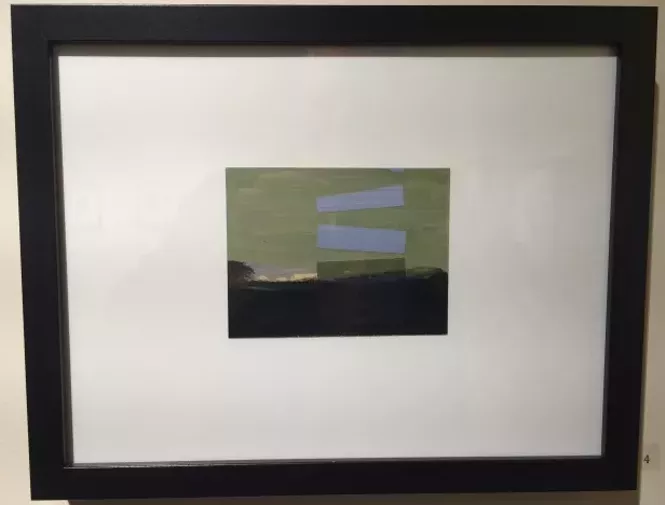 Gavin: What's the process like for you when creating a new piece, from concept to final product?

Una:
I love developing ideas now, and I love staying open to them and just playing in my studio and in my sketchbook. I also really love looking at what I've done and seeing how many 'wrong' turns I take before I arrive at what really compels me. Sometimes I set up a challenge of sorts—my brother, Mark, who is a very talented and committed artist, did this a lot—and just try to keep it up for a while and see what happens. For example, for a while I would flip through the New York Times looking for compelling images of people I could play with and work with. They couldn't be celebrities already—those photos would be to obviously magnetic—and they had to be 'little people' or people who were not necessarily privileged. Maybe they had died and were being memorialized. So I'd come across one that would just sing to me, and then play with it and maybe draw or paint a little portrait for that day's practice. That led to my two plates I submitted to Art Access for their 300 Plates fundraiser, and it was so fun to learn about people I'd didn't know before and flesh out this entire portrait. So that's one example.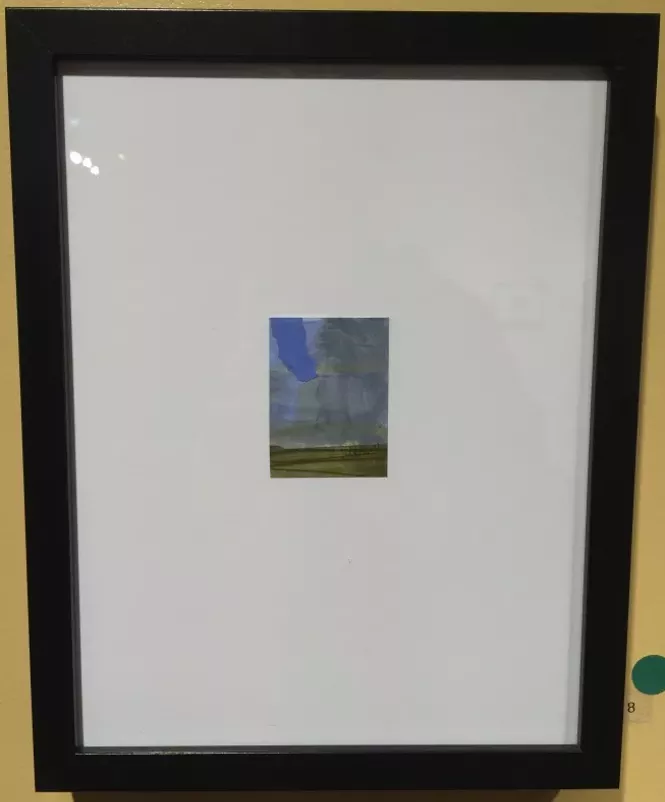 Gavin: Tell us about the works you have on display for this month's Stroll.

Una:
I'm excited about these because they're quite different from the more 'representational' work that's most familiar to me. I started these small painting/collages while working on some larger landscapes and interiors of, and for, the downtown public library. I was working in acrylic, and at the end of a day's work I'd have paint leftover on my palette, so instead of tossing it I started to paint it onto leftover paper thinking it might make for interesting collage paper later. When it dried and I started to cut it up, these landscapes started to emerge, and I began to play with them and crop them more deliberately. Some seemed fully complete just like that, and in some I was compelled to intervene more. I went to Martha's Vineyard during that time for an artist retreat, and the ocean and fields and landscape there seemed really connected, so that became their inspiration. For this series, I visited some friends in Santa Cruz and similarly drew from that very misty ocean landscape for inspiration and ideas. I love collage, but it's such a mystery to me, when it works and when it doesn't, what rules to apply, how to know when it's finished, how to best organize space so that it flows as freely as possible. I have so much to learn from others, so it's a great adventure.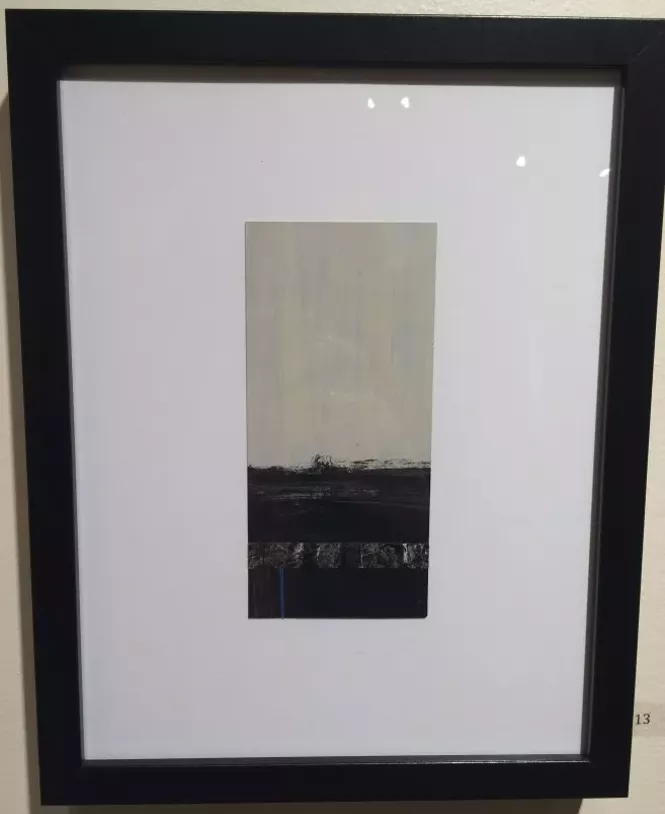 Gavin: How has it been working with Art Access and being exhibited this month with Leslie and Marcee?

Una:
I love Art Access, I love being there and I love their mission and the work they do. I feel honored to be part of it. I'm really glad to be showing with Leslie in the "Art Access II" gallery, whom I hadn't met before although I'd seen her work—I really like what she does and I like the contrast between her oversized still-lifes and my undersized landscapes. I love meeting people committed to their work and practice, and she brought a great group of friends, artists and musicians, with her to the opening.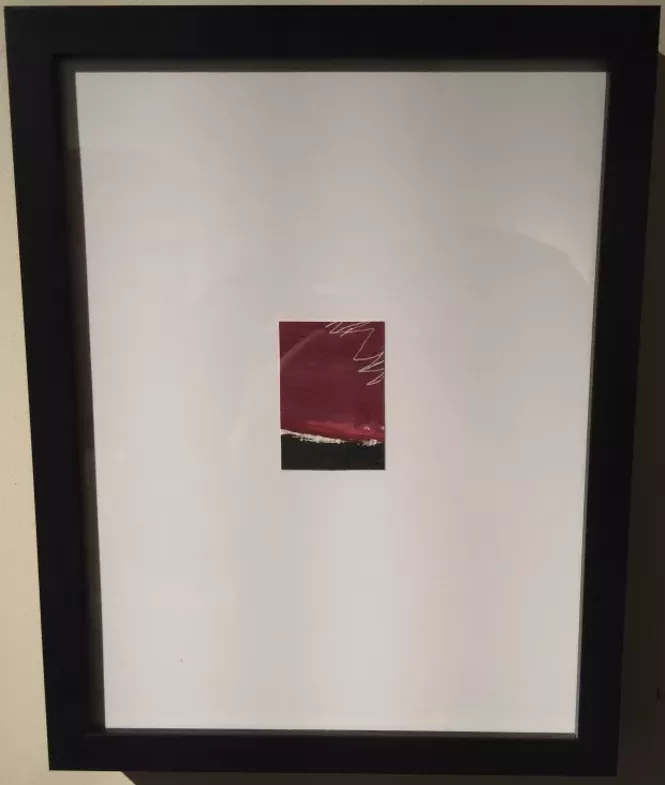 Gavin: What are your thoughts on the current state of the SLC art scene, and who are some local artists you believe people should be checking out?

Una:
There are many committed and interesting artists here, and I'm always learning about them which I love. I just discovered the work of Liberty Blake who had an exhibit at Phillips Gallery a couple of months ago—a lot of people know about her I think, but this was the first time I saw so much of her work together and for me it was a very moving experience. I'm so happy to know that there are people working in a range of styles and with different influences and with such attention to craftsmanship—a woodworker friend comes to mind, and my friend and colleague Virginia Catherall, a knitter who is just so beautifully smart and dedicated and engrossed and engaged in her craft. She's really contributing to that field, locally and with other artists all over the place. I love my brother Mark (Pett)'s work—he writes children's books among other things. I love dropping by Philips Gallery and exploring the stairwell and the upstairs where there's a collection of a whole bunch of different artists. I could go on and on, I'm happy to say.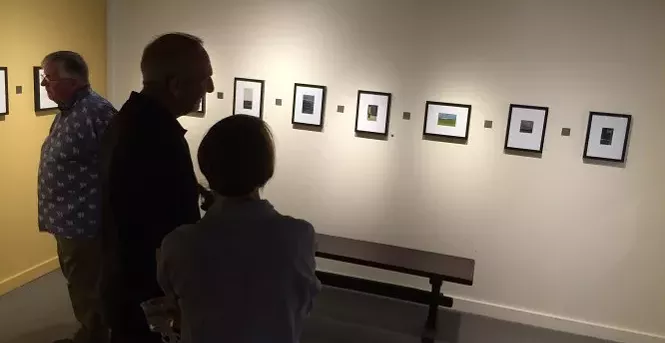 Gavin: What else do you have planned over the rest of the year?

Una:
I'm excited to get back to playing in my studio, just showing up every day. I'm also looking forward to doing some more portraits and drawing and painting from life, which is so good for me and my chops and is where my heart lies. I just discovered the artist Robert Gwathmey, and I'm excited to learn about him and just keep reading and exploring. I'll be showing some new work at the Art Barn in early spring 2016, more collages along the lines of the ones at Art Access, so I'll be working on those as well, seeing what direction they take.
Marcee Blackerby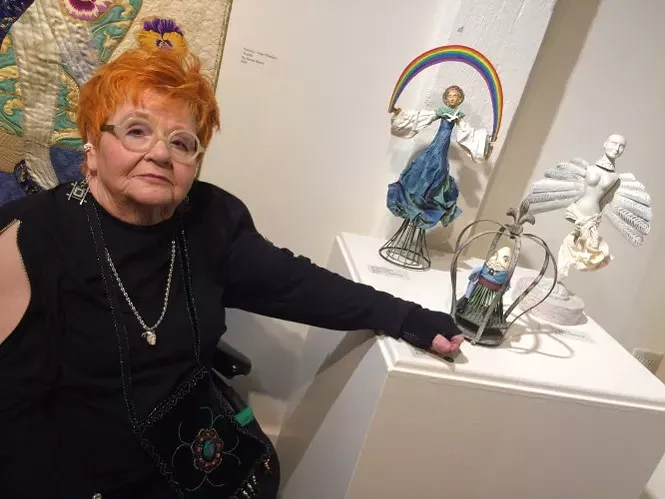 Gavin: Hey Marcee, first thing, tell us a little bit about yourself.

Marcee:
I'm a Utah native, living and working from a home studio in Salt Lake City. I am married to artist, sculptor Ric Blackerby, who also has a studio in our home. I am a busy woman, and much to my delight, I have little time to fuss and worry. I adore all my friends and enjoy the drama of family. Ric plays the guitar and we both love music. Lately we have been composing some of our own. I love to read, talk on the phone, visit Facebook and shop on eBay. I read all kinds of books, and I write every day for at least three hours. I also work in my studio, where I am deep in found objects and strange items that follow me home. Im more messy than neat and I love dark chocolate.
Gavin: What first got you interested in art and what were some of your early inspirations?

Marcee:
My husband introduced me to the world of art. Before him it was paint by number. I watched him work at print-making, drawing and painting, wax carving for jewelry, and metal sculpture. We both loved Dali, William Blake, and Burns-Jones, Klimt and Chagall, were among my lessons in art history. But I was not an artist as yet.
Gavin: How did you end up taking an interest in mixed media as your favorite genre and what appealed to you the most about it?

Marcee:
I always loved the commotion and movements found in mixed media works. The joining of like and un-like materials, the mystery of objects detached from their original purpose. I love the marriage of two mediums, the birth of a new species. Mixed media allows me depth and the chance to develop my piece to a higher degree.
Gavin: You attended the University of Utah and received your Bachelors in English and Creative Writing. What made you choose the U and what did you think of their art program at the time?

Marcee:
The U. of U. was the obvious choice for me. My original idea was to earn a secondary teaching certificate in English. I did student teaching at West High. I hoped to help support the artist in the house. But while there I begin to follow my dream to write creatively. I took classes in play writing, short story, poetry, I spent six years there. I also earned a certificate in Political Science. I had little knowledge of the art program since I was focused on writing.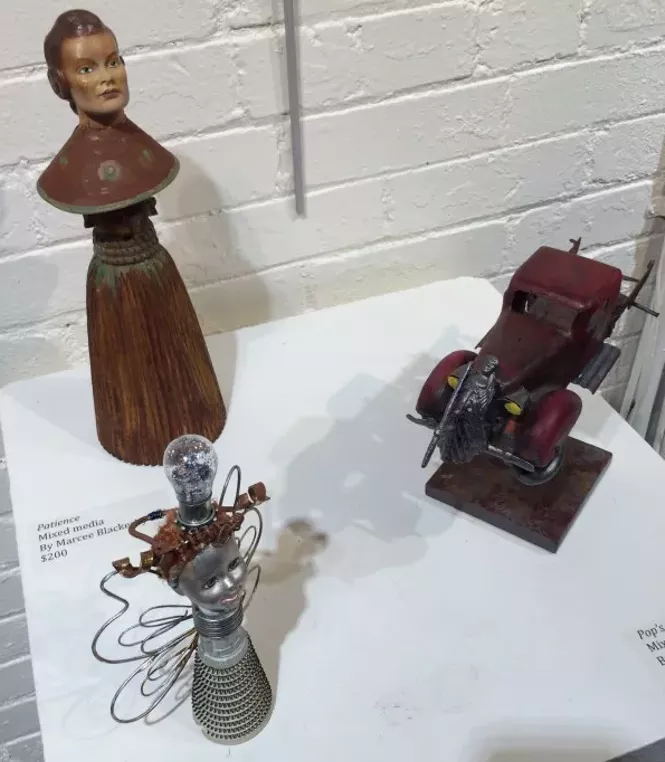 Gavin: What was it like for you breaking into the local art scene and starting to do exhibitions?

Marcee:
I was brought into the local art scene through my association with Ruth Lubbers and Art Access Gallery, who selected me for a show based on a work I submitted. It was an early box art. Things progressed from there.
Gavin: What's the process like for you when creating a new piece of art?

Marcee:
I often choose an object and that begins to dictate a direction, or a visual experience. Once I place the initial piece, other things I've collected seem to choose to make their way into the creation. It is the moment when the ordinary thing becomes art that I look for.
Gavin: Considering the amount of work that goes into one of your pieces, how much do you stick to the original concept?

Marcee:
I don't always stay with my original idea. I let the objects come out to play. My final outcome is seldom what I consciously set out for, and the work may have a narrative all its own.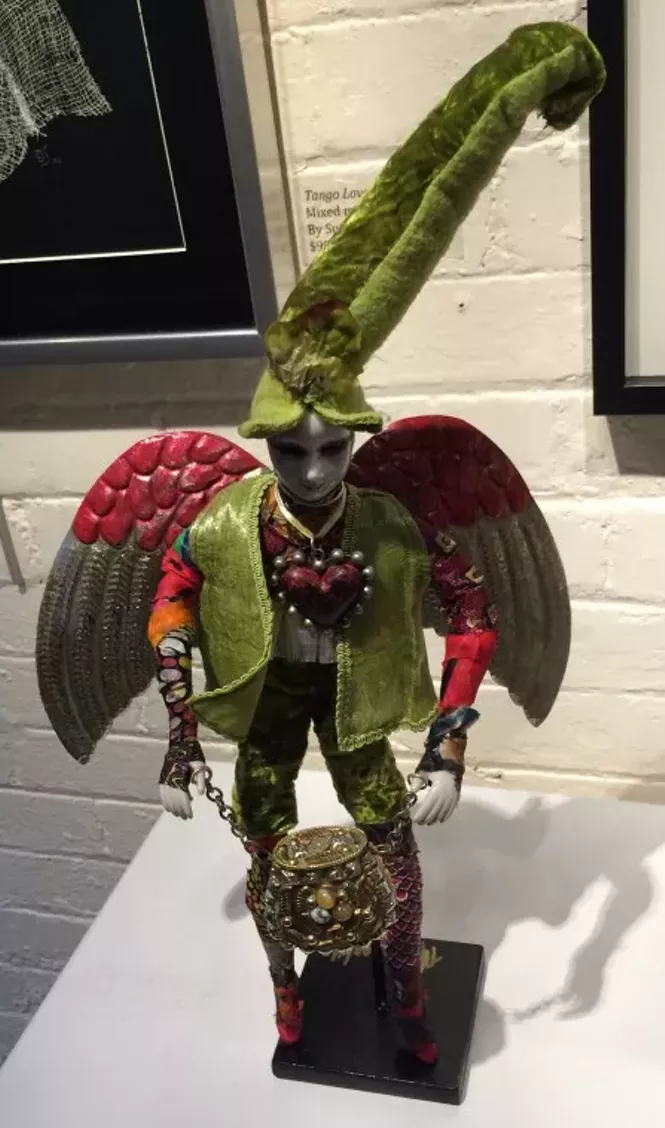 Gavin: Are there any particular materials you prefer to work with when making newer pieces?

Marcee:
I like working with material that has been around for awhile. Perhaps it's been abused, or dressed up, maybe there are only pieces of it left. I like things that have patina of age. Rusted metals and crackled porcelain really gets me going. Lately I've been experiencing some of that feeling with fabrics. Antique lace, torn and yellowed, scraps of watery silk, bits of velvet. I'd like to try creating mystery by filling out empty clothing with wire forms, trying for ghostly forms?
Gavin: From the work I've seen over the past few years, what you create seems to convey more of a story than a statement. Do you aim to have your works feel like there's more, or is that simply up to viewer's interpretations?

Marcee:
I think my boxes are stories with windows, offering a peek into the heart of the tale. I think they can be a bit like Pandora's box, with secrets that invite one to open them. Through the use of objects, I try to create a narrative in the viewer's head and heart. The box offers a stage-like presence, another dimension to work in, helping me produce a theatrical encounter.
Gavin: You've seemed to have found more appeal from the crafting community in recent years as well. How has it been finding an audience with that end of the artistic realm?

Marcee:
Perhaps audiences can be composed of any viewers who find an interest in it. The line between art and craft is a dotted one at best. Don't you think?
Gavin: Tell us about the works you have on display for this month's Stroll.

Marcee:
The works I have on exhibit for June's gallery stroll are a bit out of the norm for me. I always create a character of some kind for my boxes, but I generally supply them with a setting. The free-standing pieces were fun to make, and are simply what you see. Or maybe not. What say you?
Gavin: How has it been working with Art Access and being exhibited this month with Una and Leslie?

Marcee:
Working with Art Access is always a great experience. The gallery staff are professionals, who know their jobs and present the art with a flair. Being part of a group show is always better than being alone. The work by Una and Leslie is a perfect combination and makes the show a much fuller experience.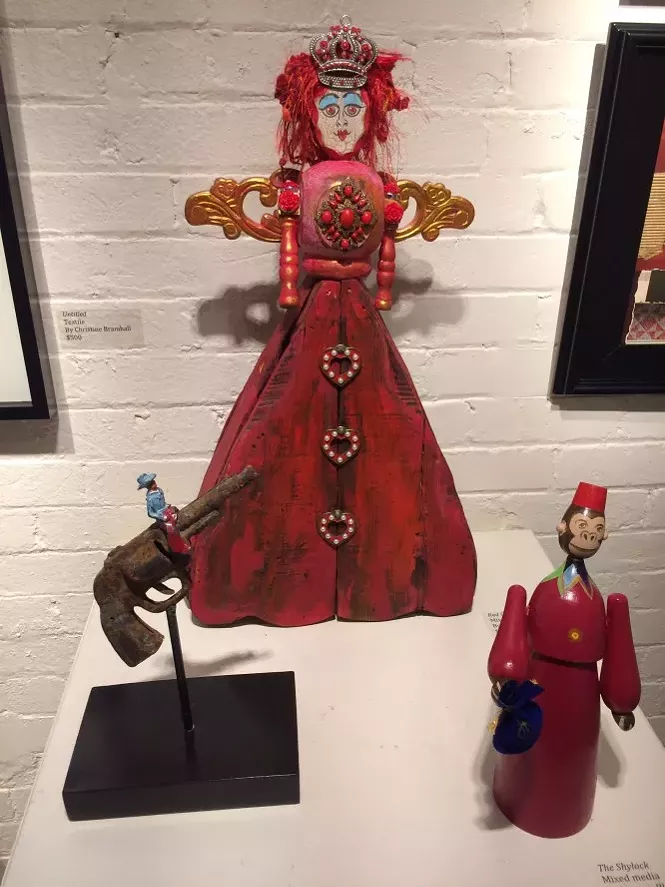 Gavin: What are your thoughts on the current state of the SLC art scene?

Marcee:
Although there is more awareness of Utah artists and their works today, there is still a void when it comes to enough different venues to support an artist and their families. With only a few big art festivals a year, and the competition of out of state artists, many of our fine artists have to move away to make a living. Taking art out of museums and putting it on the street, is one way to show people how they can bring original work into their homes. Gallery hours are often like those of a bank, 9 to 5. Few are open of week-end and holidays. Where can an artist take their work where people can see it during the times they are not working. Utah artists are amazing. They need the same attention given to the community of music and dance.
Gavin: Who are some local artists you believe people should be checking out?

Marcee:
You mean besides me? I am continually amazed at the quality and imaginative works of Utah artists. We are beginning to see some of them in publications like
City Weekly
,
15 Bytes
(on line),
Catalyst
. I hesitate naming names, for I could never choose from the best of the best. Why not do what I do? Make it a regular thing to investigate one new artist a week. At loss for finding one? Just go to Utah Artists. Start from there.
Gavin: What's your take on Gallery Stroll these days and the work being displayed during it?

Marcee:
Gallery Stroll is catching on. It's becoming a date night event, a family outing, a great way to investigate new art. Yeah! As an art community, we need to come up with new ideas, more public involvement in making art, ways to bring new artists into the living room of Salt Lake's families.
Gavin: What else do you have planned over the rest of the year?

Marcee:
I will be teaching a box workshop at the Utah Arts Festival. People can sign up for that online with the Art Festival. I also have a booth for the Craft Lake City Festival in August, and I'll be showing work at the Pioneer Theatre during the production of
Fiddler On The Roof
.