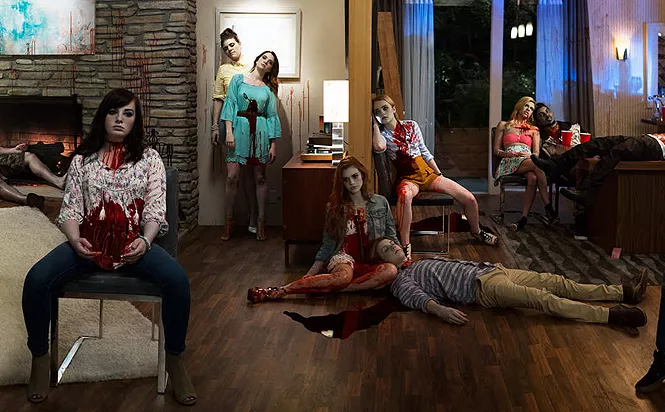 What's new on the tube tonight:
Scream (MTV) Series Debut: As a movie franchise, Scream slid hard from great idea (the 1996 original) to tired asterisk (2011's Scream 4), so how's MTV going to rehab it as a series? By adding a social-media angle and aiming it at the Teen Wolf crowd. Now, stoopid programming for tweens can still be entertaining (for example: I'm currently hooked on ABC Family's new Stitchers, which could be the most ridiculous show the network has ever produced—and that's saying something). But this Scream is more straight-up slasher-flick drama with, admittedly, genuine scares, but little of the humor and the self-aware winks that Wes Craven and Kevin Williamson introduced in '96. Then again, the intended audience wasn't even born then, so ...
Zoo (CBS) Series Debut: In a summer loaded with mad-decent sci-fi TV, the best CBS can come up with is an "animal uprising"—based on a James Patterson book, no less. In Zoo, James Wolk plays ... I can't believe I'm about to type this ... "renegade zoologist" Jackson Oz ... the first to make the connection between an uptick in critter-on-people violence and his father's "crazy" theories about human extinction at the paws of fed-up animals. What follows is more dumb, expensive-looking proof that CBS should stay well away from sci-fi (see also: Under the Dome, Extant), but you likely already made up your mind, one way or the other, back at the first mention of "James Patterson."