The local slam poetry scene kinda took a dip near the end of last season before the regional competition, but with a new season on the way, both slammasters and rising names will be looking to get you out of the house to see them perform their words for you. Wasatch Wordsmiths are one of the groups who will be putting on new shows, as a brand-new slam comes to Este Pizza in Sugar House next week. Today we chat with two of the principal members, Benjamin
Barker
and Kari Lindsey, about the group and the current slam scene. (
All pictures courtesy of Wasatch Wordsmiths.
)
Kari Lindsey & Benjamin Barker
Wasatch Wordsmiths on Facebook
Gavin: Hey Kari and Ben, first thing, tell us a little bit about yourselves.

Ben:
I'm currently an English major at the University of Utah. For my day job I work with adults with disabilities. In the times I'm not at work, school or doing poetry things, I like to make board games and listen to bad punk bands.
Kari:
I'm Kari Lindsey, a performance poet, full-time grad student and lover of all things peanut butter.
Gavin: How did each of you first get into poetry and writing?

Kari:
I first got into poetry in elementary school after a book report on Emily Dickinson, but it wasn't until college that I discovered performance poetry and poetry slam as a competition. Through college, I performed competitively at regionals and national competitions.
Ben:
When I was a kid I started reading the
Harry Potter
books. It blew my mind that another human wrote those. I figured it would be the coolest job in the world and I tried to be a novelist for a while, but poetry was a far better fit due to its brevity.
Gavin: What would you say were the biggest influences on your style and what you enjoy most about the art?

Ben:
I'd have to
say
my peers. The fact that so many friends of mine, both here and nationally, are not only into this whole writing shtick but also happen to be incredible at it, really keeps me motivated. The most important thing about performance poetry is that everyone's story matters. It gives
a space
to people from all backgrounds and assures them that they have an audience who will listen to anything they have to say.
Kari:
My biggest influences are definitely my fellow poets in Salt Lake City. Salt Lake is a unique poetry scene in that we are focused on each others' success, rather than the competition. There are weekly poetry discussions, editing sessions, and just plain
hang-outs
. Poetry is more than an art here; it's a community, which is so inspiring that we can help each other perform at our best. Salt Lake certainly has a unique style in that we focus on craft rather than
gimmick
. The community is without a doubt the best part about this art.
Gavin: How did you each come across Slam Poetry, and what drew you to that genre?

Kari:
Before college, I hadn't even known that poetry slams existed! Being a very competitive person, what initially drew me was the rush of being on stage and the craft. As we love to say in the
scene,
though, you come for the poetry, you stay for the community. I've definitely found that to be the case in my own poetry career.

Ben:
There's a band I really enjoy called La Dispute, they use a lot of spoken word in their work. In
2010
I tried to find similar stuff to what they do, that search eventually found me tumbling down the rabbit hole that is YouTube performance poetry. I particularly enjoyed a lot of the work I found from the Austin scene and was curious at to whether Salt Lake had something similar.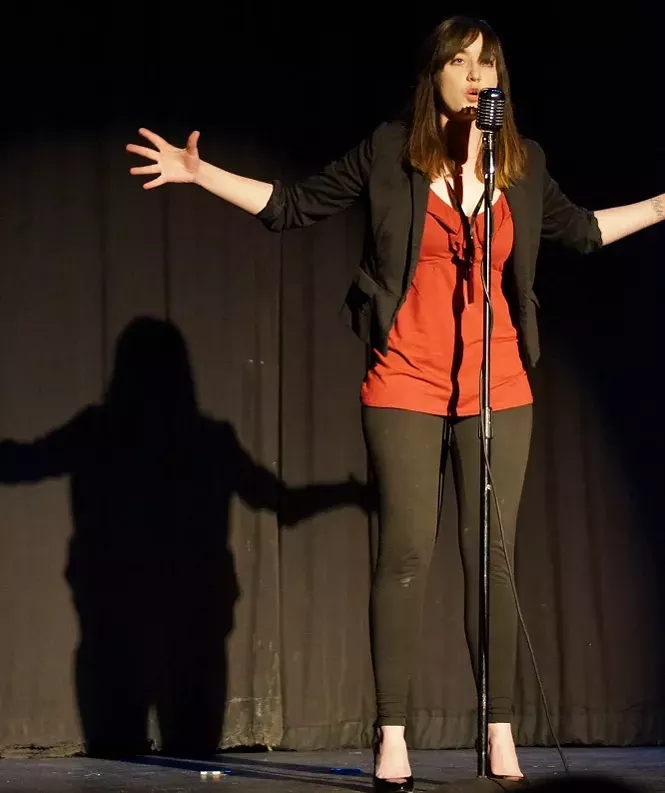 Gavin: What was it like for each of you coming up through the ranks in SLC?

Ben:
It was hugely intimidating at first. I was just caught up in all the crazy talent
here,
but I found the
poets
very welcoming. They started inviting me to workshops/hangouts, and I became a regular around here. Due to some more veteran poets moving out of the scene, I was asked to pick up leadership responsibilities here and there, and things sort of snowballed to where they are now.
Kari:
My first slam, I got eliminated after the first round. Being in slam requires a thick skin, with a struggle not to internalize the scores on the whiteboard. But once you keep coming back, proving that the scores mean less than the art, you'll find the SLC scene to be one of
the most unique
slam scenes in the country.
Gavin: What's your process for coming up with material and working on something until its good?

Kari:
Poetry, for me, is a constant practice of editing. Slam allows you to
gauge
audience reactions on stage, and make appropriate changes to your pieces. In this way, your pieces are constantly evolving with your audience, an advantage not afforded through [strictly] written work. But sometimes I don't think people realize quite how much work goes into the three-minute piece they see on stage. We work on poems for months before they see stage: writing and memorizing and staging and gestures.
Ben:
Oh dear, that's always
different
poem to poem. I find myself writing best when I am secluded and with everything quiet. I also can't write in a notebook, it always turns out too narrative. Other than that, it just
depends
. I'll often read new poems at an open mic by my house and get an early gauge of what works/what is too dense there. After that, it really depends on what the poem wants.
Gavin: When did the two of you first meet each other and become friends?

Ben:
I think it was around the fall of 2011 at one of the slams?
Kari:
Ben and I met each other almost three years ago at a poetry slam at Mo's Bar & Grill, which doesn't even exist anymore! Since then, we've been on a team together, traveled to countless competitions out of state, and been able to emotionally support each other. I can confidently say that poets make the best of
friends,
and are really great for emotional breakdowns!
Gavin: How did the concept for Wasatch Wordsmiths come about?

Kari:
Wasatch Wordsmiths was born in 2013, from the original Riverton National Poetry Team. The Wordsmiths was conceived out of a necessity to have a support system for the traveling teams, and a unified front for performance poetry in the valley. We provide workshops, editing sessions, performances, school demonstrations, you name it!
Ben:
2013 was the first year Salt Lake sent two teams to the National Poetry Slam. Our second team was initially called The Wasatch Wordsmiths then we started thinking that name would be better suited for a community organization. We were already teaching workshops in high schools for team fundraiser events, so we decided to marry the two concepts and make a non-profit out of it.
Gavin: What made you decide to turn the group into a non-profit rather than just be an artistic entity in the city?

Ben:
Poets are very poor, and it isn't fair that finances keep middle-/high-school kids from learning that their voices matter, or for poets to not be able to travel and expand their horizons at events. Turns out Utah has grants and other programs to aid non-profits in pursuing those sorts of endeavors.
Kari:
The dream for Wasatch Wordsmiths was to be able to financially support traveling SLC teams to go to national competitions. Because of this, we felt that a non-profit suited our needs as we could apply for grants, seek donations, and do the work we needed under a credible front. I hope that people feel like they can approach us!
Gavin: What would you say separates you from other slam performance groups in the city?

Kari:
The other performance groups in the city mostly come from the college scenes—
University
of Utah as well as Westminster. The college scenes are more focused on pushing the art form and innovation, in a way, whereas Wordsmiths is a very established organization that can provide the traditional slam experience for folks. That being said, we love to mess with the form as well! We're a very interconnected city, so we love to work with the other performance groups to both grow.
Ben:
Our slams are the only recurring public slams in the city. Westminster and the U also have slams that anyone can attend, but only students can be on those teams. Over the last few
years
a few of the high schools have been putting together teams as well, which is really exciting to see.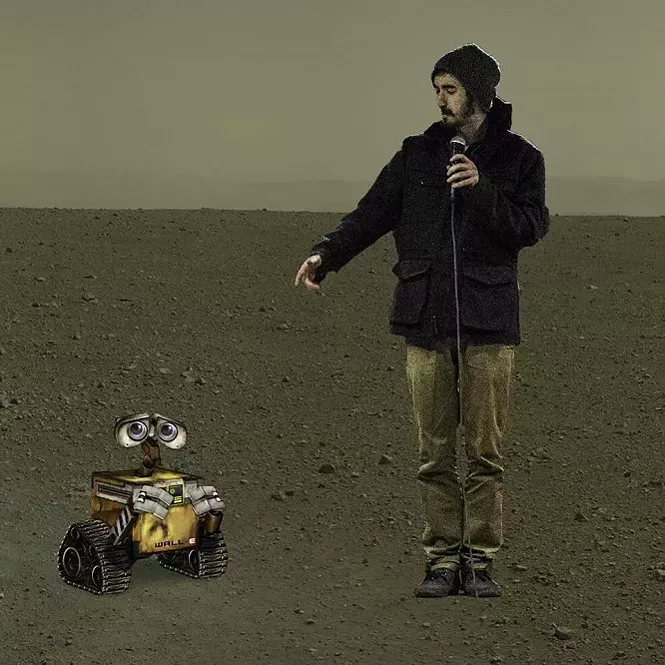 Gavin: What was it like for you building up a set of performers and setting up performances?

Ben:
It has been very natural in its evolution. The crew of poets in Salt Lake has been an ever fluctuating entity since the late '90s. Gratefully, we all get along with each other pretty well. Whenever one of the venues we perform at closes, or we find
our selves
needing to relocate for whatever reason, local businesses have always been very open to having us and providing whatever accommodations are needed to maximize the potential of the space.
Kari:
Salt City Slam (one of the scenes supported through Wasatch Wordsmiths) was established as a venue in the early 2000s. Since then,
we're
gone through numerous venue changes, Slam Masters (a fancy name for organizer), and poets. While this presents challenges, we've found a great venue and professional relationship from Weller Book Works, and we've got a committed, dedicated audience. Some slams, we have a list of
poets
longer than we have slots for! We're always looking to grow and expand our base, and hopefully we can continue to expand.
Gavin: Who do you currently have as a part of your regular lineup of poets?

Kari:
While we have committed poets who attend every slam, we also get new
poets
every slam. This makes for a great mix of veterans and newbies, and it's not uncommon for a new poet to make it to the third round of their first slam. We love new faces just as much as the familiar ones.
Ben:
I'm sure I'll forget someone, but the ones that have been around most often in the last year or so are: Jesse Parent, myself, Kari, RJ Walker, Gray Thomas, Rebeca Mae, Clark Radford, Joshua Brothers, Ryan Carter, Ry Mount, Nicole Tyler, Jose Soto, Shannielle Faith and Meghan McGinnis.
Gavin: What kind of challenge has it been sending people off to compete in national competitions against other local groups who have been doing it longer?

Ben:
Salt City Slam has been sending people to national competitions for about 10 years now, but they are under our umbrella, so we all work together and both local teams (Sugar Slam being the other) share a bank account. In fact, RJ Walker and myself are the slammasters of Salt City and Sugar Slams respectively, and we are both on the board.
Kari:
The biggest challenge in competing in national competitions is certainly the price tag. Once the Wordsmiths was founded and the financial burden was lessened slightly, the teams got to focus on other challenges, such as coming together as a group and working on writing. Although there are many formidable and famous teams at every National competition, Salt City has really carved out a name for themselves as constantly bringing innovative work that pushes the form.
Gavin: You've been running for over two years now. What have been some of the biggest lessons you've learned in that time, and what are you looking to build on moving forward?

Kari:
Definitely the biggest lesson of all has been learning to run on non-profit time rather than poet time! That might just be me—but in all seriousness, a non-profit is not an easy thing to run, and we're learning a lot as we grow. Moving forward, we hope to make more connections to other art organizations in the community and build our audience base!
Ben:
Robert's Rules are crazy annoying (dumb non-profit joke). On a serious note, it's very enlightening, and difficult, to be on a board of five individuals all with different ideas for how to move the scene forward. Luckily, we each bring unique strengths to the group. Grants also have really complicated application processes, so that's been a big learning experience.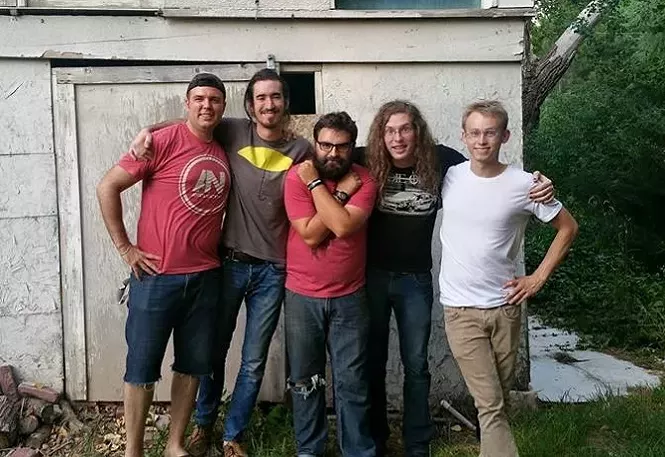 Gavin: For those wishing to join or perform, what do they need to know?

Ben:
Come! We always love hearing new people on the mic. Sugar Slam is every second Thursday, this month it will be at
Este Pizza in Sugar House on September 10 at 7 p.m
. Salt City is every last Monday at
8 p.m.
at Weller Book Works in Trolley Square. Come prepared with three poems that are no longer than three minutes each. Most importantly, remember that this is all a game. Sure, there are five people with scoreboards, but it is just a trick because crowds show up for competition. At the end of the day what really matters is the fact that 30-100 people just sat and listened to our hearts for two hours.
Kari:
Biggest pro tip: Know your lines! There's nothing worse than staring out at an audience full of people and not knowing what comes next! Next biggest pro tip: If you do forget your lines, forgive yourself and move on! You'll be better next time and it teaches you how to adapt.
Gavin: What can we expect from both of you and Wasatch Wordsmiths over the rest of 2015?

Kari:
You'll be seeing more of Wasatch Wordsmiths! In the coming year, we hope to throw more fundraisers, start up several high school after school programs and get our name out there. You'll be seeing more of us!
Ben:
I will be representing Sugar House at the Individual World Poetry Slam in D.C. in October. I'm also working to solidify a new venue for Sugar Slam since the coffee shop we were at has recently closed.
Hopefully,
Este will be that spot. In
2016
the National Poetry Slam will be in Georgia. Since the east coast is quite the financial burden, both slams will be uniting to send the top poets of each in one unified team. This will be the first year we do that, so it should be an interesting shake up.