If you weren't following my Twitter feed this past weekend, you might have missed that I was at a gaming marathon fundraiser. Because of that event, I didn't have a chance to cover Gallery Stroll this month (first time missing the event since I started). Oh well, that streak is done. But I wasn't going to skip over it completely, and, in fact had an artist lined up in case we could pull off both in a single night. Today, we're chatting with Randi Ray—who has been creating these fantastic oil paintings and just barely finished her first exhibition with Vive Juicery—about her work, as you can see samples of it throughout this interview.
Randi Ray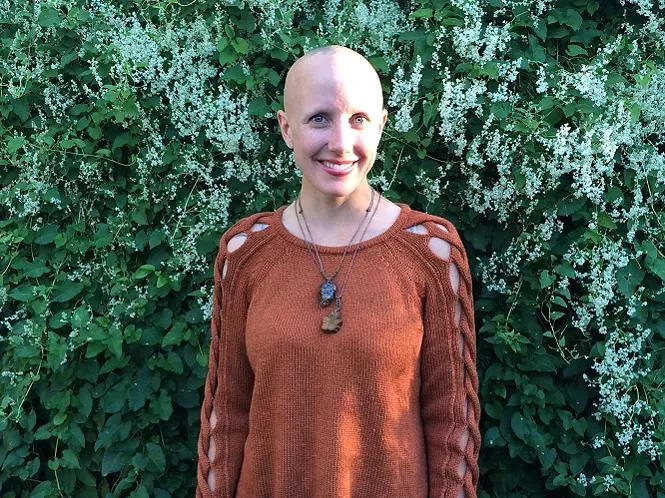 Gavin: Hey Randi, first thing, tell us a little bit about yourself.

Randi:
Well, I'm probably the biggest goofball I know. I am also kind of a clean freak and I love hanging out with my dog; she is my favorite person. I am an optimist, for sure, but I can also relate with people going through hard times, as I have been through quite a bit of those myself. I am a music and art junkie.
Gavin: What first got you interested in art and what were your biggest influences?

Randi:
Ever since I was a little girl, I have always loved making art, and have always been inspired by art. My passion for painting began in junior high, where I had a really amazing teacher who believed in me a lot and encouraged me to make some really awesome projects. When I got into high school, I started taking lots of Art History classes, and it opened my eyes to how much incredible art has already been made, and how much it has changed and impacted human consciousness. I thought it was really interesting to see all the different patterns and correlations between art styles and the times in which the art was made. Some of my biggest influences as a painter are probably Van Gough, Toulouse-Lautrec, Salvador Dali, Alex Grey, Monet, Degas, Cezanne, Renoir and others associated with the Impressionist movement, which I drew a lot of inspiration from.
Gavin: Did you seek out any formal education, or are you mainly self-taught?

Randi:
I took art classes all through junior high and high school, but while I was in college I focused more on Art History and Photography. I was a freelance photographer throughout my 20s, and it was wonderful, but I kept feeling drawn back to painting, and that is why I'm doing what I'm doing now. Mainly, I am self-taught, educating myself through YouTube videos and books and also through my own creative process on what works and what doesn't work. It took me a while to figure out how much I love working with palette knives, and that texture is really my thing. I feel a much more organic expression when I am able to do a palette knife abstract. I can be completely free and do whatever I am feeling like doing. At the same time, I don't limit myself to certain media, and pretty much plan on having a constantly evolving art style.
Gavin: Prior to painting, you worked as a freelance photographer. What was it about photography that caught your eye?

Randi:
Photography is beautiful to me because you are capturing a magical, present moment and turning it into this image that can be interpreted so many different ways. As far as photographing people, you get to see sides of them that you never saw before you turned a lens on them. I absolutely loved capturing the raw beauty of pure happiness in someone's eyes when they were able to forget for a moment that they were being photographed and I was able to capture them being their true self. I still do photography, but lately I have been really into macro landscapes. I love getting into the tiniest details of nature and being able to truly appreciate how ornate nature is. It's very inspiring especially when you're doing detail work on a painting and you feel like you can't go on, haha.
Gavin: How did you get into doing freelance work, and what were you primarily shooting?

Randi:
I started out just shooting a few friends and then, by word of mouth, I had suddenly acquired a few clients! Mostly families and kids, and some couples. I started getting into weddings towards the end, but that's around the time I decided I wanted to move more towards painting.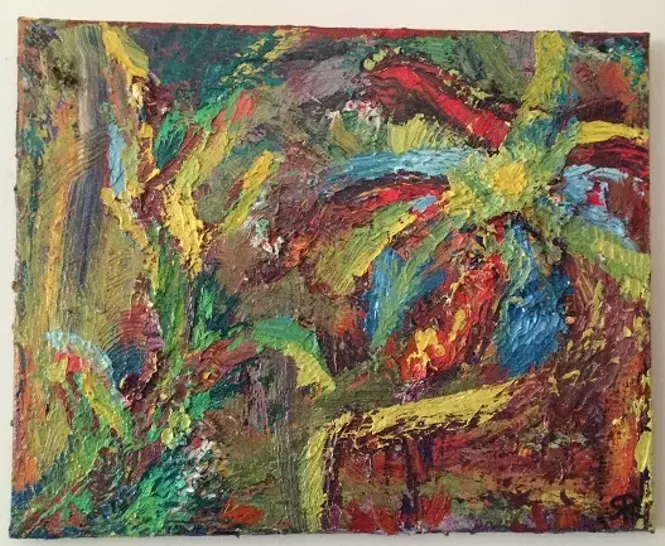 Gavin: What pushed you toward painting and wanting to try that genre?

Randi:
Painting has always been like this unrealistic romance that I told myself I could never have. I always wanted to be a painter, but kept telling myself that I wouldn't be successful at it, or wouldn't make any money, or no one would care about my art and I would die penniless under a bridge alone. You know, the lies we tell ourselves when we are afraid of believing in our dreams. A few years ago, I had some life changing experiences which allowed me to acquire a new perspective on my life, one in which I decided that I had nothing to lose and the worst that could happen would be that it didn't work out and then I would still be painting. I mainly wanted to be doing something that I felt was therapeutic, not only for myself but for others as well. I went to Chicago to see a Monet exhibit for the first time, and the first Monet painting I saw with my own eyes touched me so much I started to cry right there. It was then I realized how powerful a painting can be and how much it can change someone's life. I want what a lot of people want, which is to change the world for the better and to create a better world for those who are to come after us. Visual communication I believe is the strongest and most direct way you can possibly communicate with someone. I wanted to be a warrior for the imagination.
Gavin: You previously told me you'd only been painting for about 3 years. What was it like for you to hone your skills and learn techniques?

Randi:
I played around a lot with paint and different media. After I had a good idea of what I felt like I wanted to do, I just kept working on different concepts that eventually evolved into what my art is doing now. I really enjoy my creative process, as I feel like it takes a lot of patience; that is really challenging for me, and also really good for me.
Gavin: What's the process for you when creating a new piece, from the initial idea to the final picture?

Randi:
When I'm working on a piece that is a non-abstract—meaning there is some kind of recognizable pattern or form—I usually sketch it out first and write out some ideas as to the color composition and what have you. Sometimes, I will sketch it out on the canvas prior to painting if I'm really concerned about distortion, other times I'll just paint. Typically, my paintings have anywhere from 5-21 layers on them. I mostly work with oils, so it takes about a week to dry between each layer, even with a medium. When I am creating an abstract, I will sometimes have different ideas of color combinations or sometimes not, and I will just go for it. I love losing myself in abstracts. As the layers go on, parts of the painting just create themselves. Honestly, I really do feel like some sort of tool in creating something that wants to be made. In abstracts, there is no recognizable pattern for your brain to latch on to and say "this is a tree, this is an orange" it has to rearrange itself again and again and again searching for patterns. When you start to see them, it's almost like a magical image appearing before your eyes. Different people see different things so having someone describe what they see in an abstract is like looking into another person's brain. It's so intriguing to me.
Gavin: Do you find yourself improvising along the way, or do you try to stick to the initial plan?

Randi:
I think improvisation creates the best results usually, but I have totally messed up paintings by not sticking to the plan. The nice thing about a painting is that if you don't like it, you can just paint over it. Mistakes are nothing but little baby learning lessons along the way, so I always try to remember that.
Gavin: This is your first exhibition as a painter. What do you have on display this month?

Randi:
I just displayed at Vive Juicery, and I had 11 pieces displayed there. There are quite a few abstracts and also some other paintings involving some form. I am very into symbols and archaic universal images such as trees, moons, the sun, mushrooms, infinity signs, pentagrams, space, all-seeing eyes and other earthly images that we have all seen or experienced. The reason why I love archaic images is that they are simple, yet very truthful, and they are very old so they carry a lot of energy. People have been painting trees since forever, and our symbiotic relationship with trees is very, very important. I feel like now is an appropriate time to try and root back into the earth, and maybe we will remember to treat our environment and ourselves with a little more love and compassion. With any of my paintings, I try to pour as much love and healing energy into them as I can. I hope they outlive me and serve as a reminder that we are one with each other and one with the earth.
Gavin: What has it been having your work up at Vive Juicery and working with them?

Randi:
It has been nothing short of a dream! I absolutely love their entire crew—Britney, Bree and the rest of the staff there has been so supportive and great to work with. I have gotten a ton of positive feedback, and feel very grateful to have had this opportunity and to have met so many great people!
Gavin: How did it feel being a part of Gallery Stroll and having your art as one of the stops?

Randi:
It feels kind of surreal, especially since I did two months in a row and this was my first show. Again, nothing but gratitude for everyone who took the time to appreciate my art, or not appreciate it, or whatever happened. I just feel like the luckiest lady that I get to share it.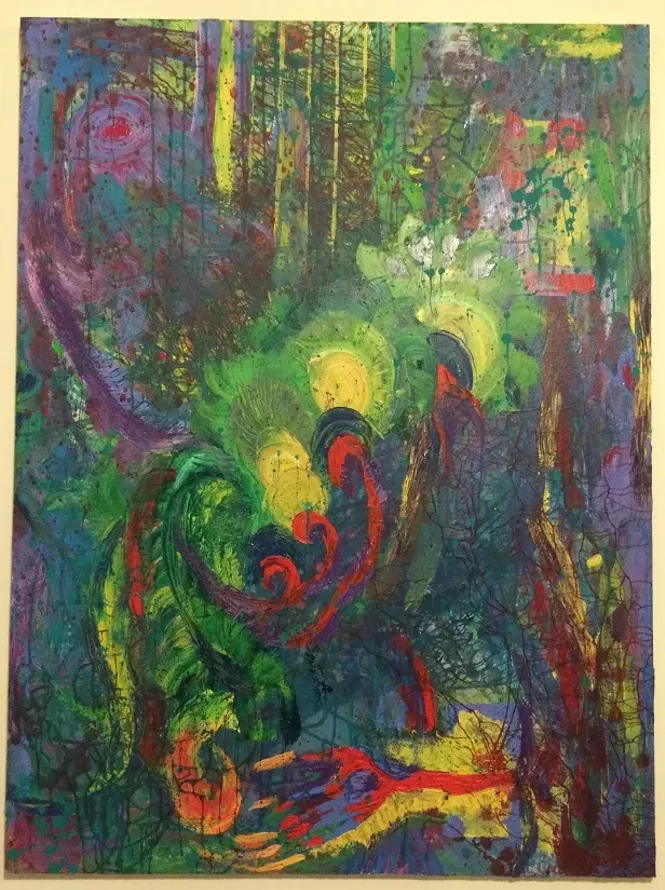 Gavin: What can we expect from you over the rest of 2015?

Randi:
I have a few bigger projects planned for this year. I just got a studio so I'm going to be able to work on a bigger scale. I don't want to spoil the surprise, but I'm going to try my hand in body molds and maybe try some wood panels this time. I'm also about to embark on a set of mushroom-themed paintings, as I believe they are one of the great healers of the world. You can always expect for me to have multiple abstract paintings in the works, as those are my true love. I feel like I've already said too much, so I'm going to stop now, but rest assured there's some cool stuff on its way. You can see my current works at Abyss Piercing in October and then at Sage's Café November through January.