This article was updated Oct. 13, 2015.
I am a diehard summer girl—I am a Leo, after all. I've been ignoring the reality that "my" season is over, but I am finding reprieve in the colors of fall and everything pumpkin-related.
Last week, I stopped in my tracks when I saw the ultimate symbol for fall at Trader Joes (634 E. 400 South, 801-359-2462, TraderJoes.com: The basil plant had been replaced with decorative pumpkin trees. There is no turning back from cooler temps, hot coffee instead of iced and Halloween. However slow you are to embrace the transition, remember that, without winter, summer wouldn't be so sweet. And my children are have been begging me to get on with it and decorate our house for Halloween.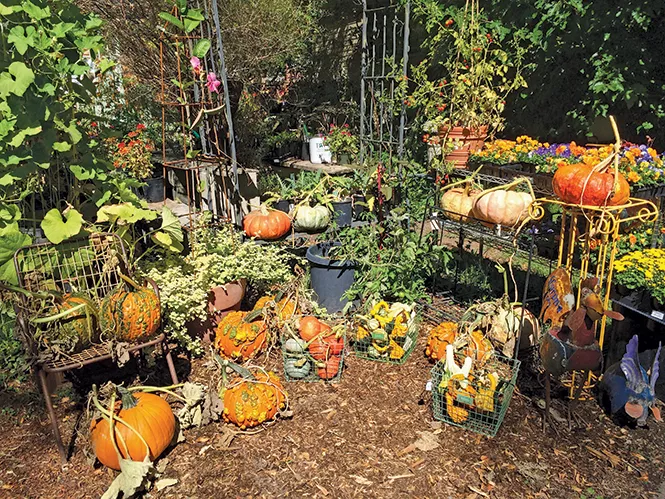 Imagine a garden sanctuary in the middle of the city with a one acre lot and a 100 year old house as a shop. Traces Organic Garden (1432 S. 1100 East, 801-467-9544, TracesGraden.com) is a special place because owner Tanya Chatterton is dedicated to selling organic, non-GMO seeds, heirloom plants and starts. Her garden is filled with trellises, blooming walkways and antique outdoor furniture turned into art. Traces has the most unique varieties of pumpkins and gourds I've laid eyes on. It also offers many Utah-grown pumpkins—and not your ordinary pumpkin fare. They are Martha Stewart swoon-worthy.
Options include: Peanut Pumpkins (named for their peanut-like warts), Cinderella pumpkins (named after the shape of the fairytale carriage), Blue Lakotas, Big & Uglys, Bloodshots, Ghosts, Warty pumpkins, Jack Be Littles and on and on. You really need to come see this secret place for yourself and pick up some fall flowers too.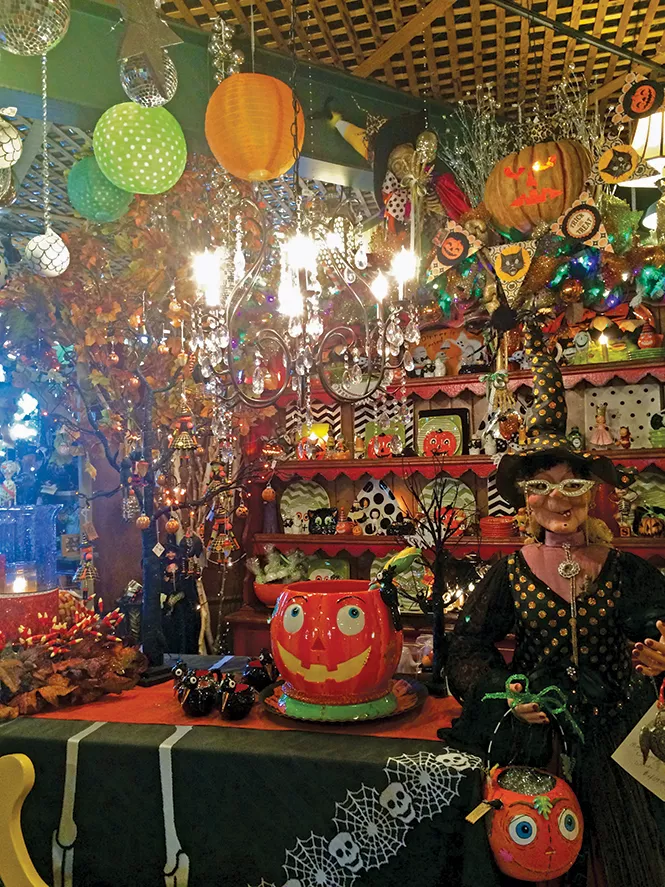 Why drive a few extra miles to shop for Halloween décor? Because if you want to find the Disneyland of holiday décor shops, this is the place. I was lured to this shop from Instagram (note to shop owners: Use Instagram, and post often). Secret Haven (251 S. Mountain Road, Fruit Heights, 801-544-3766, Facebook.com/secret.haven.at.the.rockloft, @haven_secret) is housed in a historic rock building (the Rockloft) which used to be a cherry-processing plant. The space is immense and packed with room after room of Halloween décor, including garlands, wreathes, luminaries, EFC figurines, pillows, tabletop, candles and ornaments. Shop workers are like family and some have been working there for over 20 years. Secret Haven will not disappoint—nor will a cinnamon roll from the Sweet as Can Bee Bakery right next door.
Follow Christa on Twitter @ChristaZaro and Instagram @phillytoslc.