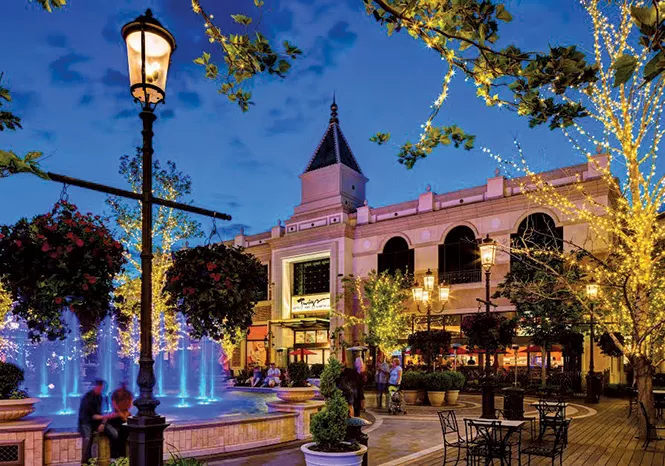 Station Park in Farmington
When I moved from Philadelphia to Utah in 2003, the shopping and restaurant choices were minuscule; there was Nordstrom (in its dingy '70s digs in Crossroads Plaza) and Olive Garden (no comment). I took residence at City Weekly for 12 years as an advertising executive, and I was known for my lack of desire to drive past 2100 South. "What's the point?" I thought. Fast forward to present time, and Utah is booming. Our downtown has been on a roll with construction cranes and new retail and restaurant choices. City Creek Center is beautiful, but it's difficult to get in and out quickly, and the biggest bummer is it is not open Sundays.
I don't need a mall to make a moral statement, so that's why I finally got in my car and drove to Station Park (320 N. Station Parkway, Farmington, 801-923-9111, ShopAtStationPark.com).
I thought I was going to no man's land, but 18 minutes later, I arrived at a beautiful open-air mall on 62 acres with easy access and plenty of fun for both kids and adults. The outdoor mall is lined with old growth trees that were specially chosen to shade the pathways. Every inch is filled with flowers and greenery. This mall is impressive in scale and nature. There is a Cinemark Theatre, children's play area, outdoor winter skating rink (in the summer, the space is green and hosts outdoor concerts) and a world-class Vegas-style animated fountain choreographed to music.
Twigs Bistro and Martini Bar (TwigsBistro.com) has an amazing patio (and menu) overlooking the fountain and the play area. Also, Settebello Pizzeria (Settebello.net) from downtown Salt Lake City has an outpost there and hosts outdoor live music.
Station Park hosts standard anchor stores, such as Harmons Grocery (HarmonsGrocery.com), Home Goods (HomeGoods.com), Nordstrom Rack (NordstromRack.com), Banana Republic (BananaRepublic.com) and H & M (HM.com), but there is nothing basic or standard in their presentation. Some new and noteworthy shops are Evereve (Evereve.com), a women's shop for stylish moms founded in Minnesota; Hope Ave. (a bohemian, edgier sister store to DownEast Outfitters), Shabby Apple (ShabbyApple.com), a Utah original, Beckett & Robb (BeckettRobb.com),whose trade is custom-tailored menswear, and Root To Rise Yoga Studio (Root2RiseYogaStudio.com), formerly Centered City Yoga. There are plans to build a Hyatt Place hotel and Cabela's.
The first Monday of every month, from 5:30-7:30 p.m., is Family First Mondays, during which Fountain Square is host to 10-20 booths for kids to enjoy, with activities such as face painting, balloon twisting and character meet-and-greets. And it's all free. The ice skating rink opens Friday, Nov. 20. UTA FrontRunner also has a station nearby. They runs a shuttle between the TRAX station and the shopping center (call concierge, 801-823-9111, for details).
What excuse do you need to get out of your comfort zone and explore new options in shopping? Maybe it's as simple as going to the Apple Store on a Sunday.
Follow Christa on Twitter @ChristaZaro and Instagram @phillytoslc.