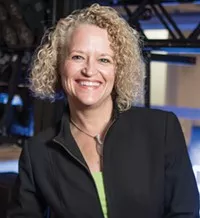 Jackie Biskupski officially became Salt Lake City mayor on Tuesday, taking the next step in a trailblazing political career that saw her become the first openly gay state legislator, and will now give here the same distinction as mayor of the capital city.
Biskupski beat two-term incumbent Ralph Becker by just over 3 percent, or 1,194 votes. She received 51.55 percent of the votes to Becker's 48.45 percent.
On election night two weeks ago, Becker trailed Biskupski by nearly 5 percentage points. And with 4,468 votes remaining to be counted, the odds of him making a comeback during the final canvass on Tuesday appeared unlikely.
Becker, who was seeking a rare third term, conceded shortly after the final results were announced, and he congratulated Biskupski on her victory.
"Serving as mayor of Salt Lake City has been the richest working experience of my life," Becker wrote in a prepared statement. "It has been an unparalleled privilege and honor to serve in this role for eight years. A way to measure success in a job is to look at whether the place you're leaving behind is better off that when you started. I leave this job with a wonderful feeling of success."
Both Democrats, Biskupski and Becker mirrored each other in many respects during the campaign. But the pair sparred over how to bolster public transportation and encourage affordable housing. On transit, Biskupski says she intends to look into establishing a municipal transit service separate from the Utah Transit Authority.
As housing prices have risen sharply in recent years, local politicians have been forced to grapple with how best to accommodate a working class population that might soon be forced to flee the city. Biskupski said during her campaign that she would streamline the permitting and planning processes, which she feels will ease costly burdens on developers and lead to more affordable units.
Biskupski bested Becker in the August primary election by 15 percent, a walloping that even she said was surprising. She credited her popularity with voters to her willingness to listen. On this note, Biskupski has pledged to run a more open and transparent city hall than that of Becker, who caught criticism for his top-down management style.
All of Biskupski's claims, though, will most likely begin to take shape in the coming months and years. Becker attacked Biskupski on the campaign trail for her relative lack of true plans, saying she seemed to be a great critic of his ideas, but that her claims for change had as a foundation policies and efforts with Becker's name written all over them.
This mayoral race will also be known for the influence big-money played. The two candidates spent a combined $1.4 million. Although the two raised roughly the same amount of money, Becker handily outspent Biskupski, dropping $863,000 to Biskupski's $536,000. The disparity came from money Becker raised during his past two campaigns, which election laws allow candidates to carry over.
This and other vagrancies in election laws, such as the formation by Reagan Outdoor Advertising of a "Super PAC" that spent money to support Biskupski and every other candidate running against Becker above and beyond what campaign finance rules allow, will come under the microscope at Tuesday night's city council meeting.
Among the provisions that the council could amend are rules regarding how political action committees can spend, whether or not candidates should be allowed to carry over "war chests" of cash from prior campaigns and dropping the city's campaign contribution limits from $7,500 in the mayor's race to $1,000.
Implicit in the money race, though, is a fact rarely seen in big-time political races—or anyplace else in America: the biggest money didn't win.
Although conventional wisdom would hold that the challenger of a two-time incumbent mayor with vast support would be an underdog, Biskupski was playing from the lead most of the way. And when it came to cash, she spent significantly less than Becker. In fact, Becker spent $46.41 for each of the votes he received, while Biskupski spent $26.92, exactly $19.49 less per vote.
One of Becker's most visible supporters, Salt Lake County Mayor Ben McAdams, issued a swift congratulation to Biskupski, who, as mayor of the largest municipality in the county, will have to work closely with county officials.
"I'm looking forward to forming a strong partnership with Jackie and her administration," McAdams wrote in a prepared statement. "I know she cares, as I do, about working together to address the challenges that aren't confined only to the city's boundaries, but that affect the entire region."
Most recently, Biskupski herself was a county employee, working as a top administrator for Salt Lake County Sheriff Jim Winder. Ask Biskupski what she did in that role and she'd default to the work she did to form the Unified Police Department, which provides policing services to incorporated cities in the county, and is overseen by Winder.
Biskupski told City Weekly in the lead-up to the general election that she would ask whomever she chooses as the city's police chief to look into the possibility of folding the police department into the UPD.