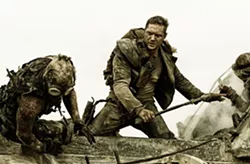 Mad Max: Fury Road
—the revival of the post-apocalyptic action franchise—won three awards, including Best Picture, in the 2015 voting of the Utah Film Critics Association.
The group of Utah-based print, broadcast and online film critics (of which I am a member) also honored the film for George Miller's directing, and cinematographer John Seale. The only other film to earn more than one award was
Inside Out
, which won Best Animated Feature and Best Original Screenplay for Pete Docter, Meg LeFauvre and Josh Cooley.
Acting awards went to Brie Larson in
Room
(Best Lead Actress), Leonardo DiCaprio in
The Revenant
(Best Lead Actor), Sylvester Stallone in
Creed
(Best Supporting Actor) and Rose Byrne in
Spy
(Best Supporting Actress). Drew Goddard was recognized for Best Adapted Screenplay for
The Martian
.
Best Documentary Feature went to
The Hunting Ground
, while Best Non-English Language Feature went to
Timbuktu
.
Full list of winners and runners-up follows
BEST PICTURE:
Mad Max: Fury Road
(Runner-up:
The Martian
)
BEST DIRECTOR:
George Miller,
Mad Max: Fury Road
(Runner-up: Ridley Scott,
The Martian
)
BEST LEAD ACTRESS:
Brie Larson,
Room
(Runner-up: Saoirse Ronan,
Brooklyn
)
BEST LEAD ACTOR:
Leonardo DiCaprio,
The Revenant
(Runner-up: Matt Damon,
The Martian
)
BEST SUPPORTING ACTOR:
Sylvester Stallone,
Creed
(Runner-up: Oscar Isaac,
Ex Machina
)
BEST SUPPORTING ACTRESS:
Rose Byrne,
Spy
(Runner-up: Alicia Vikander,
Ex Machina
)
BEST ORIGINAL SCREENPLAY:
Pete Docter, Meg LeFauvre and Josh Cooley,
Inside Out
(Runner-up: Josh Singer and Tom McCarthy,
Spotlight
)
BEST ADAPTED SCREENPLAY:
Drew Goddard,
The Martian
(Runner-up: Nick Hornby,
Brooklyn
)
BEST CINEMATOGRAPHY:
John Seale,
Mad Max: Fury Road
(Runner-up: Emmanuel Lubezki,
The Revenant
)
BEST DOCUMENTARY FEATURE:
The Hunting Ground
(Runner-up:
Amy
)
BEST NON-ENGLISH LANGUAGE FEATURE:
Timbuktu
(Runner-up:
Son of Saul
)
BEST ANIMATED FEATURE:
Inside Out
(Runner-up:
Shaun the Sheep Movie
)