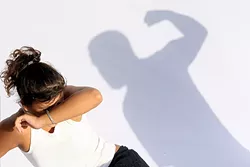 For all its joy, festive celebrations and familial gatherings, Christmas when you are in an abusive relationship can be a deeply stressful time.
A recent press release by the Utah Domestic Violence Coalition (UDVC) notes, "Although the holidays, in general, do not cause domestic violence, the financial stress, emotional anxiety and alcohol consumption that often occurs during the holidays can exacerbate situations and individuals already impacted by domestic violence."
UDVC operates a free, confidential 24-hour help hotline: 1-800-987-LINK (5465), which is a first port of call for survivors of domestic violence to seek help and support.
In addition, in a community that saw shockingly high numbers of domestic violence-related fatalities in 2015, "Those who are grieving a loved one as a result of domestic violence may be in need of extra support," the UDVC says.
City Weekly's Jan 8, 2015, cover story, "Powerless," highlighted declining state resources dedicated to domestic violence at a time of climbing domestic-violence homicide rates.
"The best gift we can give this holiday season is peace and safety," says UDVC's executive director Jenn Oxborrow. "We want everyone—men, women and children of all ages—to know their well-being is a priority. We are here to support you during the holidays whether you are in Utah or elsewhere."