Everyone has a story about who they are and where they've been. To catalog it all would tell millions of stories about every place, every person and every event you've ever touched in your life. For one SLC-based project, they're hoping you're willing to share yours. Mapping SLC is an essay-based website where they collect written, audio, photo and video essays to catalog everything that is SLC, throughout the ages all across the valley. As they say on their website, the purpose is to "create a continually evolving narrative in which community members and scholars, writers and artists can be in dialogue." Today we chat with founder and writer Paisley Rekdal about starting up the project and where they intend to take it. (
All pictures courtesy of Mapping SLC.
)
Paisley Rekdal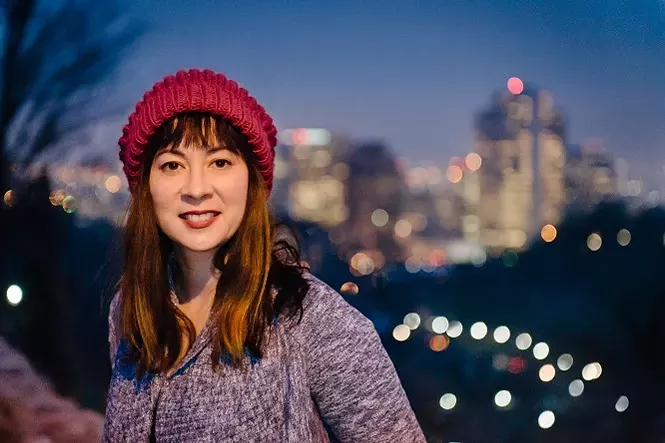 MappingSLC.org
Gavin: Hey Paisley, first off, tell us a little bit about yourself.

Paisley:
I'm a writer and teacher. I've been teaching at the University of Utah for the past 13 years. Before that, I lived in Wyoming, Georgia, Korea, Michigan, Toronto, Ireland, Japan and Seattle. I mostly write poetry; my newest book,
Imaginary Vessels
, is coming out with Copper Canyon Press this fall.
Gavin: What first got you interested in writing, and what were your biggest influences?

Paisley:
I've always been interested in art and literature, ever since I was young. My parents both worked late when I was a child and they both had great libraries, and so I had the tremendous fortune of having free run of the house, and their bookshelves, for hours. When I was 14, I read
Lolita
. When I was 13, I stumbled across my mom's copy of Dante's
Divine Comedy
, with the Dore illustrations. If you've ever seen those, you'll know why I was immediately taken with poetry. I'd never seen violence so beautifully depicted, in illustrations and in language. Since then, I'm mostly influenced by writers who respond, in some way, to art. Anne Carson's
Nox
, for instance, or the photo-text writing of Claudia Rankine or Theresa Hak-Kyung Cha.
Gavin: You've released a number of poetry books and a few non-fiction books. How has it been getting your works out?

Paisley:
My agent sold my first book of nonfiction, and I sent my books of poetry directly to publishers, after also sending my poems out regularly to magazines and journals for publication. This is how I've gotten published.
Gavin: You're originally from Seattle. What brought you to SLC?

Paisley:
I came to SLC for work. In academia, you follow the jobs where they open. I was living in Wyoming at the time, and I wanted to stay in the West. I got lucky with the University of Utah.
Gavin: Right now you're the Director of the Creative Writing Program for the University Of Utah. How has that job been treating you, and what's your time been like at the U so far?

Paisley:
I like teaching here and directing. It's a small enough community that, if you want something to be done, you can meet the right people quickly who can help you out. I also like the students here, and the mix of people that the university puts me in contact with.
Gavin: How did the idea for Mapping SLC come about?

Paisley:
I teach nonfiction courses a lot and get, frankly, tired of dealing only with memoirs. I had been reading Rebecca Solnit's work, in particular, her beautiful book,
Infinite City
, which maps the communities of San Francisco, and thought this would be a perfect project for SLC. But I wanted the project as a website, to have real community engagement. Books are static documents; websites change and allow people to interact more freely, ideally.
Gavin: For those who may not understand the concept, how does the system work with submissions and additions?

Paisley:
You send us an email with your story, question, ideas, essays, and we respond. We try and publish almost everything we get, largely because this is a community website: We want to represent all the communities that are here. But we do edit the pieces, for factual accuracy, and sometimes for style or grammar.
Gavin: How did you go about starting it up and what was it like collecting info in the beginning?

Paisley:
It was a long and exhausting process—I'd never designed or thought about the architecture for a website before, and so I and two other grad students at the time, Chris Tanseer and Chris Dunsmore, basically sat down and did research on sites we liked that did something similar, then worked with the amazing Third Sun Productions to draw up the site's "blueprint." I can't really take credit for the site's architecture—that was all Chris Tanseer and Third Sun. But I did go to a lot of neighborhood council meetings begging for work, and I still approach teachers that I know around the valley, asking them to make Mapping Salt Lake City become part of their writing exercises during the school year. Collecting work is hard, we can't pay (this is truly all a labor of love now on my part: no money) and so we're essentially asking people to work for free, which is absolutely unfair.
Gavin: What have been some of the more interesting essays you've received so far?

Paisley:
I love so many of them, but I especially love Lisa Bickmore's video essay, "Every Stone a Sermon," Claire Taylor's "The Inhabitants of Salt Lake Cemetery," and Karrie Higgins' "Proxy Sister."
Gavin: What areas of the city or subjects do you wish you had more of at the moment?

Paisley:
We don't have anything from the Asian Pacific Islander communities in SLC, and certainly not enough from the west side of the city. I'm happy to publish work in other languages, too. And surprisingly, we don't have that much from LDS folk. My co-editor, Chris Tanseer, would love to do an interview series with some of the chefs in the local food scene.
Gavin: What is your overall goal with the project, and what do you hope people will take away from it?

Paisley:
I don't have any goals. That sounds rather silly now that I say it, but I don't think the site needs to have goals. I suppose making it self-sustaining financially would be good. My dream is to one day be able to work on it consistently, perhaps even part-time, since a site like this requires constant supervision and nurturing. I hope people will see Mapping SLC as something that can strengthen their own bond to this city, to see the city as a place they can love, and continue to wrestle with, and to protect, and to change. Whatever happens, my one goal is that the site never has any advertising. I know that kills the self-sustaining dream, but I hate the idea of turning this into a billboard.
Gavin: For those wishing to contribute, what do they need to do?

Paisley:
Take a look at the site, especially our "This Was Here" section: these are 200-500 word personal reflections on people, places, things that once were here but now aren't. They're fun to write and research, and certainly not time-consuming to create yourself. Then think about sending in whatever project you're doing that involves SLC. We take personal or more scholarly essays, photo-essays, video essays. We'd love to take a look. Contact me via the site or at
paisley.rekdal@utah.edu
.